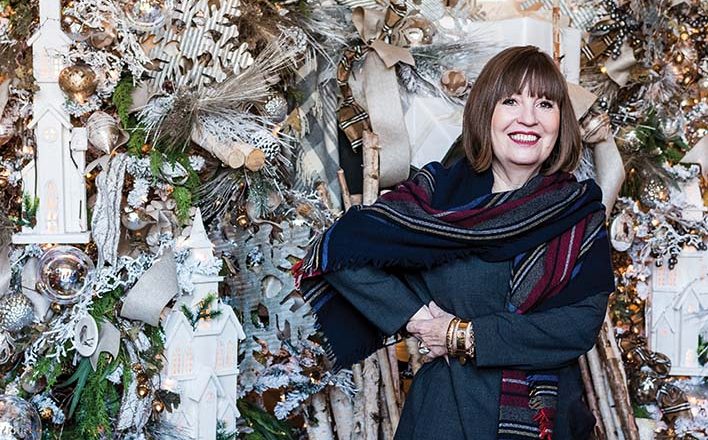 Home interior store Nell Hill's changes ownership
Nell Hill's, the home décor and furnishings store at 4101 N. Mulberry Dr., is now under new ownership.
Its founder and owner for 37 years, Mary Carol Garrity, announced in a company blog post that the transition marks the end of "one of the most rewarding chapters of my life."
Garrity sold the business to Kansas City couple Brandon and Katie Laughridge. To assist with transition, Garrity plans to stay on through 2019.
Looking back
Garrity started the business in 1981 as a gourmet food shop in Atchison, which quickly transitioned into the home décor and design emporium that the business is now known for.
Nell Hill's has accrued nationwide attention over the years, including features from Forbes magazine, The Wall Street Journal and NBC's "Today Show."
For Garrity, Nell Hill's has been far more than just a store over the decades.
"It's been a celebration of friendship, with our homes as the convener," she wrote in her blog post.
Of one mind
The store's new owner, Katie Laughridge, will handle the day-to-day operations for Nell Hill's while her husband, Brandon, runs his property management company.
"I've been a fangirl of Nell Hill's for a really long time, so when we learned it was an opportunity, my husband and I said to each other, 'We have to give this a try,'" Laughridge told Thinking Bigger. "And that was that. We've loved the brand for so long and we think there are amazing opportunities to move forward, and we just wanted to give it a shot."
Laughridge also plans to "keep the spirit of the store alive" as she implements new ideas, preserving the elements of the business that long-time customers know and love. Laughridge and Garrity agree that their collaboration is symbiotic, and the pair's affection and respect for each other is palpable.
"It really isn't bittersweet at all because I'm leaving the store in such capable hands," Garrity said. "Katie has so many gifts that I don't, and it's gonna be really fun watching her take those and move forward. For both of us, it's a win-win situation."
Moving forward
Garrity is staying onboard to help with the transition through 2019, but she's enjoying not being in the driver's seat for the first time in 37 years.
"I've grown tired; I've been doing this for so long," Garrity joked. "It's been so fun seeing what Katie is going to do. It's a different role than I'm used to, and I've learned to really like it. I like having Katie as a boss!"
Garrity and Laughridge have been brainstorming organizational ideas for the company and ways Nell Hill's can continue to improve. Garrity said that Laughridge is "still going to let me play" in the store, visiting with customers and friends and contributing through an advisory role.
"Now that she's in a different role, Mary Carol has more time to reflect on certain ideas from a different point of view, with all this experience under her belt that I don't have," Laughridge said. "I think this next year for me will be a lot of learning from her and expanding on ideas."
"Retail keeps changing and changing every week, or even every day, and still I've been learning new things," Garrity said. "Katie's perspective on things is really refreshing, and I don't know—I just think that we're gonna have lots of fun."