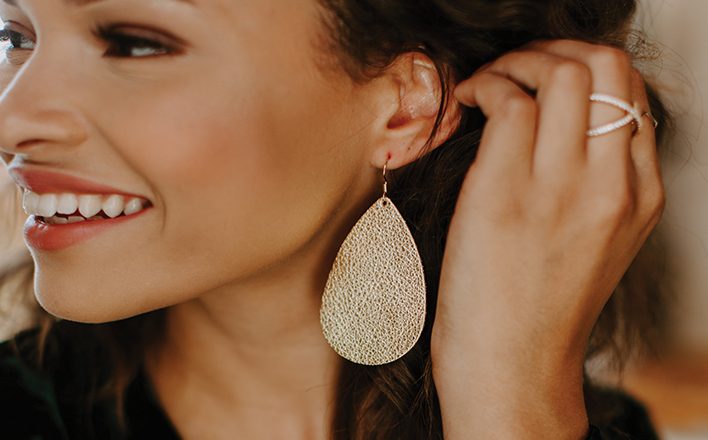 Nickel & Suede: Pivot leads to fast growth
Kilee Nickels was working at Gap Kids when she noticed that something was missing from the retailer's apparel line.
"They sell a lot of cute clothes with belt loops but no belts," Nickels said. "I thought, 'This could be cute, and no one else is doing it.'"
Nickels went to work for herself, making leather belts for children at home and selling them online. That business eventually folded, but not before Nickels became well-versed in e-commerce, blogging and photography — skills that helped her build her next venture into one of the fastest-growing private companies in the nation.
Nickels was shopping for material for her belt business when she found gold leather. It wasn't ideal for a toddler belt, but she made herself a pair of earrings. She discovered that leather allowed her to make big earrings that were light and comfortable, and she loved them. It turned out that other people did, too — lots of people.
Four years after it started as a home-based business, Nickel & Suede recently landed on the Inc. 5000 list of fastest-growing companies at No. 127. Nickels said the local jewelry company made $4.1 million in sales last year and will top that with a projected $5.8 million in revenue this year.
Nickels owns and manages the company with her husband, Soren Nickels, who quit his accounting job the day they launched the Nickel & Suede website in 2014. He handles issues like shipping, billing and facilities, while she is responsible for design, marketing and branding.
The company has 30 employees, and Kilee Nickels said she expects to hire 15 to 25 more workers within the next two years.
The Nickelses moved the business out of their Liberty home in 2016 to another Liberty location that offered 800 square feet for retail and 4,000 square feet of offices and production. They plan to move again in January to yet another Liberty location that will offer 12,500 total square feet.
Kilee Nickels said the new facility, which is being designed by Kansas City, Mo.-based Hufft Projects, will offer expanded production and retail space. She said the company currently generates about 15 percent of its revenue from its retail location with the balance coming from online sales.
"Our current space is off the beaten path with not-so-great parking," she said. "People still come find us. People road trip from out of town. It's amazing how much we do in that space."
Nickels said her products sell well online, but they "do even better when people can touch and feel them."
That eventually will be easier for consumers because the couple plans to open "one or two" additional Kansas City-area locations by the third quarter of 2019. Long-term plans call for Nickel & Suede to test additional markets as well, she said.
---
 Entrepreneurs
Owners Kilee and Soren Nickels
Company information
Nickel & Suede
111 N. Water St., Liberty, Mo., 64068
816-467-4600
Type of business
Nickel & Suede offers handmade leather earrings, cuffs, chokers and other accessories.
Founded
2014