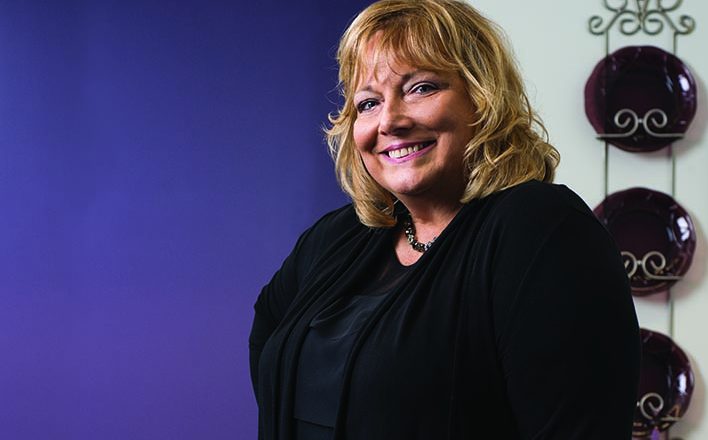 Patient Strategy: How Lisa Sackuvich Built ARJ Infusion Services
When she launched ARJ Infusion Services back in 2000, Lisa Sackuvich couldn't get a bank loan.
At the time, she was a mom with three children, living on a nurse's salary. Not exactly a banker's dream client.
But she understood something that bankers didn't. After decades in the nursing field, she realized there was a better way to offer infusion medical care and pharmaceutical services to patients suffering from chronic diseases. She had an entrepreneurial spirit. And she knew that a company based on compassion and care rather than just Wall Street principles would work.
Armed with a wealth of nursing experience, years of administrative expertise and a strong ethical standard for patient care, Sackuvich started ARJ with a $100,000 startup loan from her brother, Doug Martin, who became a 40 percent partner.
She paid back every dime in 18 months.
It was just the beginning. Last year, ARJ Infusion Services offered nursing in six states and tallied more than $40 million in revenue. Projections show the company could grow by another 20 percent next year, all while remaining debt-free.
"It's like a snowball," Sackuvich said. "It just keeps growing and growing and growing."
The growth isn't happening because more patients are being diagnosed with the chronic conditions that ARJ specializes in treating. It's mostly because the business, she said, has picked up more customers, thanks to a strong reputation that she and her team have labored to build.
'YOU NEED TO WORK LIKE THIS FOR YOURSELF'
ARJ focuses on infusion therapy, which is different from the traditional home health care that many Americans are familiar with. The company doesn't send out nurses for basic health problems. Instead, the business is focused on treating patients who require non-oral medication like IV therapy. It demands nursing professionals who are highly skilled at administering medications into the vein.
Sackuvich's employees provide IV therapy and injections at home for patients who might otherwise have to travel hours to a hospital on a regular basis to seek care. They treat everyone from newborn infants to the elderly. The company offers 24-hours-a-day care to those suffering from long-term conditions such as bleeding and clotting disorders, immune deficiencies and more.
Thanks to ARJ, many patients can hold down a regular job and preserve their quality of life.
The business is licensed in 46 states to deliver pharmaceutical products. Some of those life-saving drugs are so costly and have such a short shelf life that many hospitals don't stock them. ARJ has developed a system that allows it to be ready anytime a patient is in need.
The Lenexa-based business has grown from one employee to 72. The majority of those workers are either nurses who visit patients' homes or pharmacists who are preparing and dispensing medication shipments.
Sackuvich started ARJ as a one-person operation. She drove for hours to reach patients in locations so rural that she once had to herd cattle away from a farm gate so she could maneuver onto a family homestead and treat the patient.
By then, though, her skills were well-honed. Sackuvich had spent 20 years working in hospitals, doctors' offices, home health care and home infusion. In addition to caring for patients, she knew how to manage doctors' offices and navigate insurance companies.
It was a doctor who specialized in treating HIV and AIDS patients that eventually convinced her the time was right to strike out on her own.
"If you're going to work like this for someone else, you need to work like this for yourself," he told her.
So she did.
'THE BEST THING YOU CAN DO IS LISTEN'
Offering excellent care starts with listening to the patient, Sackuvich said.
"I feel like the best thing you can do is listen to the patient," she said.
Sackuvich pays special attention to patients in part because she regularly had IV treatments for a kidney condition starting at the age of 3. At times it was painful, but it was always terrifying because she was separated from her mother.
"Don't worry, she won't remember this," medical providers told her mom.
The condition cleared up, but Sackuvich never forgot. It taught her that there are better ways to offer health care.
The lesson was reinforced soon after she went into business for herself, when she was going out to meet her very first referral.
She walked into a home where an 8-month-old baby was being treated for hemophilia. The child's mother met her at the door.
"When I walked into her home, I saw a picture of a young man whom I remembered from many years ago," Sackuvich said.
It stopped her cold. Memories flooded back.
She had met the young man at a hemophilia summer camp for adolescents. He had been diagnosed with HIV. Sackuvich couldn't believe how he was able to handle much of his own medical care.
"It's no big deal," he said, dismissing her offer to help.
She immediately realized that she was trying to protect him—and that he didn't need it. That moment taught her that patients need to learn how to care for themselves if they are going to live an active and engaged life.
She remembers his spirit every time she trains nurses how to teach patients to administer injections to themselves.
"I always tell the nurses, 'Sit on your hands and teach,'" she said.
It's especially important for teenagers who struggle with adherence.
"They're going to go away to college, and nobody is going to tell them, 'Don't go to that party until you infuse,'" she said.
So sitting there with his sister—years after the teen camper's death—Sackuvich had to explain his impact.
"Your brother—he's the one that taught me how to do this," she said.
'OUR PATIENTS ALWAYS COME FIRST'
Though she holds a nursing license in every state where ARJ operates, Sackuvich has learned to let go of many details within the business. She's learned that she has to focus on hiring the right employees and training them well.
Sackuvich keeps an open-door policy, said Josh McBride, director of marketing and communications at ARJ. Sometimes people are in awe of just how accessible Sackuvich is to patients and employees, who feel comfortable sending her an email or calling her about even minute details.
Sackuvich knows that she expects a lot from employees, so she wants them to expect a lot from her, too. She often reminds nurses in the field to call should they need guidance or run into complications while on a call.
"We can back you up," she said. "We can trouble-shoot."
Kim Bushell, an ARJ nurse supervisor in Wichita, has worked for the company for about six years.
"The thing that drew me to ARJ is that it is a very patient-focused company," Bushell said. "Of course, at every business their goal is to make money, but I think the biggest thing for ARJ is that they never lost sight of patients, and our patients always come first."
She said the business talks a lot about its initials, which stand for accountability, reliability and joint partnerships.
The joint partnerships apply not just to business partners but also to the families they serve daily, she said. That means that nurses are allowed to spend as much time as they need with patients. It means they work to involve both parents in the treatment process when children are sick.
"We talk about working with families to help improve their quality of life but then also their independence," Bushell said. "So a lot of what we do is actually teaching for some these families to help them to be able to do their own infusions or to at least take more control over their disease process."
'SHE'S MY LIFELINE'
Danielle Walk is the executive director of the Myasthenia Gravis Association. Myasthenia gravis, or MG, is an autoimmune neuromuscular disease.
Walk often hears from association members who rave about ARJ nurses. That's impressive, Walk said, considering the treatment for MG means that nurses often spend five hours for each visit in a client's home. And sometimes they come several days in a row to offer treatment. It's crucial that the nurses are nonintrusive and respectful.
Walk recently talked to a patient who was worried that her ARJ nurse had moved on.
"She is my lifeline," the patient said. "She's my support system."
ARJ also has donated more than $2 million to charities, patient assistance programs and not-for-profit organizations. Sackuvich and her team are generous with their time, too.
"Lisa and ARJ do much more than just send a check or drop off refreshments at our events as many corporations do," Walk said. "She and her staff give of themselves and their time."
Thanks to its stunning growth, several corporations have offered to buy ARJ Infusion Services.
"I've been offered to sell so many times," Sackuvich said.
But, she said, they'll have to wait for a long time. She loves the business too much to leave just yet.