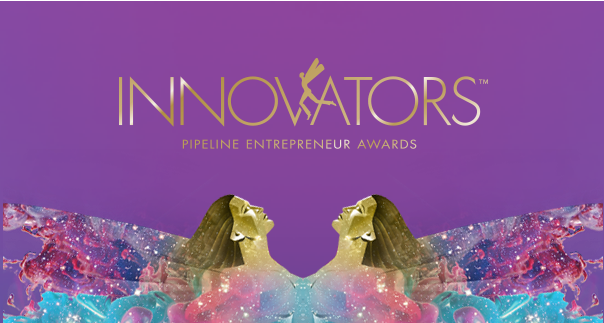 Pipeline Innovators event honors entrepreneurs, welcomes new fellows
The Pipeline entrepreneurial fellowship program celebrated its fellows and welcomed a new class on Thursday at The Innovators event, a celebration of Midwest entrepreneurship.
The 11th annual event took place at Arvest Bank Theatre at the Midland in downtown Kansas City. It  brought together entrepreneurs, investors, media, universities, policy leaders and community advocates.
Several entrepreneurs received awards. They include:
2017 Innovator of the Year: Evan Luxon, co-founder and CEO of Centese, Omaha, Neb. This award goes to a graduating fellow of the program and is based upon performance throughout the Pipeline program, scores from a retooled business plan after Pipeline input and presentations given during The Innovators daytime competition.
Entrepreneurial Leadership Award: Nebraska Pipeline Sponsors, including University of Nebraska, Linseed Capital, Prairie Ventures and Nelnet. The award is given to a community member for outstanding contributions to entrepreneurship.
Pipeline Entrepreneur (Member) Growth, tie: Alfred Botchway, Xenometrics LLC, Kansas City, and Paul Jarrett, Bulu Box, Lincoln, Neb. Both demonstrated growth through revenue, creating of high-paying jobs and new innovations in the past year.
Pipeline Entrepreneur (Member) Inspiration: Kim Gandy, Play-it Health, Kansas City. This award recognizes the outstanding contribution by a Pipeline member to the organization and its fellows.
"We are all so incredibly proud of the continued growth and leadership of our Pipeline entrepreneurs and partners,"  Pipeline CEO Joni Cobb said. "We hope that these entrepreneurs and leaders—and our night celebrating their work—inspires new generations of entrepreneurs, investors, and advocates to continue our entrepreneurial growth in the Midwest."
The 2018 fellows include 13 entrepreneurs, four of them from Kansas City. Fellows go through an intensive application and interview process. In the Pipeline program, participants gain access to a nationwide network of expert mentors and invest in professional development.
The new class includes:
Glen Dakan, Prestio, Kansas City
Ben Schultz, LaborChart, Kansas City
Matt Sellers, Rack Performance, Kansas City
Linda Van Horn, iShare Medical, Kansas City
Andrew Barnell, Geneoscopy, St. Louis
Johnna Beckham, BOOST Apparel Group, St. Louis
Trevor Crotts, Buddy Brands, Wichita
Dennis Doerfl, Fourstarzz Media, Lincoln
Will Edwards, MetKnow, St. Louis
Colin Nabity, LeverageRx, Omaha
Robin Rath, Pixel Press Technology, St. Louis
Bryan Sapot, SensrTrx, St. Louis
Ali Schwanke, Simple Strat, Lincoln