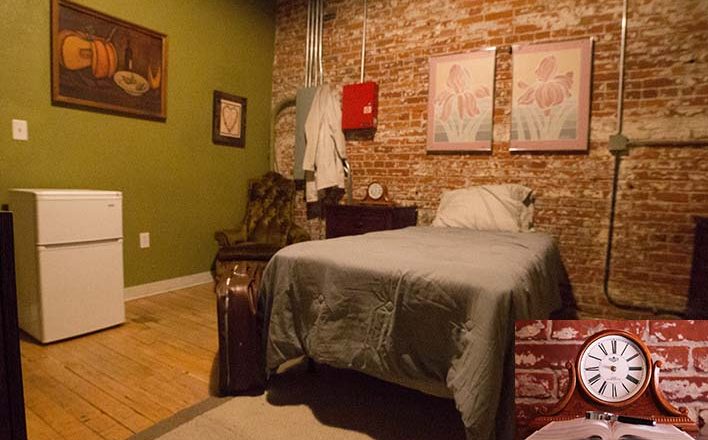 Planning an Expanded Escape
Breakout KC founders corner the market on escape rooms.
The simplest description of Breakout KC is that it's an escape room. Groups of up to eight people get "locked" into a themed room, without cell phones, and they work together to solve a problem and "escape."
But CEO Matthew Baysinger says it's about more than solving a puzzle. "It's about the opportunity to share an experience that is fun and entertaining with other people," he said. "There's adventure along with the puzzle. You get to be the hero of a movie, to do something really cool and stop the bad guy."
Doing It Better
Baysinger first learned about escape rooms in Fall 2014, when he was traveling through Tennessee. A top-rated escape room in Nashville popped up on TripAdvisor. Baysinger started researching. "I can do this a lot better," he thought.
He hooked up with his high school buddy Ryan Henrich and the duo fleshed out the concept, signed a lease in January 2015, and opened in May 2015 in the River Market.
By the second weekend in business, they were booked for all their weekends in 2015 and already planning their second location—in Honolulu, Hawaii.
Currently they have 10 metro area breakout rooms. Six are at the Kansas City location, and four are at the Lawrence location, which they opened in March 2016. Every room has a different puzzle to solve—there is no overlap among locations. There is also a location in Columbia, Missouri. Two more locations—one in Omaha, Neb., and one in Park Place in Lenexa—will open in July 2017.
"We have confidence in our ability to create great puzzles and a great storyline combined with great customer service," Baysinger said.
Planning More Escapes
"We aren't expanding just for the sake of expanding," said Baysinger. "Escape rooms are part of an industry that is so new that it keeps changing. We want to be positioned to take advantage of those opportunities and help define the industry."
Breakout KC emphasizes family-friendly experience and team-building. One of their programs, Team Lab, is designed for corporations.
Breakout KC is the only escape room in the country that is listed on the top 5 of both TripAdvisor and USA Today. It is the top in Kansas City on Yelp and TripAdvisor.
To grow rapidly and to be the best in the industry, Baysinger and Henrich decided early on to invest in high-quality staff. "We have 82 employees, and we're poised for them to lead us to even more growth," Baysinger said.
Banking on Escape
When Breakout KC started, Baysinger and Henrich bootstrapped. They knew they wanted to double in size to nine locations, so they met with Equity Bank. Baysinger said the bankers were hands on from the beginning.
"I was impressed by their intentionality," said Baysinger. "They didn't come out just to collect data. They really wanted to learn about me and Ryan and our concept."
Baysinger said they met with Equity Bank several times in person, and his banker is always willing to work with him as a partner. "I come from an education background, not business," he said. "Finance is wild territory, and I appreciate their patience explaining financial terms and legal jargon."
He said that he and Ryan bring an entrepreneurial work ethic and desire to the company, but Equity Bank has been instrumental in helping to educate them on "how to do it right."
"Thanks to Equity Bank's financial expertise," Baysinger said, "we are able to focus our efforts as CEO and COO on the big picture items and move forward as one of the leaders in the escape room industry."
Share Your Napkin Story
Some of the most amazing business stories started as an idea scribbled on a napkin.
Mark Parman, Kansas City Market President of Equity Bank, invites you to share your Napkin Story. "We not only want to hear your origin story, we can help you continue to write the rest of your company's story," he said.
Equity Bank is a full-service community bank with offices in Kansas, Missouri and Arkansas. Our group of bankers are experienced with businesses from small to large. We take the time to listen to your story and help you design the services that will benefit you and your business.
To share your napkin story, get in touch at marketing@equitybank.com | (913) 323-9300 | Equitybank.com/napkin-stories