Q: The Plaza is home to successful national brands, but local small businesses like Better Cheddar and Tivol have long attracted customers there as well. What are some of the developments you've seen in the last year in that local store category on the Plaza?
A: At a time when retailers are increasingly selective about brick-and-mortar investments, the Plaza continues to attract highly sought-after brands. We focus on having the truly important blend of local and national retailers. One great example of a beloved local brand on the Plaza is Made in KC Marketplace, which recently expanded. Additionally, Archive, EB and Co., Messenger Coffee, Pink Dinosaur, Razzleberry, Sugah Rush Berries and Sweet Kiss Brigadeiro have joined the Plaza over the past year. We encourage everyone to come down and see all of our great additions.
Q: One of KC's great traditions is visiting Plaza Lights with friends and family during the Christmas season. How many people typically come to see them?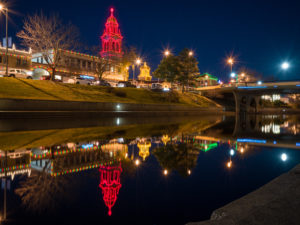 A: The Plaza lights started in 1925 with a single strand of lights on the Suydam Building. This year, the Plaza is celebrating 97 years of this beloved holiday tradition. Through January 9, 15 blocks will be illuminated with thousands of lights that are viewed by hundreds of thousands of visitors.
Q: What other things does the Plaza have in store for us this holiday season?
A: Our tenants have great merchandise and promotions, including special food and drink menus and giveaways. This season, we're thrilled to welcome brand new tenants Sweet Kiss Brigadeiro, an authentic Brazilian candy shop, and LensCrafters, as well as pop-ups like Miracle on the Plaza, which is a Christmas-themed bar, and The Babe Standard, which offers jewelry and accessories.
Q: Any pro tips or tricks to share with those coming to find the perfect gifts to put under the tree?
A: First tip — Check our website for sales and special offers: countryclubplaza.com/stores. I suggest making a gift list in advance and allowing for plenty of time on the Plaza so customers can take advantage of both shopping and dining. There is so much to do and see over the holidays, and we offer the perfect combination of vibrancy and tradition.
Also, customers should take advantage of the free deck and street parking as well as the convenient, paid valet parking. Valet parking locations are:
Central: Broadway between The Capital Grille and Seasons 52, open evenings 7 days/week 
East: Mill Creek Parkway near Rye and P.F. Chang's, open Friday and Saturday evenings
West: Pennsylvania between True Food Kitchen and Gram & Dun, open Friday and Saturday evenings
Q: How many out-of-town visitors typically visit the Plaza annually?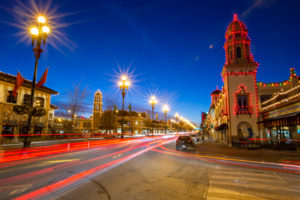 A: For background, while the Plaza is a well-known location, there are common misperceptions about what comprises our actual 15-block footprint (and there's a lot of zig-zagging). Buildings that sit next door or across the street from one another might be outside of the actual boundaries of the Plaza. For instance, many are often surprised to learn that the Plaza does not have any hotels, but we of course welcome tourists for shopping and for events including the art fair and Plaza Lights. We are so pleased to welcome an estimated 15 million visitors annually!
Vena is general manager of the Country Club Plaza. Responses edited for clarity and length.
Photo credits: Evert Nelson