Q: Please tell us a little about the collaboration André's has forged with J. Rieger & Co. to offer chocolate shots and other tempting treats.
A: Our collaboration began with Rieger when my husband, André's grandson, executive chef and chocolatier René Bollier was invited to be a part of an event at the WWI Museum to highlight whiskey and chocolate in 2015.
René created something new for the event to showcase Rieger's newly released Kansas City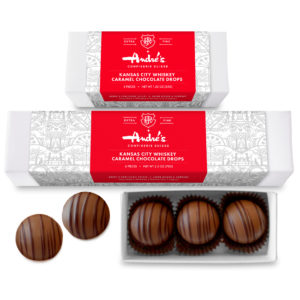 Whiskey: a chocolate candy made using an old-world Swiss method that enables us to create a thin sugar shell with the sprit inside that we are then able to cover with our signature Swiss dark chocolate. 
The J. Rieger & Co. Chocolate Shots were a resounding success, and, as Rieger has released new spirits, we've made Chocolate Shots for each. The collection now also includes gin, vodka and caffè amaro, as well as the original Kansas City whiskey.
After the shots, René created a whiskey chocolate bar and whiskey caramel sauce to showcase the KC whiskey in a format that can be shipped throughout the U.S. This fall, we added two new products to the collaboration: whiskey caramel chocolate drops. These were created after I became such a fan of the whiskey caramel sauce that I was adding it to my morning coffee. René teased me and said, "Wouldn't it be amazing to have a chocolate caramel that you could just drop in and stir?"
Well, yes, it would, and hence the creation of the whiskey caramel drops.
Q: What are a few recommendations you can give us for special Christmas gifts customers will be able to find at André's?
A: Since 1955, André's has made it our mission to share our Swiss heritage. We recently created a one-of-a-kind gift, our Swiss Heritage gift box. Many of the items in this special collection are either largely unavailable in the U.S. or are no longer made with the same level of handcrafted care that goes into every André's product. The box is perfect for anyone looking for sweet treats they might never have tried before but are sure to love.
Our chocolate almonds are a classic and our number-one customer favorite. The milk and dark chocolate almonds have for decades been our best-selling product, and last year we introduced two new flavors and a collection box with all four flavors: milk, dark, Swiss alpine salt dark, and single origin extra dark. 
My personal (current) favorite is our Orange Peels, especially the new Orange Peel Wedges. I cannot get enough of them and must have them on hand at all times. It doesn't hurt that, like all flavors of our dark almonds, they are also gluten free and vegan.
Q: When it comes to people stopping by to pick up cookies and cakes for their holiday entertaining at home, what are a few of your top sellers?
A: Leckerli: Unique spiced cookies handmade with local raw honey, fresh roasted almonds, and in-house candied orange and lemon peels. 
Tea Cookies: Made in a traditional Swiss fashion, just as founder André Bollier learned to make them when he trained as a master pastry chef in Switzerland. 
Bûche de Noël: This artistically stunning yule log torte is a classic Swiss holiday dessert made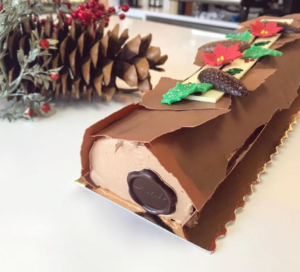 using our traditional recipe: layers of cake and buttercream rolled together, delicately wrapped in flakes of our signature Swiss chocolate, then topped with marzipan leaves and chocolate décor.
Holiday Dresdener Stollen: A traditional holiday coffee cake made with almonds, pecans, dried and candied fruits, rolled in butter and powdered sugar. Stollen has been a Christmas staple at André's since 1955 and remains our most popular holiday item.
Q: What seasonal menu and décor changes can people expect when they dine with you this month?
A: Part of the holiday excitement comes from the decorations that are put up by three generations of the Bollier family the week of Thanksgiving. The family comes in to decorate the café, retail area and tea room. It's something our kids look forward to each year. This will be the first Christmas without first-generation founder Elsbeth Bollier, who passed this year.
Drue Kennedy, our executive chef, creates daily specials and weekly vegetarian entrees that feature a variety of Swiss classics as well as innovative recipes. Drue makes incredible soups during the winter months and is always creating fantastic new dishes.
Bollier is owner + director of marketing and wholesale at André's Confiserie Suisse. Responses edited for clarity and length.