SHOW DESCRIPTION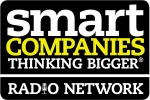 Thinking Bigger Business Media no longer broadcasts Smart Companies Radio. Please enjoy the archives.
Get the inside scoop on how America's most successful business owners transformed their entrepreneurial vision into reality! And, listen in as some of the top business minds in the country, best-selling business authors, and nationally recognized business gurus serve up practical advice, tips and insights for growing your business.
Be sure to catch the Kansas City archives of Smart Companies, too!
HOST BIO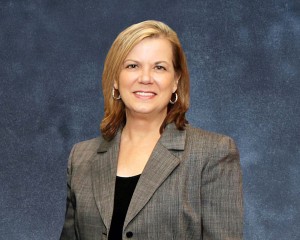 Kelly Scanlon is the former owner of Thinking Bigger Business Media, Inc., a company that publishes and produces a variety of publications, products and events that connect growth-minded business owners with practical strategies, resources and information that will take them to the next level of success.
Kelly serves on a variety of local, regional and national boards designed to advocate and assist small businesses. She served as national chair of the National Association of Women Business Owners (NAWBO) in 2010-2011 as part of a 5-year tenure on the national board of directors.
Kelly was recognized in August 2011 on a list published by Forbes as one of the "Top 25 Women Tweeting About Entrepreneurship." Some of the other awards she has won include the 2011 United Nations NGO Positive Peace Award on behalf of Kansas City area small business owners; U.S. Small Business Administration's 2009 Region VII Women's Business Advocate (for Kansas, Missouri, Iowa and Nebraska); and numerous others.
SHOW ARCHIVES
September 2016
September 2, 2016 // How to Become The Expert and Authority with Author & Speaker Ken Lizotte LISTEN
August 2016
August 26, 2016 // The Ultimate Competitive Battle Ground Are You Ready? with Author Rob Bernshteyn LISTEN
August 19, 2016 // There's Money in Maggots: Grubbly Farms Sees Sustainable Future In Bug Farming LISTEN
August 12, 2016 // Be The Disrupter By Getting Ahead of The Curve With Author Pamela S. Harper LISTEN
August 5, 2016 // Time To Make the Jump to Entrepreneur With Award-Winning Author, Pamela Slim LISTEN
July 2016
July 29, 2016 // The State of Small Business in America 2016: Babson Professor Donna Kelly Guests LISTEN
July 22, 2016 // Changing the World With Just a Chat: Bishop McCann's CEO & President Rob Adams LISTEN
July 15, 2016  // 4000 Miles Across America, Entrepreneur & Author Michael Glauser Defines Success LISTEN
July 8, 2016 // How to Turn Your Leads into Sales with expert and author Justin Sturges LISTEN
July 1, 2016 // Business Planning Expert Tim Berry Shapes Up Your Business Plan by Getting Lean LISTEN
June 2016
June 24, 2016 // Jeffery Shaw: The Freedom Fighter for The Uncommon Entrepreneur LISTEN
June 17, 2016 // Mom Made Food CEO Heather Stouffer Makes Mealtime Fun, Simple and Healthy LISTEN
June 10, 2016 // Catch the Next Market Wave & Surge to Success with Author Mike Michalowicz LISTEN
June 3, 2016 // Great Advice with Money Magazine & NBC Financial Correspondent Jordan Goodman LISTEN
May 2016
May 27, 2016 // A Declaration of Independents: Businessman & Author Greg Orman Guests LISTEN
May 20, 2016 // Going Global Without Losing Your Shirt With Payscout CEO Cleveland Brown LISTEN
May 13, 2016 // We're Doing It All Wrong! A Bold New Business Approach with Author David Burkus LISTEN
May 6, 2016 // Learn The Secrets to Successfully Managing Your Sales Force with Chris Cahill LISTEN
April 2016
April 29, 2016 // Profiting in a World Where Customers Rule with Author Tema Frank LISTEN
April 22, 2016 // CEO Afterlife:Are You Ready? with Author and Business Consultant Susan Spaulding LISTEN
April 15, 2016 // How to Hire the Best in Rural America With Author Dr. Sabrina Starling LISTEN
April 8, 2016 // New Rules of the Game, HGTV Co-Founder Susan Packard Shares Workplace Strategies LISTEN
April 1, 2016 // How to Select the Right Exit Strategy, Succession Advice From Bank of the West LISTEN
March 2016 
March 25, 2016 // Creating Client Success: With Core Catalysts Founder Jim Wadella LISTEN
March 18, 2016 // Injured Veteran Bringing Learning Back to Play Time With Ollies Blocks LISTEN
March 11, 2016 // Dont Brainstorm Your Company Out of Biz with Best Selling Author Stephen Shapiro LISTEN
March 4, 2016 // The Big Business of Furries. Meet Colorado Creator Sarah Dee LISTEN
February 2016
February 26, 2016 // Grow Your Business With Author, Consultant and Entrpreneur Donna Leyens LISTEN
February 19, 2016 // CBS TV's Amazing Race Winners, The Beekman Boys Talk Entrepreneurial Success LISTEN
February 12, 2016 // Driving Ideal Clients Straight to Your Front Door with Consultant Dov Gordon LISTEN
February 5, 2016 // Overcoming His Loss of Sight, Entrepreneur Max Ivey Shares His Inspiring Story LISTEN
January 2016
January 29, 2016 // 
January 22, 2016 // Getting Down To Business With Author and Serial Entrepreneur Harris Glasser LISTEN
January 15, 2016 // Leveling the Playing Field with Women's Foundation President & CEO Wendy Doyle LISTEN
January 8, 2016 // What the Rolling Stones Taught Me About Being an Entrepreneur with Jeff Stoller LISTEN
January 1, 2016 // Blooom Ready to Offer Financial Assistance No Matter What Size Company LISTEN
December 2015
December 25, 2015 // "Henry's" Are Good for Your Bottom Iine with Marketing Expert Pam Danziger LISTEN
December 18, 2015 // Measuring Your Success As The Boss with Successful CEO Joel Trammell LISTEN
December 11, 2015 // The Grommet: Reshaping How We Discover, Share and Purchase Products LISTEN
December 4, 2015 // Determination, a Blessing and a Curse For Handcrafted Hooch Maker, Linda Losey LISTEN
November 2015
November 27, 2015 // It's Always Tea Time with Wystone Teas President & CEO Wy Livingston LISTEN
November 20, 2015 // Creating Strategic Impact Throughout Your Company With Brainzooming's Mike Brown LISTEN
November 13, 2015 // Power Up Your Next Brainstorming Session with Innovation Expert Richard Haasnoot LISTEN
November 6, 2015 // Make Your Networking More Profitable With Award-Winning Author Jeff Beals LISTEN
October 2015
October 30, 2015 // Learning to Code: It's Never Too Early To Start with author Heather Petrocelli LISTEN
October 23, 2015 // Life is Better with a View From The Top: Life & Business Coach Aaron Walker LISTEN
October 16, 2015 // Scaling Up with National Speaker, Author & Founder of Global E-O, Verne Harnish LISTEN
October 9, 2015 // Loyalty Lessons from a Multi-Billion Dollar Grocery,with Author Daniel Korschun LISTEN
October 2, 2015 // Growing Your Business to a New Level of Success with Mark LeBlanc LISTEN
September 2015
September 25, 2015 // Entrepreneurial Grannies Thrive Without the Help From The Shark Tank LISTEN
September 18, 2015 // Let Your Setback Be Your Comeback with Award Winning Speaker,Dr. Willie Jolley LISTEN
September 11, 2015 // TV & Film Fashion Facilitated in Flyover Country with Wardy's Brian Toone LISTEN
September 4, 2015 // Protecting the Rights of Small Business, SBEC President and CEO Karen Kerrigan LISTEN
August 2015
August 28. 2015 // Decorated Marine Veteran Brent Bustamante Kicks Fashion Up a Notch LISTEN
August 21. 2015 // Discovering Your Performance Breakthrough with Mike Goldman LISTEN
August 14, 2015 // Green Means Go for Visionary Leader & Entrepreneur Reggie Chandra LISTEN
August 7, 2015 // Crisis Prevention at Your Business With P-R Guru David Johnson LISTEN
July 2015
July 31, 2015 // Will Small Business Gain From Corporate Tax Overhaul? – SBEC's Ray Keeting LISTEN
July 24, 2015 // Creating Business Plans That Actually Get Financed LISTEN
July 17, 2015 // From Type A to Type T: Transforming Your Life with Author Marty Stanley LISTEN
July 10, 2015 // CNBC's The Profit Gives Cosmetics Company a Makeover LISTEN
July 3, 2015 // From Basement to Brewmeister: New Belgium Brewing CEO Kim Jordan LISTEN
June 2015
June 26, 2015 // Spicing Things Up With The Spice & Tea Exchange Founder Clay Freeman LISTEN
June 19, 2015 // From the Cell Block to the C Suite With CEO Andrew Medal LISTEN
June 12, 2015 // Built to Lead: Leadership Success Principles, with best-selling author David Long LISTEN
June 5, 2015 // Real Management Solutions from Best Selling Author Bruce Tulgan LISTEN
May 2015
May 29, 2015 // Best-Selling Author Scott Duffy Shares His Blueprint to Launch & Grow a Business LISTEN
May 22, 2015 // How to Close the Execution Gap & Get Things Done, with Rick Lepsinger of OnPoint Consulting LISTEN
May 15, 2015 // Women Who Changed America, with National Women's Hall of Fame CEO Jill Tietjen LISTEN
May 8, 2015 // Quality Professional Investment Management Available to Everyone with Blooom LISTEN
May 1, 2015 // Doses of Entrepreneurial Dynamite with Author, Speaker & Coach Dixie Gillaspie LISTEN
April 2015
April 24, 2015 // Reducing Employee Turnover: How to Keep Your Employees Engaged, with Leigh Branham LISTEN
April 17, 2015 // Social Entrepreneur Liz Bohannon, Co-Founder of Sseko, Is Changing Lives in East Africa LISTEN
April 10, 2015 // Is Washington Slowing the Recovery? LISTEN
April 3, 2015 // Emmy Award-Winning Chef Lidia Bastianich Shares Her Success Secrets LISTEN
March 2015
March 27, 2015 // Help Is on the Way for Number Phobic Business Owners, with Professor Dawn Fotopulos LISTEN
March 20, 2015 // Flowers That Provide a New Lease on Life, with Startup Company ReBloom LISTEN
March 13, 2015 // Entrepreneurship Is Still the American Dream, with author Dr. Tom Anastasi LISTEN
March 6, 2015 // New Initiative to Entice Some of the Best Tech Entrepreneurs in the Country to KC LISTEN
February 2015
February 27, 2015 // Is it Time to Put Email Out to Pasture? LISTEN
February 20, 2015 // Reducing Unfair Barriers to Employment LISTEN
February 13, 2015 // Women Business Owners: Learn to Unleash Your Greatest Assets, with Skirt Strategies Author Katie Snapp LISTEN
February 6, 2015 // Getting to It: Accomplish the Necessary and Strip Away the Rest, w/Jones Loflin LISTEN
January 2015
January 30, 2015 // Making Great Ideas a Reality, with 99U Director & Editor-in-Chief Jocelyn Glei LISTEN
January 23, 2015 // Manage Your Company with Real Solutions, with Best-Selling Author Bruce Tulgan LISTEN
January 16, 2015 // Grow Your Small Business Through Successful Partnerships, with Guest Paul Mandell LISTEN
January 9, 2015 // Turning Your Business Network into Profits, with Power Connector Judy Robinett LISTEN
January 2, 2015 // Startup Advice from Startup Guru Martin Zwilling LISTEN
December 2014
December 26, 2015 // How Elf on the Shelf Got Its Start LISTEN
December 19, 2014 // Could Milwaukee Soon Be the Bobblehead Capital of the World? LISTEN
December 12, 2014 // Big Cannabis in Colorado – Will Smaller Potrepreneurs Go Up In Smoke? LISTEN
December 5, 2014 // Think Like a Marketer, Sell Like a Superstar, with John Jantsch LISTEN
November 2014
November 28, 2014 // How Small Business Saturday Fuels the Economy LISTEN
November 21, 2014 // Everykey: A Solution to Password Security LISTEN
November 14, 2104 // Entrepreneurial Brothers-in-Law Solve "NoodleNeck" Head Bobbing LISTEN
November 7, 2014 // The Accidental Brewmeister, with New Belgium Brewing CEO Kim Jordan LISTEN
October 2014
October 31, 2014 // From Zero to One: Blake Masters Talks Startups and Building the Future LISTEN
October 24, 2014 // Why Kansas City Has Become a Growing Hotbed of Entrepreneurship LISTEN
October 17, 2014 // Overcoming the Taboo of Failure, with Cass Phillipps of FailCon LISTEN
October 10, 2014 // Women's Small Business Month: Business Strategies for WBEs, with Michele Markey LISTEN
October 3, 2014 // I Need Money for My Business Now! with Tiffany Wright LISTEN
September 2014
September 26, 2014 // The Entrepreneur Grannies, founders of Ice Chips Candy LISTEN
September 19, 2014 // Are You Successfully Balancing the CEO Tightrope? with Joel Trammel LISTEN
September 12, 2014 // Slaying the Startup Manufacturing Dragon, with Scott Miller, Dragon Innovations LISTEN
September 5, 2014 // School for Startups, with Jim Beach LISTEN
August 2014
August 29, 2014 // Business Owners: To Degree or Not to Degree, with Dr. Angie Besendorfer LISTEN
August 22, 2014 // How to Give Your Business a Competitive Intelligence Advantage, with Seena Sharp LISTEN
August 15, 2014 // Everwise's Rocket Fuel for the Modern Workplace: Online Mentoring LISTEN
August 8, 2014 // Moving Women in Business Forward, with Gay Gaddis, Chair of the Committee of 200  LISTEN
August 1, 2014 // Creating Content That Gets Clicked and Shared, with John Rampton LISTEN
July 2014
July 25, 2014 // Championship Coach Jeff Scurran: Success on the Playing Field and in Business LISTEN
July 18, 2014 // How to Make Generations X, Y, and Zoomers Happy at Work, with Cheryl CranLISTEN
July 11, 2014 // Creating the World's Largest Coffee Shop, with Ace Callwood of Coffitivity  LISTEN
July 4, 2014 // How to Put Profit First, with Best-Selling Author Mike Michalowicz LISTEN
June 2014
 June 27, 2014 // Starting a Business – Great Startup Ideas Don't Guarantee Investors LISTEN
June 20, 2014 // The Decline and Fall of IBM, with Robert X. Cringely: Silicon Valley Confidant LISTEN
June 13, 2014 // Solar Highways: Pathways to a More Sustainable Future? LISTEN
June 6, 2014 // The LinkedIn Edge, with J.D. Gershbein LISTEN
May 2014
May 30, 2014 // Privacy and the Internet, with Duck Duck Go Founder & CEO Gabriel Weinberg LISTEN
May 23, 2014 // Telling the Story of Southwest Airline's Culture, with Linda Rutherford LISTEN
May 16, 2014 // The Art of War for Small Business with Becky Sheetz-Runkle LISTEN
May 9, 2014 //Investment Wisdom from Belinda Savage, One of the First 10 Women Traders on Wall Street LISTEN
May 2, 2014 // How to Make Generations X, Y, and Zoomers Happy at Work, with Cheryl Cran LISTEN
April 2014
April 25, 2014 // The Soft Edge: Where Great Companies Find Lasting Success, with Forbes Publisher Rich Karlgaard LISTEN
April 18, 2014 // Are Co-Working Spaces the Wave of the Future? LISTEN
April 11, 2014 // The Barefoot Spirit LISTEN
April 4, 2014 // Does "Cracker Jack" Run Your Customer Experience? LISTEN
March 2014
March 28, 2014 // Own Your Future: How to Think Like an Entrepreneur and Thrive LISTEN
March 21, 2014 // The Power of Your Business Name LISTEN
March 7, 2014 // 10,000 Small Businesses: An Investment in America's Entrepreneurs  LISTEN
February 2014
Feb. 28, 2014 // For Better or for Work, with Meg Hirshberg LISTEN
Feb. 21, 2014 // Entrepreneurship Goes to School . . . And Turns Up in Some Surprising Classes LISTEN
Feb. 14, 2014 // Up Close With Melissa Thompson, founder of TalkSession LISTEN
Feb. 7, 2014 // Sales Shift: Why the Age of the Customer Has Dawned, with Jim Blasingame  LISTEN
January 2014
Jan. 31, 2014 // Lessons for Small Business in Target Data Breach, with former FBI special agent Jeff Lanza  LISTEN
Jan. 24, 2014 // The Secret Behind the Hottest Business in Fort Mill, South Carolina, with Ed Currie who holds the record for creating the hottest pepper on Earth  LISTEN
Jan. 17, 2014 // Flight Car: Braving the New Frontier, with entrepreneur Kevin Petrovic LISTEN
Jan. 10, 2014 // Cupcake Confidential – with Jeff Martin of Smallcakes LISTEN
Jan. 3, 2014 // Bitcoin – The New Currency or Just a Flash in the Pan? —with Brandon Perry and John Kennyhertz LISTEN
December 2013
Dec. 27, 2013 // Making the Most of Your Advertising Dollar, with the "Commercial Professor" Tim Burt LISTEN
Dec. 20, 2013 // Turning Adversaries Into Allies – with Bob Burg LISTEN
Dec. 13, 2013 // Are Entrepreneurs Worthless, Impossible and Stupid, with Dan Isenberg LISTEN
Dec. 6, 2013 // The Inside Scoop on the Founding of Twitter, with New York Times business columnist Nick Bilton who authored the best-seller Twitter Hatched LISTEN
November 2013
Nov. 29, 2013 // The Story Behind the "Elf on the Shelf" Magic, with co-founder Chanda Bell LISTEN  
Nov. 22, 2013 // Why Employees Are ALWAYS a Bad Idea, with author Chuck Blakeman LISTEN
Nov. 15, 2013 // What It Takes to Build an Entrepreneur Ecosystem, with Barnett Helzberg Jr., Joe Lieberman and Maria Meyers LISTEN
Nov. 8, 2013 // Keys to Long-Term Success in Business, with William Bronchick, CEO of LegalWiz Publications  LISTEN
Nov. 1, 2013 // How to Become a Conscious Millionaire, with author JV Crum III LISTEN
October 2013
Oct. 25, 2013 // Landmark Legislation for Women Business Owners Remembered, with Virginia Littlejohn, Dr. Terry Neese, and Julie Weeks LISTEN
Oct. 18, 2013 // Get Your Business Unstuck!, with Barry Moltz LISTEN
Oct. 11, 2013 // My Life Inside Arthur Anderson – Including the Fall, with Larry Katzen LISTEN
Oct. 4, 2013 // Mastering Quick Change in Business, with former Navy Seal Brent Gleeson LISTEN
September 2013
Sept. 27, 2013 // Glamajama's Heather Schuck – eBay Hobby to Multimillions! LISTEN
Sept. 20, 2013 // Tracking Down the 60 Most Interesting Business Leaders, with Sean Spence LISTEN
Sept. 13, 2013 // Stretching Employee Strengths, with Paul Brewerton LISTEN
Sept. 6, 2013 //Texting and Driving Can Be a Business Killer Too, with John Sondag and Belinda Waggoner LISTEN
August 2013
Aug. 30, 2013 // Marketing to Millennials, with Jeff Fromm LISTEN
Aug. 23, 2013 // Why Brands Fail in a Crisis, with David Johnson LISTEN
Aug. 17, 2013 // Living the 12-Week Year, with Brian Moran LISTEN
Aug. 10, 2013 // Sun Tzu for Women: The Art of War for Winning in Business, with Becky Sheetz-Runkle LISTEN
Aug. 3, 2013 // Silpada Designs: Back in the Family After Avon Sale, with Kelsey Perry and Ryane Delka LISTEN