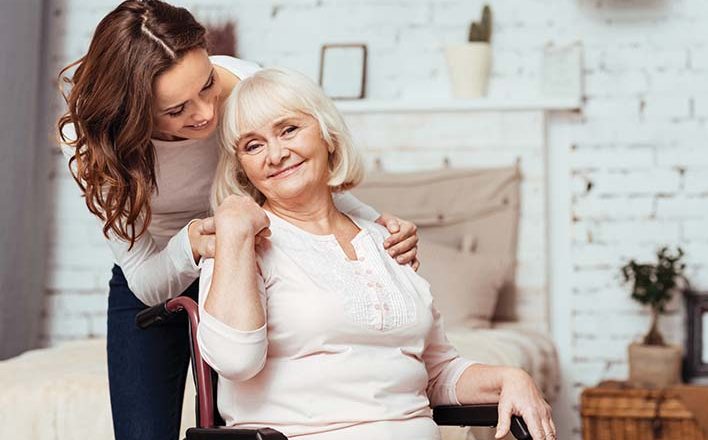 Senior services boom: Wide range of businesses cater to aging population
The numbers are staggering—but so, too, are the opportunities.
Baby boomers—Americans aged 55 to 75—number anywhere from 75 million to 83 million in the U.S. Generation X, which is the next younger group at ages 38 to 53, includes 61 million to 65 million people. In the next few years, most of them will be seniors or caring for seniors.
Businesses that are ready and waiting to cater to the needs of seniors will be in high demand.
In an addition to offering needed services to these groups, business owners are looking at the groups of people with the most disposable income and the most time to spend it. Also, as rule, boomers and Gen Xers are working and living longer and looking for goods and services to help make their lives a little easier.
Kansas City has any number of entrepreneurs who are already building businesses designed to help seniors and their families. Just a few are highlighted here, but as the years go by and the population and needs increase, you can be sure that more will join their ranks.
Brown Button Estate Sale Services
Michael Fry and his brother, James, didn't set out to be in the estate sale business. But after attending a number of estate sales and seeing how many were poorly run, the two decided it wouldn't take much to improve the service. With that goal in mind, Brown Button Estate Sales Services was born.
"It's an unusual industry," Michael said. "Estate sales are not regulated. People just turn over their keys and their homes without a thought. There are just so many bad actors in the industry.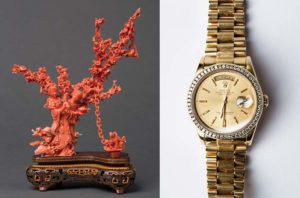 "We saw the opportunity to do better, to run them with dignity."
Building the business wasn't easy.
"We were completely naïve when we started," Michael said. "The average estate sale nationally is $11,000. It's really easy to put more into it than you get out. There were two times in the first three years that we almost closed."
An estate sale in a $2.5 million home was the turning point both for the company's bottom line and its focus. The Frys realized that their sweet spot would be high-end estate sales. Today, they concentrate on Leawood, southern Overland Park, Sunset Hills, Mission Hills, etc.
"We put a lot of emphasis on our culture, working with compassion," Michael said.
Expansion is the next step. This summer, the company launched Circle Auction to help clients sell especially valuable items on an international platform. Brown Button also plans to open in Nashville by the end of the year and has a goal of a number of new locations over the next five years, taking advantage of the growing senior demographic.
AgeWise Advocacy
Getting older isn't something many people look forward to, but it's an inevitability. Still, planning for how life decisions should be made if or when an individual can't make them independently isn't easy.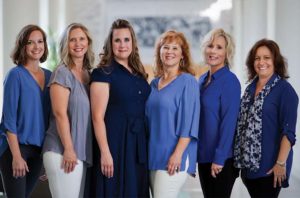 AgeWise Advocacy is devoted to helping seniors and their families/caregivers navigate the choppy waters of aging.
Dana Lambert, one of AgeWise's founders, is a social worker with a special passion for working with seniors.
"We as a society aren't aging well," she says. "Things either come to a head or everything comes crashing down. We started the company to help seniors plan ahead."
The company focuses on four areas: transition planning, helping seniors and their families deal with the crises and challenges of aging, illness or dementia, conflict resolution and money management. From making an end-of-life plan to mediating family disputes over furniture to helping seniors with daily money management, AgeWise's five social workers and an accountant are available for virtually anything a senior needs.
"It's really a privilege to walk this path and make it a little easier to get their needs met," Lambert said. "We can't change the aging process, but nobody's alone.
"Facing the future by planning ahead can be a little emotionally difficult, and not a lot of people are willing to do the hard work, but it's the best way to get what you want as you age."
Soundscaping Source
Rachelle Morgan is an accidental entrepreneur. The music therapist knew she wanted to live in her native Kansas following college; but with limited numbers of jobs available in her field, she created her own, starting a service for senior living facilities, hospices and private clients.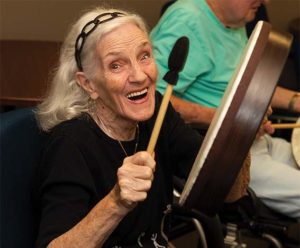 Since high school, Morgan has known she wanted to work with seniors and with music.
"Music unlocks something in us," she said. "It brings out emotions and memories in all of us."
Morgan and her team work with many senior living communities in Greater Kansas City as well as three hospices. In addition to providing in-person music therapy, they help staff members develop and facilitate music programs.
She also helps other music therapists develop the business side of their practices. She shares lessons she's learned through the years about marketing, strategy and other business practices.
Morgan's seen firsthand how music can help.
"I had a client who had some agitation related to his dementia," she said. "He wasn't supposed to have any particular musical talent, but one day, when I started singing 'You Are My Sunshine,' he started singing with me—much to the surprise of his wife. We kept singing together over the next several sessions and eventually had about 20 songs that we all could sing together. This husband and wife got to have this beautiful shared experience in music together."
Morgan's business is definitely in a growth mode as people recognize what music therapy can do for loved ones as they age.
"I really believe people deserve meaningful music experiences until the end of their lives, with the people they love around them," she said. "I'd love to see it in every senior community and hospice."
Celebrating Personal Treasures and Past Perfect Stories
Moving into a retirement community or downsizing into a smaller home isn't easy for most seniors. Letting go of possessions involves more than just leaving behind pieces of furniture, books, clothes, etc. The memories connected with "things" is strong.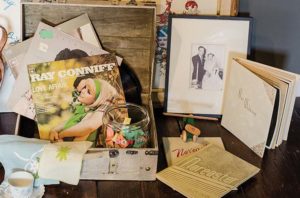 For Kim Berwald-Viar, it's those connections that have helped her build two businesses.
Celebrating Personal Treasures works to tell people's stories, primarily through videos, often at funerals. Then a few years ago, Berwald-Viar was doing a workshop on memory-keeping at a retirement community and had asked residents to bring keepsakes. One resident was sad because she realized her keepsakes were in a box in her daughter's Dallas home—not in Kansas City. A lightbulb went off, and Past Perfect Stories is the result.
Berwald-Viar and her team work with senior living communities and their residents as people are moving in to gather keepsakes into a History Trunk and produce a coffee table book documenting the resident's life stories and memories. But they do more than that.
When they find residents with similar stories or interests, they help introduce them to one another, hoping to turn strangers into friends and make connections, which enhances the culture at the retirement community.
"We really work alongside the resident, as a friend to help them connect and open up, to ease into their new community," she said.
Berwald-Viar's goal with both companies is simple: "Why not celebrate people's lives while they are with us?"