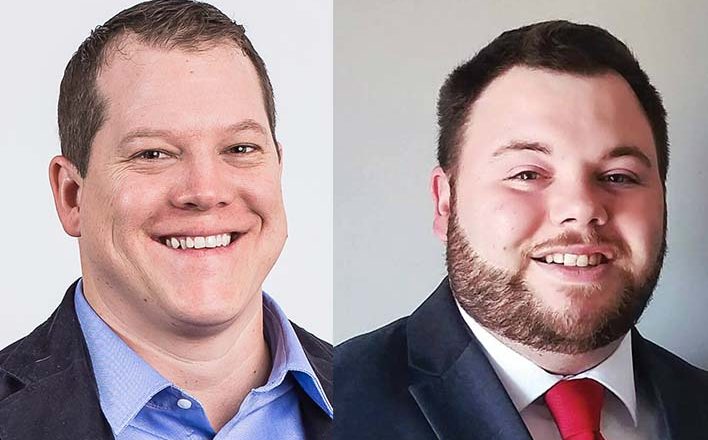 Sharpening Their Business Acumen
When Mike Knopke co-founded KC Shave Co. in March 2016, it was the serial entrepreneur's third business. 
And he immediately knew this one was different from his other successful businesses.
ENTREPRENEURS
Mike Knopke and Joe Henderson
COMPANY
KC Shave Co.
(913) 544-5373
KCShaveCo.com
Kansas City Shave Co. LLC offers a full line of craft shaving supplies including single-blade razors, brushes, specialty soaps, beard oils and more.
ARE YOU READY TO SCALE UP?

ScaleUP! Kansas City—a free program for KC small businesses—is looking for companies that want to supercharge their growth. Learn more at www.scaleupkc.com
"It has potential to be bigger than anything I've ever done," Knopke says.
As he and business partner Joe Henderson listed the obstacles ahead of them, they realized it was time to get involved in the entrepreneurial community and ask for help. The entrepreneurs sell craft shaving supplies including single-blade razors, brushes, specialty soaps, beard oils and more. They had already spent time researching the market but needed to know how to scale the business.
A mentor suggested ScaleUP! Kansas City.
ScaleUp! is a free program offered by the University of Missouri-Kansas City Innovation Center with support from the Ewing Marion Kauffman Foundation. The program includes classes, peer mentoring, professional guidance and more. It's open to small businesses like KC Shave Co. that operate in a market capable of supporting more than $1 million in annual sales and that want to rapidly grow their business.
Rethinking Strategies
After selling two successful companies—an HVAC business and a junk hauling and recycling company—some might think Knopke didn't need the ScaleUP! advice. They would be wrong.
"The teachers and the coaches, they're all fantastic," Knopke says.
ScaleUP! has helped Knopke focus the business and prepare for the growth.
By the end of his first class, Knopke started rethinking several strategies. For instance, Knopke says he's always set long-term business goals. But ScaleUP! taught him to take a few extra steps each week and drill down to think about exactly how to get to a three-year goal.
Knopke has gone from thinking like a technician working in a business to a CEO who is developing and creating strategy. While taking the ScaleUP! courses, Knopke set a three-year goal and began working backward to figure out how to accomplish that plan.
Cost-Conscious
One of the first changes Knopke made as a result of ScaleUP! was to adjust his pricing strategy. Knopke knows what he needs to charge today in order to make a profit. For now, overhead is a mere two people: Knopke and Henderson. But the company is on a growth trajectory. ScaleUP! experts urged him to consider all the variables of scaling when setting a price.
"You've got to make sure that you're covered in your cost for future growth," he says. "I can't just all of a sudden in three years double my price because now I've got salespeople."
That particular piece of advice from ScaleUP! came at a crucial juncture. It happened about a week before the business partners were gearing up for a critical tradeshow in Las Vegas where they were marketing their products to wholesale buyers for retailers across the country. Pricing had to be precise.
Knopke and Henderson sat down and refigured their cost to make sure they were setting the right foundation for their business. They didn't look back.
Getting 'Better and Smarter'
Both business partners feel more confident, thanks to ScaleUP! resources offering evidence-based help.
Henderson also noticed Knopke's leadership approach has changed since ScaleUP!. Knopke clearly communicates his vision these days.
"It's more big-picture," Henderson says. "Now, it's actionable steps: This is where we're going. This is how we're going to do it."
But the entrepreneur also is more open to ideas and help, Henderson says.
"He's recognized that there are things he doesn't know, and he's willing get better and smarter to put the company first," Henderson says.
That's critical, given that KC Shave Co. is competing against massive companies that sell throwaway razors with multiple blades.
"We are bringing the shave world back to the basics of shaving," Knopke says. "What the big guys did is make you think that you need four or five blades to get a good shave."
The co-founders started the business as several companies including the Dollar Shave Club were disrupting the shaving market with old-school approaches to shaving.
KC Shave Co. is different still, they say.
The Kansas City company offers a single-blade razor for an overall better shave. The big companies claim that several blades will give you a better shave, Knopke says.
"The reason they did that was so they could charge a ridiculous amount of money," Knopke says.
In addition to razors, KC Shave Co. sells shave soaps, beard oils, brushes and other accessories. The specially formulated soaps and beard oils don't have harsh chemicals, making them better for your face, Knopke says.
'We're on the Cusp'
The company operates mainly by e-commerce for now. But it is growing retail sales, which includes 60 stores in 11 states, as of early March. The appeal, Knopke says, is diverse. For instance, utilitarian stores like Ace Hardware Stores carry the shaving line. But it's also found a home in several specialty men's stores, including ULAH, a high-end men's clothing and lifestyle store in Westwood.
At ULAH, the owners had looked for a high-end shaving product to add to their shelves before choosing on KC Shave Co.
"Their price point is great. The quality is definitely there," said Joey Mendez, a co-owner.
The varied retailers are a reminder that the old-school shaving approach is enjoying resurgence.
It means there is much to prepare for as Knopke and Henderson make plans to steady the business for major growth. ScaleUP!, Knopke says, has allowed them to prepare for the work ahead. It's also given them a place to come back and regroup when they need advice down the road.
"I personally feel like we're on the cusp of something fairly large, so it's exciting," Knopke says. "And scary all at the same time."