North Kansas City, Mo., covers less than five square miles on the metro map, but roughly 900 businesses operate within its modest boundaries. More than 25,000 workers—more than five times the number of residents—come here daily, and a growing number of consumers are flocking to the city's breweries, restaurants, shops and unique entertainment options.
It hasn't always been that way.
Adam Roberts said there was "literally nothing else in the area" to draw customers when he and partner Brent Miller took over operation of the Screenland Armour about five years ago. With dozens of other theaters in the metro area to choose from, Roberts and Miller needed a hook to make their 90-year-old theater standout, so they planned unique events and offered a vast selection of craft beers. The formula worked, and the partners are planning an expansion that would add two new screens, a bigger lobby and amenities.
"We knew that if we offered what was missing in the entire city, people would come for it," Roberts said, "and they did and continue to."
Area 'unlike any other'
Other entrepreneurs with something unique to offer also have found their way to North Kansas City for one reason or another, making it a hub for the unusual.
"The area is truly unlike any other in the city," Roberts said. "You can safely ride a bike to multiple breweries, grab a coffee or kombucha, play pickleball and catch a film in the same few-mile radius all while supporting local businesses. You can't curate these types of businesses in a single-developer property."
Bob Martin, a partner in iWerx, which offers private offices and co-working spaces for businesses and independent workers in North Kansas City, said RoKC climbing gym and Chicken N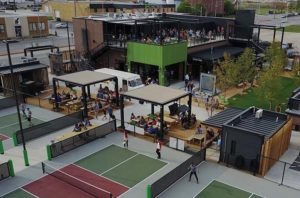 Pickle are drawing customers not only from all over the metro but "from all over the upper Midwest to their unique brands of recreation."
Chicken N Pickle combines a restaurant with indoor and outdoor games, including—you guessed it—pickleball. Vice president of operations Kellen Mumm said locating in North Kansas City was an easy decision because owner David Johnson's offices at Maxus Properties were already located in the same neighborhood. Mumm also said a smaller city government like North Kansas City's is nimble and easier to deal with than some of the larger metro municipalities.
Chicken N Pickle opened its pickleball courts in June 2016, and the restaurant followed in January 2017.
"Everyone at the city was happy to meet with me any time and help get us open as fast as humanly possible," Mumm said.
Partnerships Foster Growth for All
While Roberts and Miller invested in an existing North Kansas City business, and Johnson opened his company in an area where he already did business, Andrew Potter ended up in North Kansas City for completely different reasons.
"It was the building," said Potter, who operates RoKC with his brother Frank. "It didn't need to be in a high-end area. We were looking for an industrial space. I need 20,000 square feet and a 40-foot ceiling. I can't afford to be in an expensive retail space next to a Dillard's. We were looking in the West Bottoms and North Kansas City locations that had industrial space."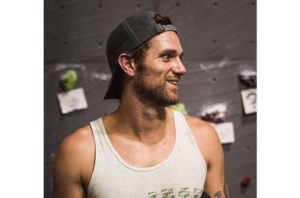 Potter found it an old building that had been home to a manufacturing plant, batting cages, and a storage facility, among other things. And although he was looking specifically in industrial areas, Potter—like Roberts—said that initially there wasn't much else to draw people to North Kansas City or to keep them there once they arrived. That changed quickly.
"We came in after Cinder Block Brewery," said Potter, whose business celebrated its second anniversary in April. "The next thing we knew, there was Chicken N Pickle and a distillery. There's more stuff to do now, and the longer people stay, the more money they spend."
Potter said many of the city's businesses work together to promote each other.
"There's a lot of partnerships," he said. "If you go to Cinder Block Brewery on a Wednesday night, you're going to see a lot of their customers with our stamps on their hands because they get a discount if they come to our place on Wednesday and then go to Cinder Block."
Success Spurs Expansion
Potter credited Cinder Block with jump starting North Kansas City's recent growth. In the five years since it opened, four other breweries and a distillery have followed. Cinder Block Brewery owner Bryce Schaffter said the city's water quality—crucial for brewing beer—and available warehouse space helped spur that growth.
"North Kansas City is a great location," he said. "It's close to the city but has a big neighborhood vibe. We wanted to put ourselves in a neighborhood that we could help support and that could help support us."
RoKC, meanwhile, has been so successful that it recently opened a second location in Kansas City, Mo., and Potter said the brothers expect to break ground on a third location by early May in Olathe.
"It's been an awesome two years," he said. "I'm really glad our first facility was in North Kansas City."
iWerx also is expanding, adding a second location in Gladstone, Martin said.
'People Want These Unique Experiences'
If North Kansas City's unique offerings continue to expand elsewhere, will North Kansas City lose its niche?
"I don't think so," Mumm said. "There is a community feel in North Kansas City that you cannot replicate. If you were somehow able to put a Chicken N Pickle, RoKC and iWerx within a one-mile radius of each other in Overland Park, it would not have the same feel as it does here."
There's plenty of uniqueness to go around. Mumm pointed out that Chicken N Pickle's neighbors include Restless Spirits, Repeal 18th Bar & Bistro and Paul & Jack's Tavern.
Restless Spirits, a 2-year-old distillery, doesn't have an automated production line and has "bottling nights" when the public is allowed to help bottle its products. If you are looking for a different kind of experience involving alcohol, you might prefer the Velo Garage & Tap House, which combines bicycle repair and sales with a bar and taproom. Or if you'd like live entertainment to go with your local beverage, you might try Colony KC and its adjacent music venue, The Rino.
"People want these unique experiences," Mumm said. "I would rather spend my money to experience rock climbing or pickleball than buying a video game or a material item. I want to try new things, eat a pickled chicken sandwich, try that new funky sour beer Rodney (Beagle) brewed at The Colony and ride my bike to Velo."
Development Continues
Richard Groves, executive director of the North Kansas City Business Council, said one reason for North Kansas City's growth is that lease rates are generally less expensive than some of the metro's other popular areas, such as The Crossroads Arts District and the Power and Light District. The city also has a lower sales tax rate and no earnings tax, he said.
Regardless of which unique factors led a myriad of new businesses to pick North Kansas City, Schaffter said the city "has changed immensely" in the past five years, and people's perceptions have changed along with it.
"I think there used to be a big stigma about being north of the river," he said. "However, now that people have realized that it's only five minutes from downtown, 10 minutes from the Crossroads, etc., they are making the trip up. When they get here, they see all of these old/new local establishments that they didn't know existed, and it's exciting.
"Northtown is definitely becoming a destination, and we expect more business to keep popping up."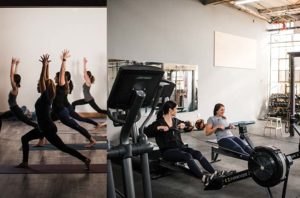 One source of new business will be One North, the mixed-used development at the intersection of Armour Road and Interstates 29 and 35. The roughly 64-acre project, which is supported by a tax increment financing plan, offers a prime location near Cerner Corp., North Kansas City Hospital and Harrah's North Kansas City Hotel and Casino. Meierotto Jewelers' new location already is open there, and the development is expected to include apartments, a medical office building, hotels, a conference center and more, Groves said.
What else? Well, it wouldn't be North Kansas City without something unique. Rick Worner, managing director of National Realty Advisors, said One North likely will have a beach-themed restaurant with simulated surfing machines. The development also will be home to Driv Golf Lounge + Brewhouse, which combines dining with high-tech, indoor golf.
'Word is Getting Out'
Of course, there's more to North Kansas City than alcohol and entertainment. The city also is drawing more traditional commercial businesses, in part, because of liNKCity, the high-speed fiber optic network that is operated as a city utility.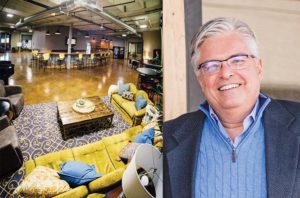 Martin said the 10-gig service has helped iWerx attract more than 70 businesses in less than two years. Only three of those business operated in North Kansas City previously.
"There are less than 100 communities in the U.S. that have 10 gigs or higher," Martin said. "North Kansas City is one of those. From a dark fiber and ISP capacity, NKC may have been one of the best kept secrets in all of the metro. That word is getting out."