When it comes to the health care industry in Kansas City, there are some big players—Cerner Corp., Blue Cross Blue Shield of Kansas City and several hospital systems. These organizations are often in the headlines.
Yet some smaller companies are carving a niche for themselves by providing patient-centered care in their own way.
Focus on functional medicine
Since the early 1990s, functional medicine has come into the health care arena as a new way to help patients through a systems-biology approach. With functional medicine, patients and physicians work together to identify the root cause of disease and treat the whole system, not just symptoms.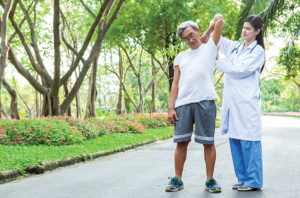 Two years ago, Dr. Michael Simmons formed Navitas Health Group, a health and wellness group that uses this approach. Now with four employees, Navitas serves the KC metro area, southeast Kansas and Northeast Oklahoma.
Simmons, who is CEO and medical director, created Navitas after his own health crisis.
"I suffered two strokes before age 40 and was in a wheelchair with traditional medicine giving me no hope to walk again," Simmons said. "I was a busy physician and didn't know there was another way to help people be healthy."
Simmons explored the root causes for his health issues, got treatment and adopted the approach.
"I knew I had to share with and treat patients with this new knowledge," he said.
Navitas goes beyond disease management.
"We utilize a scientific-based education platform to re-educate people about what it means to be healthy and how," Simmons said. "We utilize health coaches in developing a plan with accountability, and we partner with functional medicine to get to the root cause of disease to eliminate or at least mitigate chronic disease."
In the last six months, Navitas has experienced a 25 percent increase in business. Word of mouth has been key. The company also offers live seminars to educate potential patients. While there is competition, Navitas focuses on personalized care for each patient.
"We are providing education for patients so they can impact not only themselves but others in their home and community," Simmons said.
Combining tech, education
More than 6 million people in the United States have been diagnosed with Autism Spectrum Disorder (ASD). iSocial is a Kansas City company laser focused on helping those on the spectrum develop social skills through a therapy curriculum.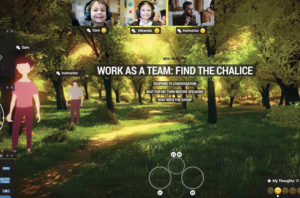 Under the leadership of CEO Bob Etzel, iSocial uses high-tech tools to help those with autism, including a virtual reality gaming platform for children and a smartwatch application.
Startup iSocial operates using the SaaS (software as a service) business model. Etzel's 30-employee company partnered with the University of Missouri and the Thompson Center for Autism in Columbia that developed a specialized curriculum and tech tools. With $12 million in grants, the program took seven years to develop.
"In the VLE (virtual learning environment) version, students and implementers appear as avatars where they interact with one another to develop social skills," Etzel said. "Many children with ASD who won't talk to others in person will speak when using an avatar to represent themselves."
The curriculum consists of five units with a total of 32 lessons that cover everything from recognizing facial expressions to taking turns in conversations.
Sixty schools across the nation are using these lessons with success.
"Eight independent university research studies found that we 'significantly' improve social skills," Etzel said. "In fact, 65 percent of the 500-plus students improved in all five social areas tested."
Etzel said his company is poised for growth. iSocial has exclusive rights to commercialize the intellectual property and is working with an education firm with offices in London and Boston.
"We have an exclusive agreement with Sandbox & Co to team with them in advancing our education brands," he said. "Sandbox & Co brands reach about 20 million teachers, parents and students globally every month."
Improving hospital experience
Sphere3 has carved its own niche in the health care world. CEO Kourtney Govro works with a team of 10 employees that offer a health care analytics platform, Aperum, that helps improve patient experience and outcomes.
"We work with hospitals to provide real-time patient experience analytics at the point of care," Govro said. "This includes clinical alarm analytics from anything that rings, dings or buzzes and indicates a patient's condition or need. The platform includes an enterprise multifacility database that normalizes multiple vendors data into one visualization tool … and a patient-experience rounding tool."
Like Simmons of Navitas, Govro was motivated to create Sphere3 following an incident when her son was hospitalized.
"I pushed the button for help and did not receive it for 30 minutes," she said. "It wasn't a life-threatening need, but it was one that caused a very high level of frustration with the hospital. It was also frustrating because I had grown up in the nurse-call industry … so I knew how they were supposed to work."
Following extensive research, Govro created a consulting firm.
"We became the industry-leading experts in clinical alarm design very quickly in 2009," she said.
Sphere3's software is patent pending.
"It has won a lot of awards such as the Gartner Cool Vendor Award," Govro said.
Sphere3 also earned Thinking Bigger's 25 Under 25 Award in 2017.
Today, Sphere3 provides consulting services, deployment services and ongoing support for hospitals in technology transition.
"We have two models — a subscription model where our services are baked into our pricing, but as we have grown we have identified that hospitals have patient experience managers and it's better for them long-term to purchase the software and hire us for support as needed," she said.
Among Sphere3's local clients are Cass Regional Medical Center and North Kansas City Hospital. Recently, Sphere3 signed a national distribution agreement to take its software across the country.
"We have been hired by several hospitals and larger companies to supply consulting services for smartphone deployments at hospitals," Govro said. "It's a very unique niche — as hospitals switch to a new smartphone platform, they need a team that can help them navigate that and provide insights into measurements of adoption, adaptation of process and return on investment insights."
Sphere 3 has had great growth in the past three years, beating its revenue goals.
"But more importantly, we have seen increase in our users using the product," Govro said. "That's what I measure as success — we monitor the adoption and use rates of each client every quarter, and it's a big deal to our team."
Govro takes great satisfaction in her company's growth, as well as seeing changes in the day-to-day operations of hospitals.
"The real change comes directly from the leadership's ability to adopt new practices and integrate data into their everyday decision-making," she said. "I have seen hospitals make huge improvements."