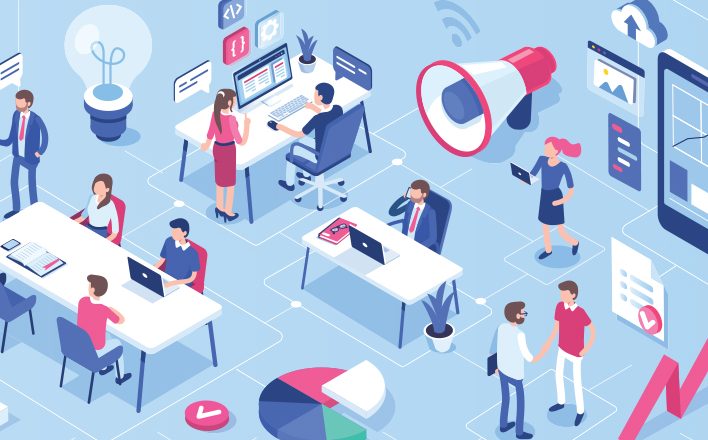 Smart strategies: Learn how to deliver valuable virtual training
What's the saying? "Whatever can go wrong, will go wrong" — especially if it is up to you to deliver training virtually.
Whether you have experience presenting virtually or you have recently been assigned the task, it is a good idea to get a game plan if — I mean when — things go wrong.
Know Your Platform
REALLY know your platform. Take it for a spin several weeks ahead of the virtual training date.
Discover the answers to these questions:
»  What does it look like when people join the training room?
»  How do you mute everyone?  
»  How does the chat box and polling features work?
Ask a friend to practice with you. If you cannot find someone, set up two laptops side by side. Use one to log in as the presenter, and use the other to log in as the participant.
Consider when choosing a webinar or training platform:
»  How many people will typically be in your training room? Will you ever have the need to educate a large audience over 50?
»  Will you need to create breakout rooms?
»  Check your network security. Is there a firewall that bans certain software?
»  Price for value.
Know Your Audience
Who will be in the training and why? Is it mandatory or optional? Knowing this information can help you set a positive tone.
Engage Your Audience
Make good use of the platform's collaboration tools.
For example, create an ice breaker poll. Ask the group an engaging question that can get the conversation going. You may ask, "What is a good book you have recently read? Or movie you have seen?" Continue to ask relevant questions throughout the training to engage your participants. Plan these questions ahead of time. Many webinar platforms will allow you to enter your virtual room early and get set up.
Say their name. If someone engages back with you, acknowledge it! For example, "Yes, Brian! I read that book! It was a great story."
Use your video. People want to see who they are talking to. Pay careful attention to what's behind you. Does your background look professional? Or is it distracting?  Learn how to pause your video if you need to step away.
Know Your Plan B
It is important to give your audience not only an agenda but a contingency plan if the technology misbehaves.
For example, what should they do if they can no longer hear you on the call, but they can still see you?  What should they do if the screen freezes but they can still hear you?
You might suggest to log back in. Perhaps try a different browser — Chrome versus Internet Explorer versus Safari. Close other apps on your desktop. Check your internet connection.
Top technology issues during a virtual training session:
»  Bandwidth issues (slow internet connection)
»  Unskilled learners (have trouble with the technology)
»  Unskilled presenter (lack of preparation and practice)
These cannot always be avoided; however, how we react can make all the difference.
»  If the internet goes down, have a dedicated or mobile hotspot available.
»  If an issue arises, acknowledge it and offer to record the session. Don't keep saying "Geez! Gosh! Look! We crashed again! Oh boy!"
»  Audio issues? Have group/individuals hang up and dial back in. Using VOIP with a good quality headset is best.
»  Slow bandwidth issues? A hard internet connection is ideal. Test ping time (www.speedtest.net) to see if it is over 100. If it is over 100, this could mean
you have connection issues with your provider.  
»  Have an alternate phone bridge ready.
»  Consider using a third-party screenshare software to have access to the learners screen.
Host vs. Presentor: What is the Difference?
The host has full control over all functions of the meeting. They typically set up the meeting room, invite attendees and start the meeting. During the session, they are responsible for troubleshooting technology issues. The presenter engages with participants through polls, chats and screen display.  
It is a good idea to create a checklist for each role. Assign tasks for three weeks prior, two weeks prior, one week prior, and one to two days prior.  Of course, these tasks may vary from one organization to another.
Not all presenters are lucky enough to work with a host. If you fall in this category, be extra prepared for your plan B's.