Kansas City's rich history of distilling began more than a century ago, but it evaporated after Prohibition was enacted in 1922. In fact, buying a bottle of gin, whiskey or vodka made in Kansas City was impossible until a few years ago. With the arrival of J. Rieger & Company, Tom's Town Distilling Company, Restless Spirits Distilling Company, and several other distilleries, locally-made spirits are flowing in and out of Kansas City once again.
State of Distilling
A brief review of regional history reveals why distillers originally located in or near Kansas City, Mo.  History also factors into the stories of new local distilleries in this fast-growing industry.
Throughout the mid- to late-1800s, the alcohol-intolerant Temperance movement in Kansas created a hostile business climate for distillers, brewers and winemakers. A constitutional amendment was ratified on January 1, 1881 that prohibited "the manufacture and sale of intoxicating liquors" in the state. Kansas also passed "Bone Dry" laws in February 1917–five years before national Prohibition – "prohibiting the importation or manufacture or possession of intoxicating liquors for any purpose except in use in churches."
That intolerance led to opportunity in Missouri. For example, Jacob Rieger opened a bottling operation, mail order warehouse and distillery in 1887 in Kansas City's West Bottoms. The business sold more than 100 alcohol products. Other alcohol manufacturers also operated on the Missouri side of the Kansas-Missouri state line. Thirsty Kansans crossed the state line to join Missourians in West Bottoms saloons near these distilleries and breweries.
After Prohibition, Missouri's stance toward alcohol remained more permissive than Kansas well into the 20th century. Yet, distilleries wouldn't appear again in Kansas City for another 95 years.
Craft Spirits on the Rise
According to a 2016 American Craft Spirits Association (ACSA) report, 1,315 craft distilleries operated in the U.S. as of August last year compared to 560 craft distilleries active in 2010.
Generally, craft is associated with distinctive spirits produced locally in small batches, unlike mass-market brands produced in massive volumes. The ACSA reports that 91.7 percent of U.S. craft producers are classified as small producers of spirits up to 10,000 proof gallons.
Sales volume of craft spirits is still a drop in the barrel, comprising less than 3 percent of spirit sales in the U.S. Even so, consumer demand for craft spirits has driven growth in this segment of the distilling industry.
The local chapter of the U.S. Bartender's Guild, top-notch bartending professionals, and annual events like the Paris of
the Plains Cocktail Festival have promoted Kansas City's
cocktail culture, enhanced customer knowledge about spirits and primed the market for premium spirits.
Mindful of this growth and market, local distilleries have emerged with varying business models. Their brand identity is also tied to Kansas City history, but not limited by that association.
Reviving a Legacy
Ryan Maybee and Andy Rieger, great-great-great grandson of Jacob Rieger, co-founded J. Rieger & Company in 2014. Relaunching Kansas City's first distillery since Prohibition was no simple undertaking as they navigated city regulations.
"There was no environment for starting a distillery when we got started," said Maybee. "It took eight months of working closely with the city to help them determine how to permit and regulate the city's first distillery in almost 100 years. I'd imagine the city now makes it relatively easy on hopeful new distillery operators."
The motivation to open the distillery was personal and pragmatic.
"A lot of people see a business opportunity to capitalize on a major national trend, but a lot of people are also just passionate about spirits. Their distillery operates more like a passion project," said Rieger. "For us, it was a combination of keeping the Rieger family legacy alive and reviving a distillery that was such a major player in Kansas City's history."
That history made Kansas City a natural platform for J. Rieger & Co.; however, the co-founders sought to build distribution beyond the local market. Rather than open a tasting room or event space to cultivate local customers, they opted for another strategy.
Maybee said, "We focus 100 percent of all human and monetary capital toward production and distribution-based sales."
"We partner with distributors in each market that approaches us to carry our product, not the traditional other way around," explained Rieger. "Each distributor comes to us with a different strategy for how they feel is the best way to sell our products in their market."
The strategy is paying off. Within two years, J. Rieger & Co. has grown larger than 92 percent of distilleries in the craft space in terms of case volume. By the end of first quarter 2017, the distillery's products will be available in 17 states. But even as the company expands distribution, Maybee and Rieger respect their roots.
"We love Kansas City and are proud to have revived our distillery in the city. We are also extremely proud to showcase our city through our products on a national scale," said Maybee. "Having Kansas Citians take social media pictures of our products on cocktail menus in other cities while describing their hometown pride makes us happier than any other moment in this business."
Toasting Cocktail Culture
Co-founded in 2015 by David Epstein and Steve Revare, Tom's Town Distilling is named after former Kansas City political boss Tom Pendergast. During 1930s Prohibition, Pendergast and his corrupt political machine overlooked illegal distribution, sale and consumption of alcohol.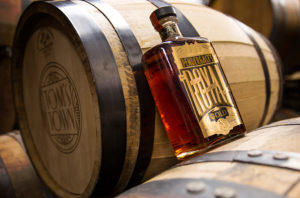 Relatives of Epstein and Revare have direct ties to Pendergast's legacy. The co-founders drew on family history and Pendergast's legacy to infuse authenticity into the distillery's brand. That brand—which references a specific time, person and setting in Kansas City—can't be genuinely replicated elsewhere.
That history "wasn't just the 'point of view' of our brand," said Epstein. "The power of that story grounds our spirits and ties us to the people of Kansas City."
Consumer interest in craft distilling mirrors similar trends for artisan food, local craft brewing and specialty coffee roasters. Customers are eager to know the origin story behind local goods and producers.
"Locally-made spirits represent an extension of the local food movement," said Revare. "But local means nothing unless it offers the essential element to any brand — high-quality products. Consumers reward distilleries that combine authenticity and quality."
Tom's Town has a local story that is rich with lore.
"Kansas City has a great history of supporting all things local," said Epstein. "It's the perfect launchpad for a distillery that draws on Kansas City's boozy past."
Besides its production distillery, Tom's Town showcases a bar, restaurant and event space. The venue's look and feel is inspired by Art Deco, the Pendergast era, and glamour evoked in F. Scott Fitzgerald's 1925 novel "The Great Gatsby."
"This allows us to provide an experience to match the labels and feel of the brand, a Gatsby-esque world where glamour, rebellion and excellent spirits go hand-in-hand," said Revare. "We welcome customers to a tasting room where you might expect to see Jay Gatsby, Duke Ellington and Tom Pendergast rubbing elbows at the bar."
"Our goal is to carry on the Kansas City tradition of creating irreverent spirits and cocktails," said Epstein.
Local Heritage
Last year, Michael Shannon, president, and Benay Shannon, vice-president and head distiller, opened Restless Spirits Distilling Company in North Kansas City. The production distillery offers samples of its Irish-American spirits to the public at its tasting room.
"We offer a destination experience for tours, tastings and experiencing Irish-style distilling techniques in action," said Michael Shannon.
Restless Spirits opened in Northtown for several reasons.
"The city welcomed us with open arms," said Michael. "They truly engaged our plan and were supportive at every step in the process. Entrepreneurial business is a key component of the North Kansas City strategic plan and it shows."
The location near Burlington St. also makes it "visible from a key commuter route connecting north suburbs to downtown business districts," said Benay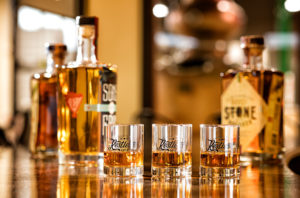 Shannon.
Restless Spirits' brand is steeped in Kansas City's Irish-American history. That history is meant to appeal to consumers nationwide, but is purposely tied to a sense of place and heritage.
"Through our products, we can show consumers a side of immigration that is more positive than what we have seen in recent events. Our Irish heritage was instrumental to the development and growth of our city," said Michael. "This makes a relevant and legitimate connection for the consumer to Kansas City history. It's our reason to exist."
Stone Breaker, a blend of Irish and American whiskey, pays tribute to that cultural mix. The spirit's name and label references Irish stoneworkers that literally broke ground through Kansas City's limestone bluffs to construct avenues and buildings.
Despite its local pride, Restless Spirits sidestepped being too hyperlocal.
"We had to be sensitive to a story that can be too binding to an area or region and can box your products in, making them
only relevant to your region," said Michael. "We wanted that story to resonate beyond KC, as our goal is national distribution."
These craft distillers and others keep customers in Kansas City and other markets in good spirits (see sidebar). Beyond location, a distinctive brand and memorable story, quality ultimately matters to effectively compete.
"Product branding must be superior and unique. Product quality [must be] equally superior or better," said Michael. "The brand gets the first sale. The product gets all the rest."