It's 9 a.m. on a Wednesday morning, and the stories are ready to pour out at 1 Million Cups at the Kauffman Foundation.
Like a town square for startups, 1 Million Cups is a weekly event where the city's entrepreneurial community gathers to hear two founders each describe their early-stage enterprise in no more than six minutes, followed by 20 minutes of audience feedback and questions.
Supportive comments from the 1 Million Cups Twitter feed are projected on a wall next to the stage, while the featured speakers offer their individual origin stories, aha moments and value propositions.
While the startups are there to give presentations, they also receive advice and make connections that can be transformative. "This type of program is essential as a grassroots movement to make Kansas City the most entrepreneurial city in the world," said Bo Nelson, co-founder of Thou Mayest Coffee. Presenting at 1 Million Cups helped him find an investor and space for his business. "Entrepreneurs need a place to go, and that's what 1 Million Cups is really helping with."
[ RELATED: ONE OF THE NATION'S TOP PITCH COACHES TALKS ABOUT HOW TO DELIVER A GREAT TALK ]
Begun in Kansas City nearly three years ago by the Kauffman Foundation to advance the city's startup scene, the 1 Million Cups format has been adopted in 66 (and counting) cities. The name comes from the idea that entrepreneurial communities are built "over a million cups of coffee" shared by business leaders, who form a network of relationships.
Launching a business can be a lonely process for new entrepreneurs, who might not be as plugged in. For six minutes at least, 1 Million Cups shows startups that there's an entire community interested in their work.
"You are as valuable as the people you know," said Samson Yi, founder of Panda Laundry Factory in Springfield, Mo., who recently traveled to Kansas City to pitch at 1 Million Cups. "It's about getting out there and meeting the right people."
'UH, WHAT DO YOU DO?'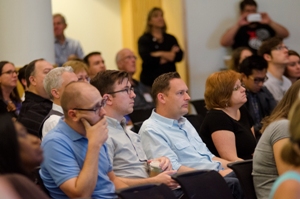 Organizers say that presenting startups need to be receptive to constructive criticism to get the most out of the experience.
"We've had people finish their presentation, and you're like, 'Uh, what do you do?' And that's hard," said 1 Million Cups organizer Courtney Chapman, owner of brand marketing business Proof Positioning. "It's important for startups to be ready for the open and honest feedback that the community is going to give them. If they're open to that feedback, it's going to help them build their business."
But first a startup must qualify to pitch at 1 Million Cups, and only 40 to 50 percent of applicants make the cut. Organizers prefer businesses that are less than 3 years old and have a scalable business model. The program doesn't accept business-service providers or resellers.
"We want entrepreneurs who are doing something different," said 1 Million Cups organizer Bryan Azorsky, whose own businesses include the web design firm Nodebud. "You have to be a maker of some sort, whether it's digital content or a physical product, and solve some unique problem."
Last October, the 1 Million Cups format in Kansas City was modified to include a different weekly panel of well-known local entrepreneurs and business executives "to ask some of the tougher business questions of startups and just be accessible to the audience," Chapman said.
"The panelists are an important part of the event," Azorsky said. "People are coming up and talking to them afterward. I think of it as a cyclone, in a sense. You're bringing people together, converging in one spot and starting the conversations—and, hopefully, they spin and grow."
The patented 1 Million Cups startup question—"What can the community do to help you?"—can have a variety of answers, Chapman said.
"Some people might say, 'I need these roles filled,'" she said. "Some people just want awareness. Some people say they're in the process of raising money, or they're trying to educate themselves on what their next level of growth should be. Whatever it is, it's about the community helping the presenter."
AUDIENCE PARTICIPATION IS ENCOURAGED
Startup success is measured in different ways at 1 Million Cups. For example, startups aren't allowed to directly ask for funding at 1 Million Cups, but they often make connections that will lead to discussions with potential investors.
For example, Thou Mayest Coffee's pitch led to its current space in the Crossroads Arts District, when a 1 Million Cups audience member contacted co-founder Bo Nelson and put him in touch with his shop's future landlord, who also became an investor in the business.
"I went down to his space expecting to pitch coffee, and he ended up pitching me his building," Nelson said of the landlord-investor. "He liked our vision so much that he offered me the keys to his building after two meetings. Basically, what 1 Million Cups did was give us a platform to launch from."
Kyle Rogers, founder of the personal prediction app Knoda, saw a nice uptick in users after presenting at 1 Million Cups.
"There were a couple hundred people in the room, and the vast majority signed up to Knoda," Rogers said. "We had something like a 10 percent increase in our total user numbers just on that day."
Knoda has also taken advantage of the 1 Million Cups passport program, which permits startups that have presented in one 1MC city to present in others. So far, Knoda has pitched in a total of six 1MC cities in the Midwest and Southwest, sometimes scheduling meetings with potential investors while in a town.
"We're most effective in acquiring new users and getting good feedback from people when we tell our own story," Rogers said. "And the passport program is a fantastic opportunity that lets us do that. We jumped all over it."
Chris Costello, co-founder of the 401(k) management website blooom, was "completely blown away by the Twitter love" he received following his 1 Million Cups pitch. The feedback also reflects how 1 Million Cups can inspire an entire entrepreneurial community.
"The biggest thing is the awareness," Costello said. "There are so many little tentacles that have spiraled out and away from 1 Million Cups, but they trace their roots to that event. The fact that they're able to pull it off once a week with fresh ideas, there's no time for the scene to go stale. It's critical to fostering our entrepreneurial environment."
Images courtesy of the Kauffman Foundation.