Summit Homes, a Lee's Summit-based new-home builder, recently took on a new project to benefit Children's Mercy hospital.
In September, Summit Homes unveiled its first Children's Mercy Home for Little Heroes at the Reserve at Ravenwood community in Olathe.
The Home for Little Heroes is a 5,437-square-foot contemporary farmhouse with six bedrooms, five bathrooms, a library, chef's kitchen, sunroom, finished lower level and wrap-around porch.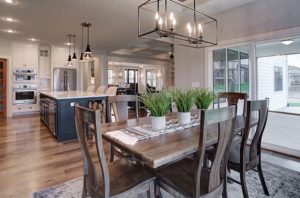 The homebuilder pledged 100 percent of proceeds from the sale to the local children's hospital. The home was listed for sale at $899,950. It features popular finishes such as wood flooring and sliding barn doors, as well as whimsical undersea paintings in one bedroom.
Summit Homes leveraged its network to get materials and labor donated for construction of the home.
"We have an incredible group of trade partners who came together with our Summit team to build this home at zero cost," said Summit Homes COO Zalman Kohen. "Without their support, this project would not be possible. It's truly a labor of love for all involved."
Summit Homes was founded in 2002 and in 2016 joined Clayton Properties Group, an affiliate of Berkshire Hathaway holding company. In addition to Children's Mercy, Summit Homes supports a variety of other charitable causes including Drumm Farm Center for Children, Boys and Girls Club of Kansas City, St. Jude Research Hospital, Hope Haven of Cass County and Harvesters Community Food Network.
This isn't the first time Summit Homes has used its talent to benefit one of its charity partners. In 2014, architects donated time and expertise to create a design for the expansion of the Drumm Farm campus.
The company's philanthropic efforts are directed by the employee-led Charitable Contributions Committee. The Home for Little Heroes represents a unique project with a significant opportunity to give back.
"Our team is thrilled to unveil the very first Home for Little Heroes," Kohen said. "We're proud to support Children's Mercy and their commitment to families, especially the kids of Kansas City. We can't wait to find the family that has been searching for this home."