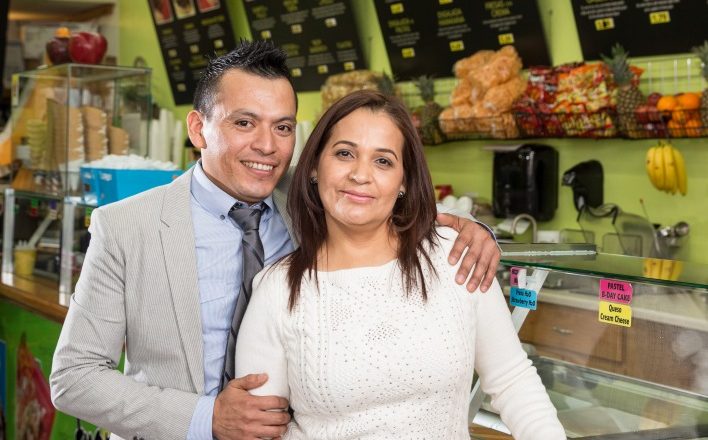 Sweet Success
Mexican ice cream and the American Dream meet at Paleterias Tropicana, the Kansas City area chain of fresh-ingredient eateries founded by Mexico City native Jose Luis Valdez and his family.
Authentic fruit-laden Mexican ice cream and popsicles (paletas) made on site lead a tangy menu of fruit cocktails and juices, smoothies, fruit salads and churros, as well as such traditional Mexican lunch and dinner items as empanadas, quesadillas and more.
Valdez has found success by tapping into the growing power of the Hispanic market. According to a Nielsen study, that part of the U.S. population will have $1.5 trillion in spending power by 2015, and the food and restaurant sector is one of the industries poised to benefit most.
At the chain's Prescott Plaza store on 18th Street in Kansas City, Kan., customers are welcomed by Mexican folk music piped outside as they enter a colorful environment filled with flat-screen TVs and oversize wall photos of flavorful delights designed to both inform and entice.
The inviting scene is the manifestation of Valdez's vision to provide for his wife, Lucy, and their two daughters, Jennifer and Lucero, by running a family business that makes every customer as happy as it makes him.
"It's very important to have the passion and do something, not even for me, but for my two daughters," said Valdez, 44. "I want them to see how a person can come from Mexico to the United States, work very hard and have the American Dream."
'There Are No Limitations'
The Valdez family relocated from Chicago to Kansas City in 2004, after visiting family here and liking what they saw: a substantial Hispanic community ready for the homemade taste of traditional fruity Mexican ice cream and popsicles—and with no direct competition in the market.
"The people that we met were really nice, and we thought it's a great opportunity to open an ice cream shop," Valdez said.
The first Paleterias Tropicana opened in 2004 on Southwest Boulevard on Kansas City's West Side. It was a small space with a tiny counter. But after six months of consistent growth in business, Valdez began to think it was time to expand.
"Every fruit flavor that comes in your mind, including some exotic ones, we can make it," Valdez reflected. "We use a lot of fresh fruit—mangoes, pineapples, strawberries, blueberries, blackberries, cherries, papaya, cantaloupes, watermelons, grapefruits, apples, oranges, limes—there are no limitations.
"Although our footprint up to now has been the West Side and KCK areas, we are aware that the suburbs surrounding Kansas City offer us a great opportunity to expand to other communities."
'People Love to Work for Him'
In 2009, Valdez introduced what would become his top-selling location at Prescott Plaza in Kansas City, Kan. At the time, he could only hope that the area's strong Hispanic community would respond. He didn't have to hope for long—about 200 people were waiting outside when the doors were unlocked for the store's grand opening.
"I thought, 'Oh, my God, this is so great,'" Valdez recalled. "The Prescott Plaza shop took us to a different level; we had to kick it up a notch.
"We are so appreciative of our customers for their continued support, generosity in sharing how much they enjoy our products, and for making us what we are today."
But with elation came pressure to perform at a higher level. So Valdez hired additional staff to ensure "faster and consistent quality service," he said. "Even if the line is long, when you have skilled, friendly, bilingual employees, you feel more relaxed."
Valdez's extended family of workers today includes 16 employees.
Sysco foods marketing associate and Kansas City native Andrew Morales is Paleterias Tropicana's principal food supplier and an informal yet devoted consultant to Valdez.
"Jose Luis is successful not only in business, but in the community," Morales said. "He puts people to work, and people love to work for him. He has a very low rate of employee turnover. He's created a unique culture."
While there's an emphasis on professionalism, Valdez said, "we make time to enjoy our work and have fun. I really want all my employees to be part of my family. We don't see our employees, like, 'You are employees.' No, you are part of the success of our business here at Paleterias Tropicana.'"
Learning and Legacy
Daughter Jennifer Valdez, 21, pitches in any way she can at Paleterias Tropicana.
That can include working with customers, cleaning or filling in for a sick employee—experience that should help her in the beautician business she hopes to open some day.
"I've learned a lot," she said. "I've learned that the customers always come first, no matter if I'm doing something else. Never argue. Try to make them happy."
Valdez is glad that Jennifer wants to start her own business. But he doesn't sugarcoat the challenges when he tells her: "If you're in a business, you're going to start from the bottom."
Valdez's training goes back to when he was a precocious popsicle peddler on the streets of Mexico City.
"My first job, when I was 7 years old, was selling paletas (popsicles)," he said. "I wish I had a picture of those early days as a reminder of my first job. I was a popsicle man in Mexico with a little push cart."
In 1989, he moved from Mexico City to Chicago and found work as a dishwasher at a Mexican restaurant. Then he spent 12 years as a waiter at top-tier French restaurant TRU, where he not only excelled at his job but kept his eyes and ears open.
"I always kept in my mind that someday I could have my own business and control my path in life," Valdez said. "But in the meantime, I always paid attention and learned as much as possible."
So when the time came to begin his own entrepreneurial journey, Valdez was prepared.
"I was blessed to have a great opportunity to learn how to run a business," he said. "And I used that experience to build my own business."
Just as he handed out treats to customers long ago, Valdez shares samples of his exotic creations with customers today, like the fresh fruit sorbet Mangoneada.
"It's made of a variety of ingredients," he said. "There's mango, pineapple and mango sorbet."
Valdez is convinced that most folks will enjoy his products, if they give them a try.
"We give free samples," he said. "You want to try it first? If you don't like it, you don't pay for it."
To Franchise or Not to Franchise
Valdez has been approached by numerous entrepreneurs asking if he'd be interested in franchising his concept.
"I am certainly interested in the franchising model to expand Paleterias Tropicana, but I need to build a relationship with potential franchisees first," Valdez said. "I need to know you, how professional you are, if you're really interested and committed. And to be honest, I'm not looking for your money. I'm looking for your passion."
Although franchising remains a possibility, Valdez prefers to keep things in his hands for the foreseeable future.
"I like being in contact with my customers," he said. "That's the fun. And, to be honest, our business continues to grow."
Despite achieving the American Dream, does the daily task of putting smiles on ice-cream-eating faces ever make Valdez, well, tired?
"If you ask me, no," Valdez said. "That word—'tired'—it's out of my mind. We never say that word."
Valdez prefers the word "plan."
"We are continually focused on our two- to three-year strategic plan," Valdez said. "For now our plan is to continue to do the things we do well, make adjustments as needed, and grow through collaboration with other KC-based organizations to bring new product concepts to our customers. We're always planning, creating new product concepts including Freshata, our own horchata beverage, and working to keep our customers happy."