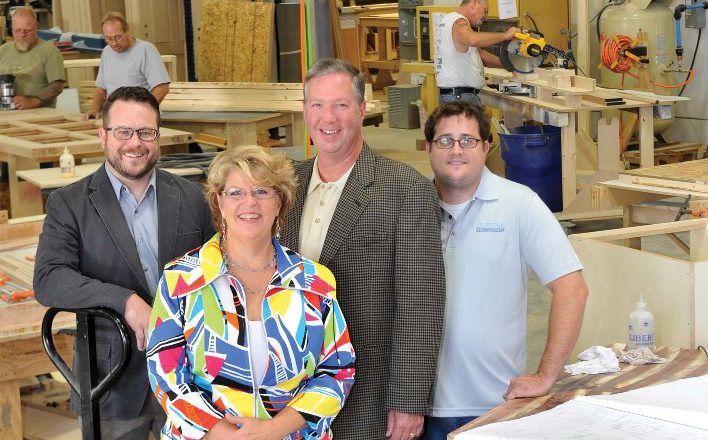 The People Behind Your Favorite Storefronts
Custom Storefronts Inc. has fabricated storefronts for some of the country's best-loved retailers.
Custom Storefronts Inc. may be the most visible company you've never heard of. But if you've spent 10 minutes shopping in the past decade, you've likely seen their work. That's because Custom Storefronts builds some of America's most iconic doors and storefronts.
The Olathe business, founded by Jon and Camille Roberts, has fabricated doors and storefronts for retailers such as Nike, Anthropologie, bebe, Express, lucy, Gymboree, Sephora and Spanx. The company fabricates components or entire storefronts for retailers, including entry doors, wall panels and colorful aluminum structures holding the client's trademark branding detail.
Custom Storefronts has fabricated the distinctive black-and-white stripe storefront that greets Sephora customers and the elegant blue entry doors for Janie and Jack shoppers. And Tory Burch customers would immediately recognize the unmistakable orange doors Custom Storefronts fabricated for the luxurious fashion house. But that's just the beginning. The company has shipped its work to Hawaii, New York, Dubai and Guam.
Custom Storefronts has managed to grow substantially since its early days by keeping one philosophy in mind: "Take care of quality, and quantity will take care of itself," said Jon Roberts, company president.
He repeats the phrase regularly because he and Camille pride themselves on building strong relationships with businesses of all sizes.
"As that retailer grows, we grow right along with them," Roberts said. "You just never know where that retailer will go."
If the Robertses get a chance to take on one project for a new customer, they know their company will have a great chance of building a lasting business relationship. That's because they are sticklers for perfection, insisting every project be exact and on time—a must in the fast-paced retail construction industry. National brands want a product built and reproduced to exact specifications. And they want it done with speed.
"Retail construction is very fast-paced," Jon Roberts said.
Once construction begins on a site, a general contractor aims to finish the work in six to eight weeks. Any mistakes that hold up a project can be devastating to the timeline.
One order for a Godiva storefront was shipped all the way to Guam—a process that included a two-week trip by boat.
"It better be right when it goes two weeks by boat," Roberts said with a smile.
Low Overhead, High Growth
The couple started the business in January 2002. Jon Roberts had worked for others in the industry, so he had a good idea of what it would take to succeed.
To get the business off the ground, the entrepreneurs made every hour of the day count. They also kept overhead low. The products were fabricated in one place and stored in a rental locker. They worked from a home office and his dad's basement.
Jon Roberts would spend the day working on detailed computer drawings for clients, and he and Camille packaged components at their storage locker in the evening. They loaded the pieces onto their trailer, and Camille Roberts would ship the custom assembly out the next morning.
"We weren't foolish. We never tried to grow too fast," he said.
The company managed to weather the economic recession in part because they worked in leased space and kept overhead low, Roberts said.
Custom Storefronts also received help from several local businesses, including Insulite Glass Co. and Gieske Custom Metal Fabricators.
"We have been doing work with Custom for many years now, and their growth has been impressive," said Gary Campbell at Gieske. "I can remember Jon and his wife picking up material while the kids would hang out in the office. I would say that the attention to detail and the ability to meet tight deadlines really puts them on top."
The past three years have brought major change as the business has added several new customers and diversified its customer base.
In January, the business moved to a new facility in Olathe, and the couple plans to expand that space within a year.
It's a Small World
The company has thrived in part by understanding that the business world is small, especially when it comes to retail construction.
Among Custom Storefront's first big customers was bebe. When the Robertses' main contact at Gymboree took a job at bebe, it created an opening for Custom Storefronts to land other brands owned by bebe, including 2b and bebe Sport.
That one bebe employee was hardly an anomaly. People change jobs and shift their careers regularly. It's especially true in cities such as San Francisco and New York where several high-end fashion merchandisers are headquartered. The relationships they've built can help Custom Storefronts get a foot in the door with new customers.
You never know where a business will go, Roberts said, so it's made the Custom Storefronts team pay close attention to every single account, big or small.
"It's really driven by the relationship," he said.
The company also has been open to new opportunities. When Jon Roberts started the company, it was focused mainly on custom metal doors. But customers wanted wood, so he adapted. A bigger company might have turned down the first wood order. But Custom Storefronts was small enough to be flexible. Jon and his existing employees sat down and worked on ways to recruit the skilled craftsmen needed to build quality wood doors. Now, wood makes up about half the company's business.
Roberts' eyes widen these days when he thinks about the business they would have lost had he turned down the first wood storefront order. It's easy to see why.
Custom metal assemblies still play a major role in the business, but on a recent day, wood doors also were being prepped as far as the eye could see in the warehouse. It's part of the reason for the proposed expansion.
Being open to new ideas also has helped the company undertake a new endeavor this year. One retailer recently hired Custom Storefronts to build its fitting room doors. The new work created a flurry of activity as the seasoned employees worked six days a week to stay ahead of deadlines.
A recent order was headed to Zona Rosa. Custom Storefronts doesn't typically install its work, but the Kansas City shopping center is close enough that the crew will personally deliver the order to its new home. It's also a chance to talk directly with a construction superintendent that Roberts might only otherwise communicate with by email.
"We like seeing the superintendents when they're in town," Roberts said.
Building a Great Team
Camille Roberts points out that part of the company's success is its focus on hiring a dependable team of employees who care about the business.
"We've been able to surround ourselves with really good people," she said.
The company has hired several new employees and is working to bring on even more experienced workers, including wood and metal fabricators.
"The end of last year we were asking ourselves, 'How are we going to get all the help we need?'" said Jeremy Gribbin, Custom Storefronts' woodshop manager.
Many experienced woodworkers have left the industry. So, Custom Storefronts got suggestions from other companies doing high-end fabrication work. Custom Storefronts also was able to pick up skilled employees from another business that was closing down. Roberts said it's yet another example of how building strong relationships has helped Custom Storefronts grow.
Employees say the growth seems to have created a distinct environment within the warehouse. Many employees seem to relish the lofty challenges handed down to them by the architects in the retail industry.
The latest challenge is to create doors for retailer Anthropologie from reclaimed wood. Some of it still smells of the vinegar and wine barrels that it once lined. While the smell would make some high-end woodworkers
turn up their nose, it energizes Richard Young, the company's millwork coordinator.
"I like the stuff that's different," he said.
That upbeat and daring spirit seems to be the prevailing attitude throughout the warehouse. The craftsmen can laugh about the six-day-a-week work schedule now, because they're back to more regular hours and have fine-tuned production times to make their processes more efficient. They also are dreaming up new ideas to expand their skill set.
Jon and Camille Roberts like to see the creative spirit that takes pride in craftsmanship and isn't afraid of the next challenge. It goes back to that same philosophy the two repeat regularly.
"It's as simple as, take care of quality and quantity will take care of itself," Jon Roberts said.
---
Entrepreneurs
Jon and Camille Roberts
Company Information
Custom Storefronts Inc.
1490 W. Ironwood St.
Olathe, KS 66061
(913) 764-5042
info@customstorefronts.com
Type of Business
Fabricators of doors, storefronts, and other fixtures for major retailers
Year Founded 2002
Employees 38
Keys to success
"Take care of quality, and quantity will take care of itself."
Jon Roberts, president