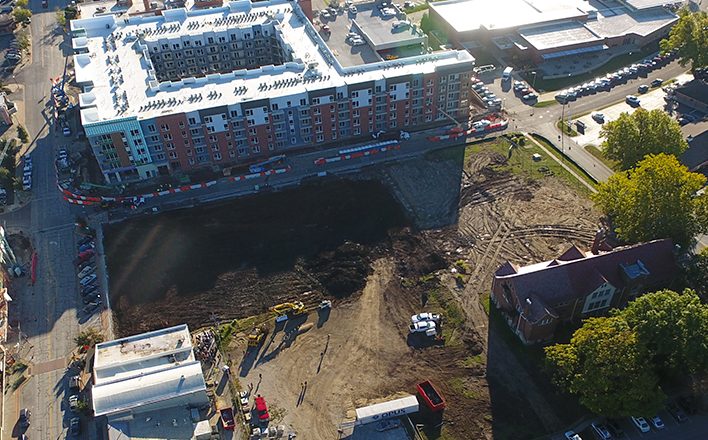 The place to be: Johnson County uses unique incentives to draw small businesses
For years, downtowns were the cool place to be. Companies moved their offices to attract urban-minded millennials.
Development continues in Kansas City's downtown, but Johnson County hasn't conceded. In fact, growth is strong in its office market.
In the fourth quarter of 2018, 61 percent of multitenant buildings under construction were in Johnson County, accounting for 383,797 square feet, according to a report from global commercial real estate firm CBRE.
In Johnson County, companies and economic development officials are exploring unique ways of luring businesses while relying on the area's time-tested selling points: affordable housing, great schools and highway access.
Avoiding a commute
One company that has capitalized on the demand for Johnson County offices is Edison Spaces. It has two locations, both on College Boulevard, offering fully furnished, private offices set up for teams.
The offices include couches, coffee makers, whiteboards and, of course, desks for teams as small as two to as large as 15. Leases are all-inclusive and month-to-month, allowing fast-growing teams flexibility. Tenants can move in as soon as the next day after going through the website to choose an office.
CEO Matt Druten said that when his team came up with the concept for Edison Spaces in 2016, the intent was to build in the Crossroads Arts District, which has been hot area for startups. But as discussion continued, he said, they realized that everyone in the room lived in Overland Park.
"We kind of raised our hands and said, 'Who would like to avoid the commute and the parking issues?'" he said.
It was a lightbulb moment worth of Thomas Edison himself: "Overland Park is lacking what is in the Crossroads and downtown," Druten said.
Locating in the suburbs also gives tenants more space, Druten said. In urban areas, the density is higher for office spaces — a 500-square-foot space might house nine people in an office or coworking space downtown, whereas it houses four at Edison Spaces.
Having a large parking lot with a spot for each tenant is also a selling point, Druten said.
"It's really catering to people in the suburban ring to help avoid commuting, with the same amenities you get downtown," he said.
Getting a Jumpstart
In order to give more burgeoning businesses the opportunity to work close to home, Druten's company launched Edison Jumpstart.
It's not an accelerator, per se, and there are no cohorts. It's open to startups and small businesses that meet the criteria.
Edison Jumpstart provides free office space for three months and access to business resources through parent company Edison Factory. Druten said that could include chatting with Edison Factory's "world-class" developers about how to solve a problem or getting advice from entrepreneurs who have been there, done that.
"As long as we have the available offices, we're going to be very welcoming to the applicants. We personally love seeing startups at the very beginning, before they can afford office space. Hopefully we can build relationships with these companies and help them, and ideally they end up being in Edison Spaces permanently."
The program is available to metro-area business that have a team of two to eight employees, were founded within the past six to 24 months and have secured or plan to secure seed funding. That's not exclusive to high-growth startups, Druten said — the investor could be the business owner.
"We want to know it's your full-time job (and) that you're devoted to the business," he said.
There's no catch to the program, either — the company doesn't plan to invest or take equity in any of the Jumpstart participants.
Lease rates increase
Druten said the lease rates for Edison Spaces are on par with other office spaces in the area, when the cost of utilities, furniture and shared services are factored in.
According to CBRE, suburban lease rates increased 2.2 percent in 2018 over the previous year. In Johnson County south of Interstate 435, lease rates are the highest in the Kansas City metro outside of Country Club Plaza. South Johnson County asking lease rates increased 4.1 percent or 89 cents per square foot year-over-year, and 7.8 percent —$1.58 per square foot — over the previous two years.
The area commands a high rate, the report says, because there are limited large blocks of quality space, and new construction commands higher asking prices.
Given the data, the Jumpstart grant is even more lucrative for companies looking to office in Overland Park.
Flexible funding options
Further west, Shawnee also has incentives to draw small businesses.
The city has a unique asset, said Ann Smith-Tate, CEO of the Shawnee Chamber of Commerce and Economic Development Council. It receives income from Waste Management, which takes up 9,000 acres in the city for a landfill — that's nondevelopable land.
Shawnee sets those funds aside and pays it forward to other businesses in the form of forgivable loans, microloans, an SBA loan assistance program, lease assistance or small grants to help downtown businesses update buildings, signage and systems. The goal of these programs is to help small businesses with startup costs, Smith-Tate said.
A benefit to how the funds are set up is that they're flexible — the EDC can work with a company that doesn't check any of the pre-determined boxes, she said.
"It is a good tool that we have — we're willing to work for the right idea and the project that seems like it's really going to be a catalyst or game-changer. Those are the things that we're looking for," Smith-Tate said.
Currently, she said, the EDC is reviewing the allocation of funding to best serve businesses that want to locate in Shawnee, as well as to increase the impact of other offerings. Those include an Opportunity Zone in downtown, which is along Johnson Drive from King Street past Neiman Road, and tax abatements in the same area that are available through the Kansas Neighborhood Revitalization Act.
The Opportunity Zones program, established by the Tax Cuts and Jobs Act of 2017, encourages long-term investment and job-creation in areas designated as low-income.
"We have had a lot of interest, but I think it's still so new that we don't really know exactly how we can put all of it into play," Smith-Tate said.
Increasing interest and development
While downtown may be a fit for some traditional small businesses, Shawnee also offers options for manufacturing, logistics, warehousing and even bioscience at its WestLink Business Center near Kansas Highway 7 and 43rd Street.
"Every time one of those 170,000-square-foot buildings opens in the WestLink Business park, it fills up," said Eric Ely, director of business development and retention for Shawnee's chamber and EDC.
The city expects a new building proposal early this year, he said, opening the door for additional businesses that need a lot of room or easy access to K-7 and Interstate 70.
"We can get to the airport pretty quick, too, by the way," Ely said.
Smith-Tate touted the perks common to all of Johnson County — excellent schools, quality of life and location in a right-to-work state — adding that Shawnee has good access to labor, as well as both affordable and executive housing stock.
"We offer a fair and competitive business environment," she said.
The chamber also sees a trend of development swinging back to its portion of the county.
"We're in the northern portion of Johnson County," Ely said. "Well, years ago, a lot of the growth was rolling out south in those communities. … We're watching a lot of growth starting to come back this way."