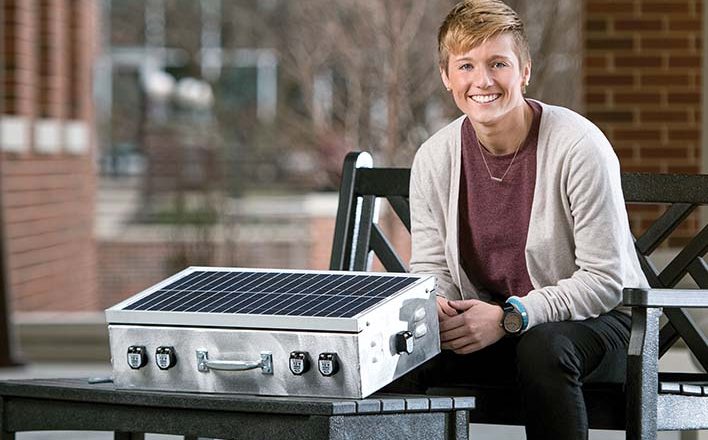 The Sunshine Box
Making Haiti's mobile phones ring
Conner Hazelrigg just wanted to provide an easier way for people in Haiti to charge their cell phones. Her desire to help has led to the creation of 17° 73°, a company that could make solar power available to less-developed countries around the globe.
Hazelrigg has developed a solar-powered battery apparatus that can charge 10 mobile phones at a time. It is a boon for Haiti, which is a mobile-first society where residents often depend on their devices for food, commerce and digital currency transactions. The name 17° 73° reflects the coordinates of Port au Prince in Haiti.
Compassion Founds a Company
Hazelrigg was an intern at Sunshine Electronic Display in St. Joseph, Mo., when she heard about Haiti's electricity scarcity. About 80 percent of people in Haiti have access to a cell phone, but only 12 percent have convenient electricity service. Many pay as much as 60 cents per half hour to charge phones at far-flung stations.
Hazelrigg, who studied physics and mathematics at William Jewell College in Liberty, consulted with colleagues and developed a solution: the Sunshine Box. The solar-powered device is the size of a briefcase and stands about six inches tall. Its 20-watt solar panel maintains a constant power supply, and the apparatus is portable and waterproof.
Hazelrigg completed the box with a Kauffman Foundation grant and tested it in Haiti in 2014. When she saw the user reaction, she realized her invention was transcendental.
Haiti now has six Sunshine Boxes, and Hazelrigg wants to raise that to 100 by the end of 2017. Hazelrigg is the only full-time person at 17° 73°, although others help out. Sunshine Electronic makes the boxes for 17° 73°.
Tapping Into Digital Currency
The Sunshine Boxes are sold to missionary and church organizations, which operate in Haiti and other countries.
One of the device's new functions will enable users to send a text message to the boxes for payment rather than bringing cash, which can make them robbery targets. The small fee also becomes an income for the church.
17° 73° also plans to hire Haitian locals to sell the boxes as entrepreneurs.
With Haiti's digital currency, residents use their phone to pay for food and are paid for their work by phone. A dead battery means no food and no wages.
The company has Sunshine Boxes in 11 different countries on four continents, but Haiti will remain the principal focus of 17° 73°. Hazelrigg plans to use a Digital Sandbox KC grant to update the Sunshine Box so it can accept Haiti's digital currency.
Entrepreneur // Conner Hazelrigg
Company Information // 17° 73° | (816) 244-5828 | www.1773innovationco.com
Type of Business // Solar-powered battery box designed to charge mobile phones in countries with insufficient electrical service