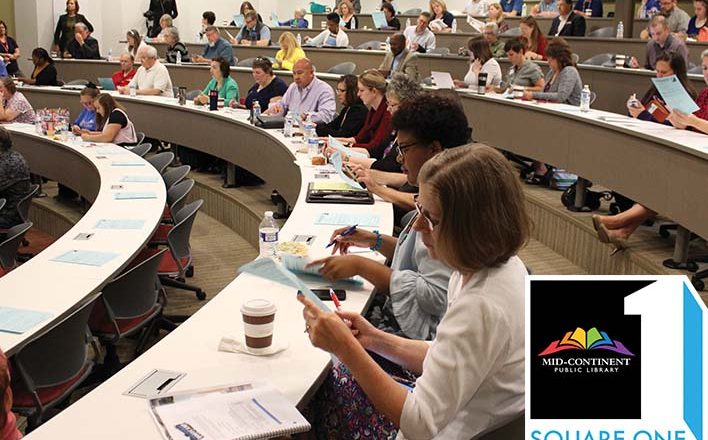 Three Ways Your Library Can Boost Your Business in 2018
In the business community, we're continually working toward goals—sales targets, customer satisfaction ratings, profit margins, etc. So when the New Year rolls around, nothing dramatically changes. We're still striving to reach our perennial mile markers, and occasionally we're closer to achieving them or to moving the bar a bit higher. For businesses looking for ways to move the needle even further this year, there is one resource that is often overlooked but greatly undervalued—your local library.
As a vibrant hub of education, innovation and community conversation, Mid-Continent Public Library—the largest library system in the Kansas City area with 31 branches and a footprint that spans three counties—and its Square One Small Business Services division have been gaining a reputation as a go-to resource for local businesses.
Funded by a grant from the Ewing Marion Kauffman Foundation, the Library's Square One team is comprised of several business specialists and a business librarian who meet with local entrepreneurs to offer recommendations on free resources and services (both within the Library and outside it) that can help take a business venture to the next level. The team also regularly partners with other local organizations to offer free, educational business programming on everything from finance and marketing to human resource management and how to grow clientele.  Here are just a few ways Mid-Continent Public Library and Square One can help you boost your business all year-round:
1. Free Continuing Education
An educated workforce is a powerful workforce, and staying up to date on the latest techniques and trends in your industry is a surefire way to position yourself and your employees as the best and the brightest. MCPL's online resources like Lynda.com, Universal Class, and Gale Courses offer you and your employees the chance to take free courses on a vast range of topics—from tutorials on using graphic design platforms like Adobe Illustrator to classes on "Predictive Customer Analytics."
See the full list of resources at mymcpl.org/online-learning, or set up a time to speak with a Square One business specialist for custom recommendations.
2. New Connections
Networking is a big part of the business world, and having the right connections can mean the difference between success and failure. Square One's business specialists regularly work with chambers of commerce, economic development centers and other organizations across the metro. They leverage these connections
to match entrepreneurs with the resources they need to thrive.
Looking to meet other local business owners on your own? Attend one of Square One's business bootcamps to exchange cards and create new relationships. The next Small Business Bootcamp will be held on January 26 from 8:30 a.m. to 12:30 p.m. at the Celebration Station in Zona Rosa and will have an emphasis on usable technology. Visit mymcpl.org/SquareOne to learn more and register.
3. Financial Savings
Need a meeting space? Try your local MCPL branch. Many of them are equipped with smaller study rooms as well as larger community spaces that can be reserved for private functions.
Use the Library's free online resources in place of traditionally costly services. LawDepot, for example, lets users customize contracts and other legal documents like operating and partnership agreements, employment contracts and more to avoid exorbitant legal fees.
Looking to improve your business plan in order to acquire additional funding? Online resources like Small Business Builder and Statista offer templates and suggestions to create break-even analyses, and they supply statistics and infographics on consumer markets and trends.
Visit mymcpl.org/SquareOne to find additional resources and programs and to schedule an appointment with a Square One business specialist.