Schools, hospitals and your neighborhood grocery store love Treadwell's polished concrete and epoxy flooring. Here's why Will Buchanan and his team shine at floors.
---
You might have walked all over Will Buchanan's work and never known it. But don't worry, he doesn't mind.
Buchanan is the founder of Treadwell, an Overland Park company that specializes in polished concrete and epoxy resin flooring.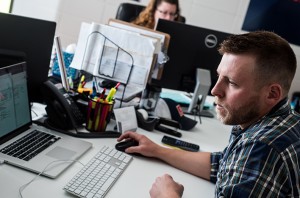 Prairiefire, Price Chopper, Saint Luke's, the Olathe School District, Boulevard Brewing Co.—they've all hired Buchanan and his team to install high-polish, low-maintenance floors.
Treadwell's workers will grind traditional concrete floors until they reach a high-gloss finish. Or the team can apply epoxy, a polymer coating that's easy to clean, resists damage and shines up brightly. They're both increasingly popular choices in commercial construction.
"The thing I like about polished concrete and epoxy coating is that they're both very durable, long-lasting floors," Buchanan said. "So you feel very confident that what we're doing is a quality installation that's going to benefit that client for many years."
In 2013, the first full year of operation, the company made about $340,000. Annual revenues hit $1.4 million in 2014 and $2.1 million last year.
Treadwell has won its share of awards, too. In 2015, it was named Subcontractor of the Year by the Kansas City chapter of the American Subcontractors Association. Earlier this year, Engineering News-Record Mountain States, a trade publication, included Buchanan on its "20 Under 40" list.
Of course, there's one other sign of Treadwell's success. This month, Buchanan and his team are moving into their third office since 2012. They just keep running out of room.
'You've Gotta Follow Your Own Path'
Will is a Kansas guy, born and raised. He spent most of his boyhood in Manhattan, then moved to Overland Park for high school. After graduation, he went back to Manhattan and Kansas State University. That's where he earned his bachelor's in mechanical engineering.
He then spent seven years as a project manager for Turner Construction and Centric Projects before he decided to go out on his own.
"I noticed over that seven years that these durable floor systems—polished concrete and epoxy coatings—were growing in popularity, but not a lot of people were installing them," he said.
And truthfully, he had felt the itch to be in charge for a while—going back to his senior year at K-State, when he was president of the Lambda Chi Alpha chapter.
Managing his coursework while leading his fraternity, he said, "I worked harder than I'd ever worked leading this organization. But it was the most rewarding work I'd ever done."
Before he took the leap with Treadwell, Will sought advice from an entrepreneur he already knew well: his dad, Dave Perky, who had co-founded his own accounting firm, TPP.
"He was a tremendous resource as I was planning and getting this going," Will said. "He also connected me to other business owners that I interviewed."
Will talked with five or six other established entrepreneurs, all of whom were successful in their fields. Each had passionately held ideas about the best way to start a business—and all those ideas were different.
"The bottom line is you've gotta follow your own path," Will said. "I want as much advice as I can get from other people, but ultimately, I'm going to make my own decisions about what I think is best for this business."
Tiny Office, Big Vision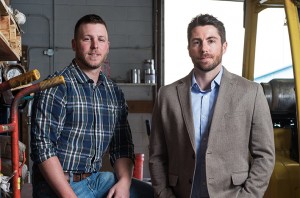 When Treadwell first opened, it was just Will, director of operations Kyle Loseke and Jose Melendez, the company's general superintendent. For the first year, they shared space with a concrete contractor. Treadwell's office was basically an oversized closet.
As small as Treadwell was, though, Will did something that let the company look larger and more impressive. He asked his cousin, Jeff Perky of Nashville design shop Perky Bros., for help with branding.
Will thought he just needed some business cards and a logo.
Instead, Jeff came back with a questionnaire that asked some thought-provoking questions: Where do you want the company to be in five years? What makes you different from your competitors?
"It was a great exercise," Will said. "He forced me to think bigger than I was thinking at the time."
He didn't simply get business cards. He ended up with a sharper strategic outlook.
And yes, Will did end up buying business cards—awesome-looking ones that cost $1 a pop.
Nailing the details helps create a better overall picture of the company, one that's more likely to win over potential clients. "For us, that's made a big difference in our credibility and, I think, in our ability to get our name out there."
Remember Where the Work Comes From
Treadwell won its first big job in its second year, when the Olathe School District awarded the company a $340,000 contract at Olathe East and two other schools.
Schools have become a good client for Treadwell, and not just K-12 districts. The company has a contract to perform all of K-State's on-call epoxy work.
Buchanan and his team also do a lot of jobs for food clients, both restaurants and manufacturers like Kellogg's, Chipotle and Frito-Lay. Last year, Treadwell installed epoxy flooring in Tallgrass Brewing Co.'s new 60,000-square-foot facility in Manhattan.
Food businesses appreciate Treadwell's solutions "because they need a sanitary, very durable coating for the areas where they're manufacturing food," Buchanan said. Unlike tiled floors, resin- based floors are seamless. There aren't any gaps or nooks where dirt and contaminants can lurk.
While Olathe East was a public bid, most of these jobs come through larger general contractors. Treadwell has collaborated with just about every big firm in the metro, including Will's former employers, Turner Construction and Centric Projects.
When he started, Will systematically introduced Treadwell to builders and architects in town. But he credits his pre-existing relationships with helping Treadwell win some of its earliest projects.
"I really believe if we did everything the same in another market, say like Denver, I think it would have taken at least another year or more to really get going or be profitable," Will said.
And so Treadwell devotes a lot of time to building and fine-tuning its relationships with clients. "Even though we have these thick contracts we sign," he said, "a lot of it comes down to relationships."
Every year, Buchanan interviews his top four clients. He asks them what Treadwell is doing well, what the company isn't doing well and what Buchanan and his team aren't doing right now, but should be.
That's how he learned that general contractors wanted more up-front communication—as much as possible, as early as possible.
Will got the idea to create a chart that outlines how a typical Treadwell project works, including how long it takes, what resources and information his team might need and how a project could be adjusted in case a client is running short of time or needs a more economical solution.
"The more options we can provide up front," he said, "the more flexibility we can give them."
More to Life Than Emails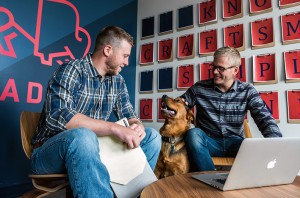 There's one other thing that's allowed Treadwell to do as well as it has so quickly: Will is backed up by good people, both inside and outside his company.
Treadwell employs five people in the front office and 15 field workers. (In the summer, though, they usually bring another five to 10 field guys on board because it's the busy season. School's out, flooring work is in.)
Pretty much all of Will's hires have been friends of friends or word-of-mouth referrals. He's never had to advertise. He found his first professional hire, Loseke, through LinkedIn.
But with each person, Will has been able to select someone who shares his values and can add value where he couldn't—they perform better in their roles than Will could.
Outside the company, Will has his mentors, like his dad. And last fall, Will joined the Helzberg Entrepreneurial Mentoring Program, where he's coached by Dan McDougal of Dredge America. Will also regularly talks with a former boss, Richard Wetzel of Centric Projects.
Whenever Will gets hung up by a problem, "without fail," he said, "they're able to set me straight or put it in perspective."
And last but not least, there's Will's wife, Kali, and their 1-year-old son. (Kali is an interior designer, and she's the one who came up with the look for Treadwell's new office. Will and his team did the floors, of course.)
When Will was drawing up plans for Treadwell, he made a list of what he wanted to accomplish as a business owner.
There were really only a few things on the list. One, he wanted to do satisfying work and make enough money to provide a good life for his family. And he wanted the flexibility so he could enjoy life with them.
"There's more to life than just answering emails and phone calls," he said.
And besides, it's nice to get out of the office and actually go visit some of these places where Treadwell has done work, like Topgolf.
"Being part of these cool places that we go visit on the weekend," Will said, "it's fun to say we did work here."
(photos by Dan Videtich)