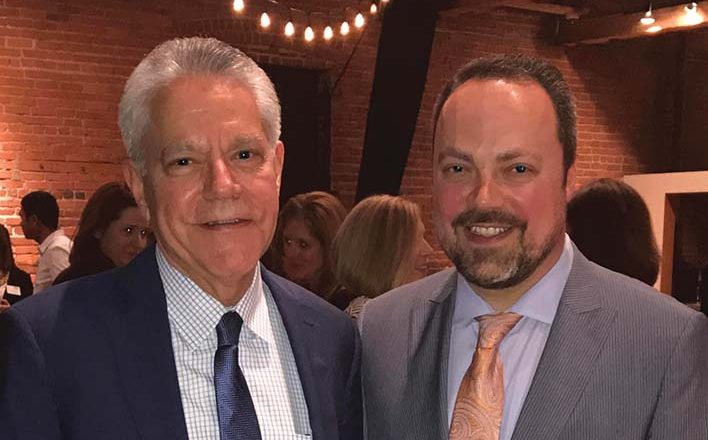 How Trozzolo Became a Collage of Talent
Trozzolo Communications Group has grown like an art collection: It's carefully curated, adding new pieces as the opportunity arises.
When it was founded in 1989, Pasquale Trozzolo created print newsletters that helped companies raise their profiles with customers and, in turn, increase sales.
Now, the company has expanded its offerings to include advertising, public relations, crisis communications and video production.
At Trozzolo, they say they don't hire people—they collect them. That's also how the firm has added specialties over the years.
Starting Out
Growing up, Pasquale watched his parents, first-generation Italian immigrants, hustle.
They had a grocery store, a candy store and a variety store.
"They were always very self-starting and self-reliant and efficient, and I guess entrepreneurs—I didn't know what that meant, but that's what they were," he said.
He and his sisters followed suit, starting a magazine in their hometown of Chicago that covered concerts and events. "It never made any money, but we had a lot of fun," Pasquale said.
He brought all of those experiences with him when he started Trozzolo Resources Inc. The business was 100 percent print products, and his writers had journalism backgrounds.
"For several years, we were a newsletter-only company," he said, but happy clients were asking the company to do more, and he listened.
In the 1990s, Pasquale saw his son, Angelo, rising through the ranks at advertising firm Bernstein-Rein. He had resisted calling his company an advertising firm, but he could see that needed to change.
He hired Angelo in 1998, the company's eighth employee.
Evolving
That hire was a big step in the firm's evolution. Its focus shifted from just creating products for clients to thinking strategically for them.
Angelo, who studied advertising in college, took on the task of determining how to shift the company's focus and offerings. By the early 2000s, another trend was on the horizon—bringing advertising and public relations together under one roof.
Pasquale met Becky Blades, who owned PR firm Blades & Associates, through the Greater Kansas City Chamber of Commerce's Top 10 Small Businesses program. They shared a similar problem, he said: a singular focus. In 2003, Blades & Associates merged with Trozzolo, bringing new talent and clients.
That's when the firm entered yet another phase, becoming a true consultancy.
"People pay us for ideas," Pasquale said.
Curating
As time passed, Pasquale could see another change coming—the demise of newsletters. As technology evolved, he realized that what was once the basis for his business would give way to new forms of media. With that in mind, he was open to the next step for Trozzolo.
In 2008, the firm went through two mergers, bringing on Prairie Dog Healthcare Marketing and Corporate Communications Group Inc.
"These were booster rockets to us that helped us expand," Pasquale said.
With those successes, Trozzolo has continued that model of collecting businesses and bringing them into the fold. In 2016, it merged with advertising agency Kuhn & Wittenborn, and in 2017, Trozzolo brought on Proventus Consulting, a law firm marketing company.
Mixing and matching the companies has made Trozzolo stronger, Angelo said. "We love learning from others, and change is an important thing around here," he said.
"I think everyone you talk to says, 'We have the greatest people!'" Pasquale said. "Because we're curators of talent, that's the only thing that can make the difference for us. … The thing that allows our talent to shine differently is who they're sitting next to."
'Melting Pot'
In 2011, Angelo took over from his father as president and CEO. Pasquale remains with the company as executive chairman. Other family members are involved at the company, as well. Pasquale's wife, Joan, worked with him for years. His daughters, Jill and Sarah, both worked at the company—and their husbands, Ross Wuetherich and Josh Brewster, are part of the ownership and executive teams.
But Pasquale said the family isn't concerned with building a "dynasty."
"Because we've had these other companies around us, we are kind of the melting pot," he said. "We're a group of marketing immigrants—everybody started somewhere else."
"And every single one of those has been a big catalyst for us," Angelo added. "Each has brought something to us and changed the way we do something."