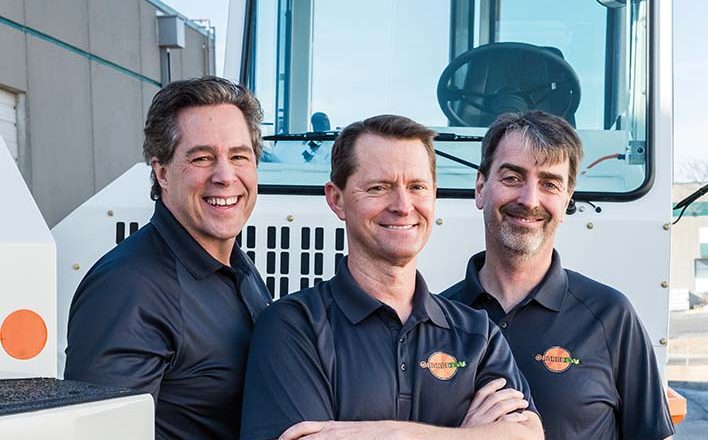 Trucking Ahead
Orange EV drives the market for heavy-duty electric vehicles.
Not far from the automotive hub surrounding the Ford Motor Co. Kansas City assembly plant in the Northland, a local company is building electric vehicles—and taking its industry by storm.
Orange EV, based in Riverside, is the leader in manufacturing and remanufacturing heavy-duty electric vehicles. The company was founded by a former Sprint executive and a Ford
Entrepreneurs
Wayne Mathisen, Kurt Neutgens, Mike Saxton
Company Information
Orange EV
500 NW Business Park Lane
Riverside, MO 64150
(866) 688-5223 ext. 702
OrangeEV.com
Type of Business
Manufacturing and remanufacturing heavy-duty electric vehicles
Year Founded | 2012
Employees | 25
Keys to Success
"We lean forward without extending ourselves too much."
engineer. They met as soccer dads when their children played on the same team.
Wayne Mathisen, formerly of Sprint, is the company's chief executive officer; Kurt Neutgens, who worked at Ford, is chief technology officer. Mike Saxton, a local serial entrepreneur, joined the company in 2014 to guide business development and marketing efforts as chief commercial officer.
Discovering a Market
In 2012, Mathisen and Neutgens were, quite literally, two guys in a garage in Riverside designing and building the prototype truck. The business started by repowering existing diesel yard trucks into electric vehicles.
To build the prototype, they bought and repowered an old yard truck that had been sitting unused in a field. While it was a quicker, lower cost starting point, there are a finite number of machines available for repowering. The company soon added all-new trucks.
When Saxton joined the company, he began an aggressive plan of getting to know the rules and regulations of key markets around the country to develop a business plan.
California, New York and parts of Illinois (around Chicago) are the locations where Orange EV concentrated its initial efforts—those are the places nationally with the strictest regulations, yet most eco-friendly environments for electric vehicles.
Working at first with a shoestring budget, Saxton took advantage of his southern California ties. He's a graduate of the University of Southern California, so he knew his way around. And, more importantly to the bottom line, he has as a sister living there.
"We kept our belts pretty tight initially so we could invest properly in the team and the trucks. I slept on my little sister's couch for three months while getting to know regulators, taking a prototype around and learning about emissions regulations, fuel costs, incentive funds, etc.," he said.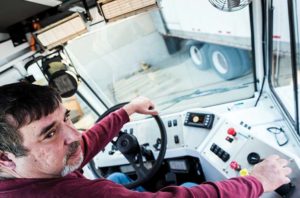 Key Firsts
All the work and research paid off when Orange EV became the company to commercialize the first Class 8 all-electric vehicle. Class 8 trucks like a tractor trailer are rated to carry more than 33,000 pounds. Orange EV's Class 8 truck is a terminal truck, a utility vehicle that moves cargo trailers around container handling sites like distribution centers, rail intermodel yards, manufacturing sites and more. These trucks have names such as hostler, spotter, yard truck, mule, shifter and more.
The first big customer to buy in was DHL Supply Chain in Chicago. That site's yard trucks are now 100 percent electric with Orange EV. DHL's order and endorsement accelerated the experience and insights needed to continue improving the truck while raising the firm's credibility as a truck manufacturer. More orders soon followed.
Its current customers include the Anderson-DuBose Co.'s Rochester, N.Y., distribution center—a part of the McDonald's distribution chain—and Chautauqua County, N.Y. That deployment in December 2017 means Chautauqua is the country's first county government to introduce 100 percent electric Class 8 trucks to its fleet.
Use hours are growing exponentially for Orange EV's fleet, too. As of January 2018, the trucks surpassed 100,000 hours and 350,000 miles in commercial operations, the company reported. These are big numbers for trucks that go slower than 25 MPH (and usually less than 15 MPH) in tight, confined yard spaces.
Customers are happy, and that shows in the bottom line. Today, "more than 75 percent of our customers have re-ordered within six months of getting that first truck," Mathisen said.
Orange EV doesn't just measure success in numbers, though. The customer relationship and the integrity it's building in those is an important component for the company. The heavy machinery industry isn't known for pivoting quickly to new ideas or incorporating technology into products. Moving from diesel to electric vehicles was going to be a tough sell, Saxton said.
Orange EV is selling more than machinery, he said. It's about the total customer experience.
"Understanding the overall market and customer decision-making environment (was important)," he said. "We thought through the market forces affecting fleet decision-making, then mapped out our target geographies, industry segments and approach to each prospective fleet customer.
"It's taken more initial time investment, but there's momentum and 'compound interest' in doing things correctly from the very beginning. By the time customers decided to buy, they were ready, and their decision to move forward was buoyed by all the other things we've done to help them."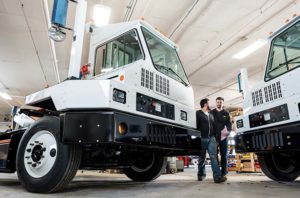 Accessing Resources
Obviously, timing has been critical to Orange EV's success, but the owners also give credit to their location, as well. Being located in Kansas City has been important to the success and growth of the company.
"There is a history of niche market automotive start-ups in this area of the country," Neutgens said.
Plus, Mathisen said, KC offers a large base of talented professionals. "We're fortunate to have a very strong team," he said.
"Also, our governmental reps are accessible. There are training assistance programs here, and when it comes to cash flow, you need a place that is accommodating to startups, and Kansas City does that in spades."
Kansas City's central location and its status as the "freight hub of the country" don't hurt, either, Mathisen added.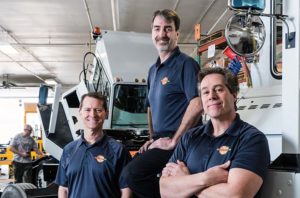 Putting it in Drive
That's not to say that being a startup has always been easy. But the owners have worked hard and made some key decisions they think have helped build Orange EV.
First, they hired people who believed in the company and its mission as much as the leadership team, Neutgens said.
They also worked at staying focused, Mathisen said. That was hard in the beginning.
"We had to develop the market," Saxton said. "We had to manufacture the product, develop the education for customers and continually evolve the business plan for moving the company forward."
Forward is the plan for Orange EV in 2018 and beyond. With more and more potential customers looking to make a switch from diesel-based to electric, the industry is only going to grow. And with consumers continuing to demand "clean" practices from products in all facets of the manufacturing process, it figures to continue its upward curve.
"We are careful about being forward-leaning without extending ourselves too much," Saxton said. "We are creative with our resources."
With just 25 employees today, the company is ready to hire and expand its factory output, too.
"We think our growth over the next few years will be very exciting," Neutgens said. "We expect to expand into many more markets and make a significant impact as we reduce the cost of terminal trucks for our customers, providing the highest-quality truck in the market while improving the air quality for everyone."