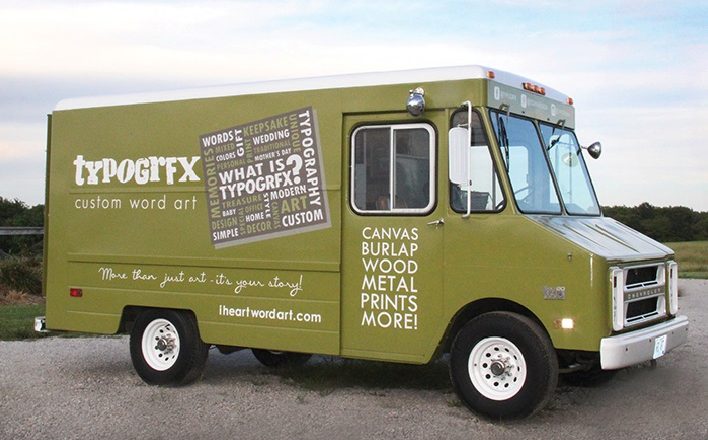 Kansas City's TYPOGRFX Rolls Out Mobile Showroom
Former police truck takes local artist to where the customers are.
Tosha Jackson, the owner of TYPOGRFX, has found a new way to expose potential customers to her custom word-based artwork.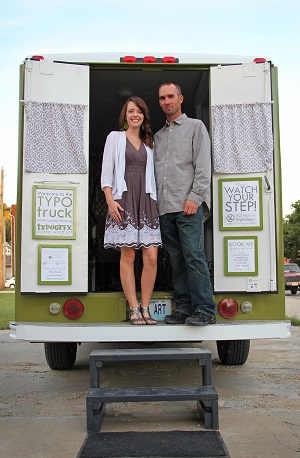 Jackson has remade a 1982 Chevy P20 truck—formerly owned by the Kansas City, Mo., Police Department—into a mobile showroom for her creations.
The back of the truck is decorated like a typical family's living room, with Jackson's art hanging on the walls. It's a great way for customers to imagine how a piece might look in their own home.
Why She Needed a New Solution
Jackson has been selling her TYPOGRFX art since 2008, and she's developed a solid customer base through her website, Etsy and appearances at festivals and other live events.
But last year, she stopped doing outdoor events after some bad experiences with weather in 2013. At one show, a sudden storm brought down high winds and heavy rain. The next weekend, the temperature climbed so high that multiple people passed out. So, Jackson decided, no more outdoor events.
Except …
It turns out those appearances were a very effective way for Jackson to introduce herself to new customers. Last year's sales were still good, but they weren't growing as fast as they had before. Jackson's 2012 sales, for example, were three times larger than 2011's.
She knew some other entrepreneurs who had been trying mobile retail trucks—sort of like food trucks, but for fashion and merchandise. Unlike a tent or booth, a truck with air conditioning and heating provides a little more protection from the elements, reduces the set-up time and can be driven away quickly in the event of dangerous weather.
Bullet-Riddled Bowling Pins Included at No Extra Charge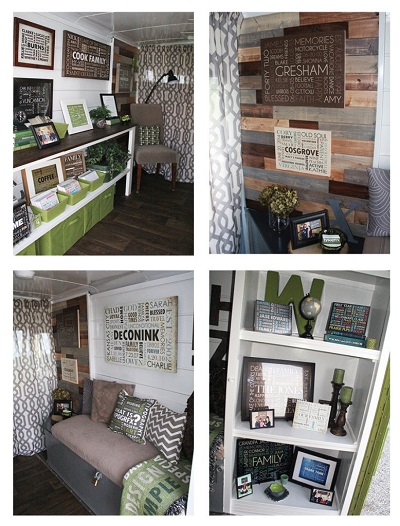 It took a little time, but this summer, Jackson used Craigslist to track down a P20, which sold for $2,600 and had 71,000 miles on it.
It wasn't always a fun experience: The purchasing process was kind of a headache, and while her husband, Jeremy, was driving it from Raytown to their home near Lawson, the oil pressure suddenly dropped. He ended up puttering home at 20 to 30 mph on the shoulder of Interstate 35.
The two of them found bullet shells in the truck's door jamb, along with some bullet-riddled bowling pins in the back. "I guess the police had used the bowling pins for target practice?" Jackson said.
But she had a lot of forces working in her favor. For one thing, the KCPD had done a solid job maintaining the truck, which the previous owner had purchased at auction. The P20, though dented, had not a spot of rust. And because its engine is one of the most common models out there, replacement parts should be simple to find.
It also helped that Jeremy—who, at first, might have questioned if this was a good idea—knows pretty much everything about anything with four wheels. He was able to get the vehicle back in good running order, hammer out the dents and sand and paint the exterior. Tosha Jackson handled all the interior work.
"We did not hire anything out," she said.
'It's Doing Exactly What I Want It to Do'
Jackson unveiled the TYPOGRFX TYPO Truck and its eye-catching makeover in mid-September. She has taken it a few different places—always to positive response. She's even seeing more men stop by. The rehabbed truck attracts their attention, and then they see the artwork is something their spouses might like, too.
"It's doing exactly what I want it to do," Jackson said. "It's generating buzz."
Her advice for other entrepreneurs? Try connecting with other mobile retailers via Facebook. While these kinds of operations aren't as common as food trucks, there are online groups out there, and people are generally willing to share advice.
But she also advises entrepreneurs not to get too tied up in the research. She admits that, if she had known how much insurance and the TYPO Truck's other expenses would cost, she might have talked herself out of the investment—and what's been an amazing way to promote her business. "My biggest piece of advice is just go for it."
Want to check out the TYPO Truck in person? Check the website for a list of upcoming events.