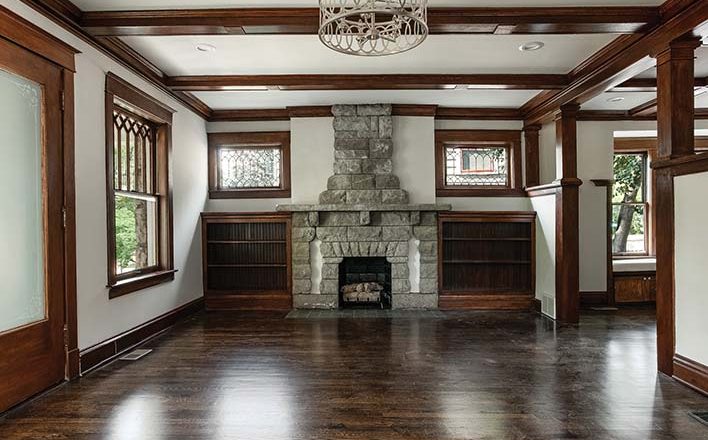 Vintage Home KC: Vintage as a venture
Dale Scott, the founder and president of Vintage Home KC, has earned a reputation refurbishing Kansas City homes that were originally built in the late 19th and early 20th centuries. They are mostly Craftsman-style homes that feature clean lines rather than ornate flourishes.
"I follow the 15-second rule," said Scott. "When you walk in the front door for the first 15 seconds, I do my best to restore so that it appears the home is brand new, as it looked in 1920. Yet when you continue into the home, there are updates so that old meets new for modern living—a larger kitchen, master suites and bathrooms. I bring homes back to life, and that gives me a lot of joy. My greatest compliment is to hear someone say, 'Oh, that's a Dale Scott home' when they walk in."
That attraction to clean, simple style has proven to be successful in more ways than one for Scott.
A chiropractor turned serial entrepreneur, Scott follows a clean, simple business model. While he was still seeing patients at his clinic, Scott started investing in real estate and then earned his real estate license. Very strategically, he launched various companies that support his real estate endeavors: a real estate brokerage, a property management company and a general contracting firm. The businesses not only support one another but also others involved in the real estate industry.
From Hobbyist to Serial Entrepreneur
As Scott tells it, it took a banker to point out that he had a valuable venture right under his nose.
Scott had been purchasing small post-World War II homes around his clinic for several years. He said it was "therapy" for him to fix them up on the evenings and weekends and then rent them out. By 2010, Scott had 15 rental properties. A banker approached him and asked if he was interested in a line of credit based on the equity in the properties.
"Unbeknownst to me, I was playing a bit of Monopoly. The equity was loanable from a banker's standpoint," said Scott.
That was the boost he needed to sell his practice in 2012 and leap full time into restoring homes.
"I was able to make the leap with a nice safety net because a banker understood what I didn't understand at the time," said Scott.
Venture Into Vintage
When Scott purchased a home near the Country Club Plaza in 2010, he realized his true passion was in restoring the Craftsman-era homes. He started purchasing other vintage homes, restoring them and selling them.
Scott said these homes were built by true craftsmen, who often signed their work upon completion.
"We believe that, because of the care, attention to detail, craftsmanship and classical architecture, these homes have a soul and deserve to be restored to as close to the vision of the architect as possible," Scott said.
Secret to Success
When asked what makes Vintage Home KC successful, Scott said: "The pat answer is hard work and consistency. But I believe I really enjoy it. I get a kick out of taking something that was tired and freshening it up and giving it a new lease on life. And I believe that passion passes on when a potential buyer walks into a recently remodeled home and they see it."
In addition to the passion he brings to each project, Scott credits relationships for the success of his companies—the relationships with his crew members who are true craftsmen, his relationships with suppliers who will go the distance to track down hard-to-find items for the homes, and his banking relationship.
"Equity Bank is on the same page when I explain what my business model is and my growth strategies are. They go above and beyond to structure the financing for my deals," Scott said.
Being adequately capitalized has allowed Scott to bring his son into the business as well as a partner for his property management company. "Having both of them on board frees me to focus on investments, so we can grow," said Scott.
Share Your Napkin Story
Some of the most amazing business stories started as an idea scribbled on a napkin.
Mark Parman, Kansas City Market President of Equity Bank, invites you to share your Napkin Story. "We not only want to hear your origin story, we can help you continue to write the rest of your company's story," he said.
Equity Bank is a full-service community bank with offices in Kansas, Missouri, Arkansas and Oklahoma. Our bankers are experienced with businesses from small to large. We take the time to listen to your story and help you design the services that will benefit you and your business.
To share your napkin story, get in touch at marketing@equitybank.com or (913) 323-9300.