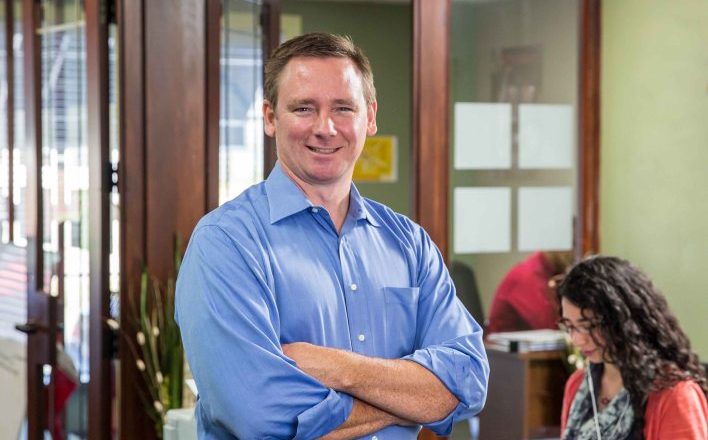 The Visionary Entrepreneurs at EyeVerify
Like any proud dad, Toby Rush of EyeVerify can rattle off the ages of his four children—9, 7, 5 and 3. The numbers sound a little like someone's PIN code.
"I'm sure it's somebody's," Rush acknowledged with a bit of irony, since his business is trying to make such passwords virtually obsolete.
As CEO and founder of EyeVerify, Rush wants to rid the world of passwords that can be forgotten or stolen, and replace them with a far more user-friendly and secure alternative that he sees as part of the next wave in mobile technology.
EyeVerify's biometric software—which Rush didn't invent, but is working to commercialize—allows users to easily unlock their smartphones by glancing at the device's front-facing camera. The camera takes a picture of the blood vessels in the whites of a person's eye. The resulting "eyeprint" is as accurate and unique as a person's fingerprint.
The company's proprietary Eyeprint Verification System could be applied to much more than users' smartphones.
"Basically, if my phone knows who I am, it opens my car, it opens my door, it logs me into my computer," Rush said. "We've got the technology under wraps. The curves are in our favor. And, yes, eventually, we are going to win."
In a lot of ways, EyeVerify is already a winner.
In April, the startup was a Best of Show finisher at Finovate's spring conference in San Jose, Calif. It also recently won the Angel Capital
Association's 2014 Luis Villalobos Award for being the most ingenious and innovative idea financed by angel groups that are ACA members.
In January, the company took home Rookie of the Year and Technology Innovation honors from the Compass Intelligence Mobility Awards at the Consumer Electronics Show in Las Vegas. And last November, EyeVerify won the international Get In the Ring startup pitch competition in Rotterdam, where Rush's presentation beat out more than 1,000 companies for a $1 million grand prize.
Yet as much as Rush appreciates the kudos, they are not the goal, he said.
"We're going to succeed or fail based on what our customers think of us," he said. "Do they buy our product? Do they continue to use our product? Do they say great things about our product? That's the measuring stick that we have to use for our success."
A Trusted Leader
Growing up on a farm in Severance, Kan., Rush knew that he was only seeing a small piece of the world. But he knew that he loved to lead
in a big way.
"Any group I've been in, I've always ended up leading it," he said, including being captain of his high-school football and basketball teams and taking charge as student body president. "I've always had that kind of presence that some people have quickly trusted.
"A leader understands the heart of the people he's leading and understands where they ought to go—not where they want to go, not where I want them to go, but where should they be going? You've got to know how to challenge and push them."
And Rush always knew how to make a buck. On the farm, he paid friends to gather wheat chaff from the field, so that it could be bailed and sold as straw to nearby sale barns.
Rush's keen interest in science and math, and wondering how things fit together, manifested itself early on when he became enthralled with a piece of farm machinery.
"The first time I was really in awe of an engineering feat, I was looking at a combine," he recalled. "They're massive, right? And everything that happens on that combine essentially is pulled back to the engine and these pistons that are turning that single crank shaft.
"I remember thinking, 'That's amazing. Look how complex this whole thing is, and it all happens because of this little rod turning in a circle.'"
Yet it took a while for Rush to fully appreciate how intricate and interrelated things could be accomplished in an organization by connecting
them to one guiding principal.
"Not until I got a lot older did I realize, actually in my first company, how much impact a single person or mindset could have on
a lot of others," he said.
Tracking Success
After graduating from Kansas State University with a degree in mechanical engineering, Rush worked as an analyst at various consulting firms before co-founding his first company, Rush Tracking Systems, in 2003.
The company capitalized on radio-frequency identification (RFID) technologies to develop software that wirelessly tracked the use of forklifts for companies in their warehouses. The product was good, but Rush was taken aback by its success.
"We started calling on Fortune 500 companies, and we started winning them," he said. "And I'm like, 'How can a 12- or 13-person consulting company in Kansas City win a ChevronTexaco, a John Deere, a Welch's, a Dairy Farmers of America, a Hallmark Cards? We're not supposed to win those.'"
Rush's surprise led to an entrepreneurial epiphany.
"It was realizing, wow, this company can never be bigger than my vision," he said. "Like, if I don't dream big enough, I can never be bigger than that. Because I'm not going to go after these accounts if I don't think we can win them. Very rarely will a company be bigger than the vision of its CEO.
"So don't self-limit yourself. Cast a vision bigger than you think. I learned at Rush Tracking how to be big. You might be surprised at what you get."

Software architect and team lead Casey Hughlett consults with software engineers Riddhiman Das and Joel Teply and configuration management engineer Joe DeCapo. Not Pictured: intern Vikas Gottemukkula, operations manager Monica Hashemi, marketing director Denise Myers, and sales and marketing coordinator Amanda Turnbull.
It Takes a Team
In 2009, Rush successfully sold Rush Tracking and began looking for another high-tech opportunity.
At the University of Missouri-Kansas City, he met Dr. Reza Derakhshani, a computer science and engineering professor, who had co-invented what would become the EyeVerify eyeprint system.
Rush realized eyeprints could be a huge hit in a world where camera-equipped smartphones were becoming more and more common.
He gives the university credit for helping foster the technology.
"And then I'll give myself a tiny sliver of credit for taking it from the university to a company," Rush said. "And after that it's really the team. People don't understand how amazing the team we've been able to build here is."
Starting with EyeVerify chief science officer Derakhshani.
"Reza is truly one of the most creative and brilliant guys I've ever worked with," Rush said. "He doesn't know his own limits. He has again and again risen to the occasion of solving problems that we didn't know were solvable."
Rush recalls how the team solved a major problem early in EyeVerify's life.
"We thought users would be willing to turn the phone around and use the back-facing, nice 8-megapixel camera, and they wouldn't," Rush said. "I remember coming back and saying, 'Guys, we have to get front-facing. If we don't get front-facing, this isn't going to work.'
"And everybody was like, 'That's crazy. We can't do that. That's a 1-megapixel camera. We can barely get an 8-megapixel camera to work. How are we going to do that?' I was like, 'I don't know, but we better figure it out or this is all going to blow up.' And they did. That was honestly company-making. If they hadn't gotten that, we couldn't have been successful."
The company's future success will continue to rely on the EyeVerify team, Rush said, including vice president of engineering
Jeremy Paben, who has more than 10 years of experience in major product development and delivery.
"He is truly the backbone of the company," Rush said of Paben. "Everything goes on his shoulders. He meets with the customers and understands their needs. He manages the development team. He handles so many different things, and he's just rock solid …
"And our (executive vice president of global sales and marketing) Chris Barnett, it's the same thing. I can say, 'We're going after these markets. What's the plan and when are we going to get there?' He can go execute that."
Ready for Takeoff
After more than two years and $4 million of investment, EyeVerify is currently focused on attracting big enterprise clients in such industries as banking, insurance and health care.
"One of the partners we're just now bringing on has a user base of 450 million mobile users—think of basic consumer security," Rush said. "That's more than the population of our country. They're not using it yet, but those are the kind of partners we're signing up."
And in the next few years, after a few more user-friendly tweaks, EyeVerify hopes to conquer the individual consumer market.
And as for your old passwords?
"Passwords are going to be around for a while," Rush said, "but it's going to be like sending snail mail today—only when you really have to."