Walz Tetrick unveils new logo, new offices
A Johnson County advertising firm has room to grow after a recent move. Along with the new space, the 51-year-old firm unveiled a fresh logo and brand position.
Walz Tetrick Advertising spent 18 years in offices at the former NCAA headquarters building on Shawnee Mission Parkway.
"With our ongoing growth, we were bursting at the seams in our old space," said Charlie Tetrick, president of Walz Tetrick. "So we set out to create an environment that maximizes collaboration and creativity."
Now, the agency has moved into a 14,000-square-foot space at 5201 Johnson Drive, Mission. The new offices feature a central open café and bar area, multiple collaboration rooms, photo/video production studio, private phone booth and wellness room.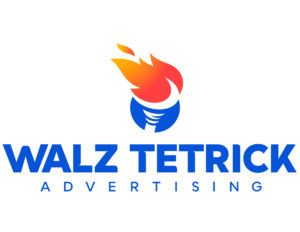 The most dramatic feature of the new offices is a 32-foot-wide, hand-painted mural that greets visitors as they enter the lobby. Centered above an illustration of a flaming torch, the words "Ignite an Evolution" reflect the agency's approach to marketing. The torch imagery also is seen in the agency's new logo.
"A flaming torch has always been associated with enlightenment, leadership and passion," said Jeff Chase, creative director. "When we look in the mirror and think about our history and our culture, we see fanatical evolutionaries committed to helping our clients stay ahead of the changing conditions in the marketplace. We like to say we have all the fun of a revolution without all the mess."
The mural, logo and new branding all illustrate the agency's shift from a traditional, full-service advertising agency to a comprehensive evolutionary marketing firm with a focus on digital services and audience reach. Walz Tetrick acquired Ruth Burke & Associates media planning, buying and consultancy agency in January 2018, doubling its media buying and planning capabilities, and created a digital services department. Today, 50 people work at the agency.
Walz Tetrick has experienced client growth as well, both with new clients and expanded relationships with current clients. The agency works with both consumer and business-to-business clients in industries including retail, restaurant, hospitality, health care, sports marketing, higher education, banking and more.
In addition, Walz Tetrick has begun work on a community awareness campaign for the American Royal as part of the agency's pro bono work.