Why Your Office Needs a Cheerleader
With the building anxiety from another year of uncertainty, living in the present is all we can plan for. Another wave of COVID is hitting, motivation is dropping, mental health is declining and hard work doesn't feel as rewarding. 
This is where the office cheerleader comes in — the one with superpower energy, the "Salvador Perez" of the workplace. It's time to find him or her, or perhaps step into the role yourself!
Motivation
Sure, it can be annoying at times, but having someone around with constant positive energy is good for the office environment. Someone constantly "hyping" up your workers can really increase motivation to get tasks done. Most people would rather sit at a meeting with a person who has a big personality than someone who will put them to sleep. 
If this is the case, projects will be completed faster, timelines will be met and people will be happier to walk in the front door each day. 
Reward
Usually the office cheerleader leads party planning, company outings and recognition for hard work. To make sure your employees' hard work doesn't go unnoticed, your Salvy can be in charge of recording good-doings amid the daily grind. One example is having employees give company "shout-outs" when they see people going above and beyond in their jobs. Each month, put all the "shout-out" names into a hat and draw a random employee to receive a gift card. 
That energy superhero also makes sure every birthday gets recognized, holidays are celebrated and random pop-up parties take place. I like to also call this "building a family." It's hard to leave a family when you create your own traditions. That yearly holiday party, those trivia happy hours…they build more than enough company morale. 
Team-building
Team-building doesn't just come from having parties. A cheerleader is there to literally "cheer" on a team. What's a team if members don't realize they are on a team? What's a team if the members don't recognize their own strengths? Try identifying each employees' strengths and weaknesses. Know who to call on when different problems arise. 
How well do the people in your office really know each other? The team doesn't have to be best friends, but it's nice to rely on each other for projects and every day happenings all year. After all, they spend on average 2,080 work hours together every year. 
Success
So it looks like we solved the equation. Try this for a few months and see how your company's success escalates. It can be hard to find this cheerleading skill in an employee. But that's what makes this work so well — it's rare. 
Just thank me when the five-star reviews from clients start piling in.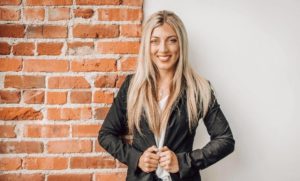 Lexi Ryan is Thinking Bigger's PR and digital content specialist. "A PR guru with a passion for connecting with others and maintaining those relationships," Lexi is president of the KC International Association of Business Communicators and a 2020 KC IABC Rising Star. To connect with her regarding Thinking Bigger partnerships or advertising, email lexi@ithinkbigger.com or call (816) 877-7076.