The Chiefs legend has found new success as an entrepreneur and a philanthropist.
---
Will Shields, former offensive guard for the Kansas City Chiefs, first encountered the term hanta yo at Lawton High School, where he played football for the Wolverines in Lawton, Okla.
"I grew up in Oklahoma, where Indian tribes were part of the culture. My football coach taught us about hanta yo," Shields said. "It's a Sioux term that means 'clear the way.'"
Before Shields played for the Cornhuskers at the University of Nebraska- Lincoln or launched a career with the Chiefs, he adopted a mind-set in high school football inspired by hanta yo.
"It was a mantra, a call to arms to clear the way for others coming after," Shields said. "It changed my mind in high school to become the best of the best. It was bigger than me. It was about the team and carrying on."
During a career devoted entirely to the Chiefs, Shields used that philosophy to block and clear the way for star rushers such as Marcus Allen and Priest Holmes. Shields never missed a game in 14 seasons. He made 12 consecutive Pro Bowls between 1995 and 2006, was named to the NFL's All-Decade Team of the 2000s and won the Walter Payton NFL Man of the Year Award in 2003.
In 2007, Shields retired and began a new career as an entrepreneur. He purchased Dale's Athletic Club in Overland Park with business partners Doug Elstun and Steve Sharpe. Renaming the business 68's Inside Sports after his Chiefs football jersey number, Shields transformed the club into a gymnasium and indoor sports facility dedicated to fitness, family wellness and training for athletes of all ages.
At 68's Inside Sports, hanta yo and its meaning are displayed in large red letters on a white wall surrounding an indoor field. For nearly a decade, Shields and his employees have been clearing the way for others to reach health and fitness goals.
Bridge to Healthy Lifestyle
Dale's Athletic Club, established in 1976, was the first club of its kind in Overland Park. The club evolved from a retail store with the addition of 25 racquetball courts, a fitness center and other amenities. Under Shields' direction, 68's Inside Sports expanded the focus from athletic workouts to include family wellness, training and more.
"At first, I got into the business to teach youth how to play better," Shields said.
He applied techniques and lessons learned from college and professional sports. Shields began noting the obesity epidemic among children and how kids' playdates included less physical exercise. He saw a need to incorporate physical exercise, mental discipline, nutrition and other approaches into the lives of youth and families. With the proper support and resources, they could achieve well-rounded health and fitness and live longer lives. Accordingly, 68's Inside Sports needed to offer more than weights and racquetball courts.
"We morphed the business," Shields said. "It's a one-stop shop. We were the first club to offer chiropractic care, physical therapy, wellness and training in one place. We train people for speed, agility, strength and conditioning in sports. We offer camps, clinics and consulting for different groups."
The company has two facilities: the Fields and the Courts. The indoor fields complex includes a 55-yard-by-25-yard turf training field, a weight room, seven batting cages, pitching and hitting tunnels, and Kinesis training equipment. Under a single roof, the Courts facility offers basketball courts, a boxing and mixed martial arts studio, a cafe, a child care center, a cycle studio, an indoor track and pool, racquetball courts, weight training, a group training studio, and a yoga and Pilates studio.
68's Inside Sports also broadened its customer base to people of all ages and backgrounds.
"We reached out to moms and dads, not just athletes," said Shields. "We want to build a bridge to a healthier lifestyle. We want people to be as healthy as they can be."
A significant portion of the customer base comes from corporate partnerships. Employees at area companies use the facilities to work out and train.
"We developed lunchtime classes for people that live or work near here," Shields said. "The typical fitness gym is three to five miles away from home. Customers travel 10 to 15 miles for specific sports training here."
68's Inside Sports offers classes for senior adults, youth in middle and high school, women only, and college and professional athletes. Trainers assist customers with general fitness as well as training for football, baseball, volleyball, soccer, tennis and other sports.
"We tailor exercise and training to each demographic of the family," Shields said.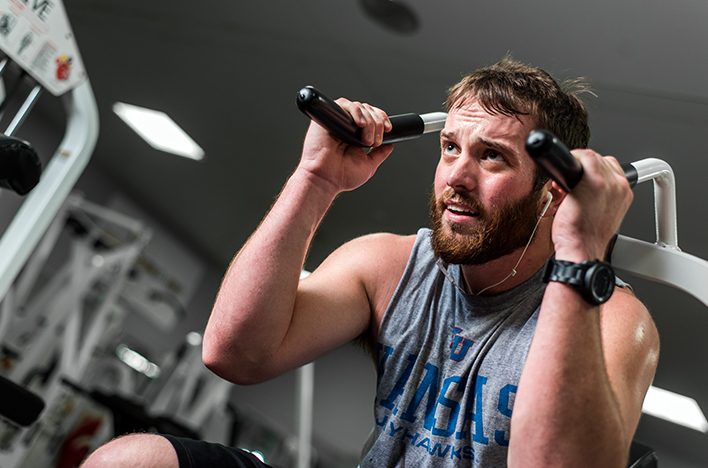 Stepping Up
Business owner isn't Shields' only role these days.
Since 2008, Shields has been a partner and board member in an area bank to learn more about that field. He also remains active in Will to Succeed, the philanthropic organization he founded in 1993 and operates through the Greater Kansas City Community Foundation as a donor-advised program to aid battered women and children.
"Will to Succeed is dear to my heart," said Shields. "It makes a difference through programs like Reach Out & Read and Operation Breakthrough."
And, for more than three years, Shields has worked for the National Football League office as part of its Legends Program.
"I help athletes with the transition, whether they are cut or retire from football," he said. "We discuss available options and keep in touch so they remain part of the football family."
68's Inside Sports consumes most of Shields' time as his primary business, an entity quite unlike life within the Chiefs' organization.
"As an athlete, your time is scheduled and dictated. You know when to work out, then watch film or practice," he said. "After football, I had to create structure in life."
68's Inside Sports proved to be a natural platform for Shields to use his experience and help others. Ownership of a business brings its own challenges and opportunities for growth each day.
"I deal with many different situations," Shields said. "I have 100 employees. I'm still adapting and learning how to best use my time."
Early on, Shields focused on specific tasks such as selecting equipment and gear to outfit the facility. He hired general managers, observed how they handled daily operations and learned what worked. At a certain point, Shields decided it was time to "step up and do it" himself.
As the owner-manager, Shields oversees employees, sales and marketing, daily operations and business development. He knows when to delegate and when to coach. Adaptation is important.
"I tell my staff that every day is different," Shields said. "One day you're a mentor or trainer. Another day you're a listener. You learn when to push someone and when to listen. We've helped people who lose 10 pounds or put on 30 pounds of muscle mass. We help people with dietary needs. There are so many things we can do from this location."

'Each Piece Plays a Role'
Shields established different parts of his operations as "sectors," where staff can manage a business within the business. Each manager is responsible for a sector. For instance, a manager is responsible for personal training in each of the various sports. Other managers oversee performance training or the batting cages. Depending on the client's needs, managers can recommend and cross-sell solutions across sectors.
Regarding his management style, Shields said, "I'm still growing and figuring out my perfect style. Each employee is different. We put procedures in place and let the managers manage. I convey things that I see. The management style is changing from a top-down to a 360, but I'm still accessible to my employees."
Shields understands that his business is "people-driven" by both employees and customers. "As a company, I meet with managers each Tuesday, and we discuss goals as a group," he said.
Initially, Shields faced the challenge of "getting the group to see all the pieces and where we need to be," he said. "Each piece plays a role. Compared to three years ago, now they can see the big picture. I don't micromanage as much. We're working toward a common goal."
It's been key to hire people who are truly passionate, who understand their role and who have the requisite skills, he said. Also, cross-training and communication between staff help prevent bottlenecks if an employee is sick or on vacation. Another team member can step in and assist the customer.
"Our interaction with customers is important," Shields said. "We affect someone's life in a positive manner. We cross-communicate so we get to know each customer's limits and get the best results."
Clear the Way
Since 2007, Shields has refined and grown 68's Inside Sports and cleared the way for his next big goal.
"First, you have to get the mother ship right," he said. "Then I can franchise bits and pieces of the business. I learned from scratch. After 10 years, I can start showing others how to do it."
(photos by Dan Videtich)