The Economic Development Corporation of Kansas City made their Cornerstone Awards presentations on May 9 at Union Station. The awards are presented each year to recognize companies and projects that have helped strengthen the economy of Kansas City, Mo., through new construction, redevelopment, capital investments, and job creation or retention.
For the second year in a row, in addition to the winners in each category, the EDC also created a People's Choice award from among the winners. In an online public vote held from May 2 through May 8, Fishtech emerged as the People's Choice award winner. More than 1,000 votes were cast through a link on the EDC's website.
Nearly 500 people attended this year's event, which featured exhibits, displays of the finalists' projects and networking opportunities. The keynote speaker was Chuck Caisley, vice president of marketing and public affairs of Great Plains Energy and KCP&L.

Photo credit: Mark McDonald
Top photo: The Fishtech team at the 2017 Cornerstone Awards, where the company was announced as the People's Choice award winner.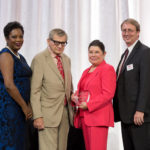 Above photo: Barnett and Shirley Helzberg were honored with the EDCKC 2017 Cornerstone Lifetime Achievement Award. From left to right: Bridgette Williams, EDCKC board of directors chairperson; Barnett Helzberg; Shirley Helzberg; and Bob Langenkamp, EDCKC president and CEO.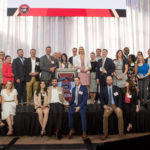 Above photo: All of the 2017 Cornerstone Award winners.