It's December, so J. Rieger & Co.'s "O! So good!" slogan playfully transforms to "Ho! Ho! Ho! So good!"
The distillery's popular holiday-edition whiskey is on shelves, along with T-shirts, mugs and gift sets for the Christmas season.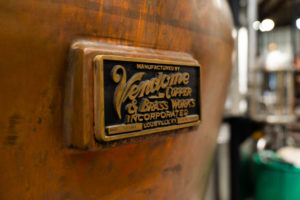 And it's time for the company to mark another year of progress in its journey as one of Kansas City's small business success stories.
In some ways, the story began in 2014, when Andy Rieger and Ryan Maybee re-launched J. Rieger's Kansas City whiskey in conjunction with a Royals World Series appearance and the 100-year anniversary of the opening of Union Station. Civic pride was sky high.
But the story really originated in 1887, when Andy Rieger's great-great-great grandfather began the operation. It was a thriving family-run business until a federal ban on alcohol sales forced its closure in 1919.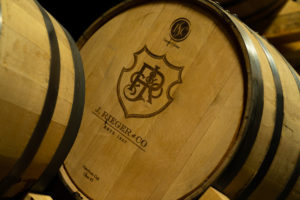 "J. Rieger and Co. has two lives," Rieger said. "It has the pre-Prohibition life and then the post-Prohibition life."
In its pre-Prohibition life, the company was known for its savvy marketing. For example, when Union Station moved to its current location in 1914, the Rieger Hotel was built nearby so the first thing people crossing the Main Street Bridge would see was a three-story bottle of whiskey painted on the south wall of the hotel.
It also developed a robust mail-order operation that sent whiskey and other spirits from KC to homes across the country.
Since bringing the brand back to life in the modern era, Rieger has worked to build on that storied history, while also focusing on putting strong fundamentals in place for long-term growth.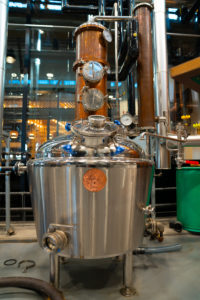 To start, J. Rieger enlisted seasoned industry leaders to help develop the company's product line and to let the production team soak up technical knowledge from experts such as master distiller Tom Nichol, who brought his 42 years of experience working with some of the world's best-known gin producers.
There's been a focus on infrastructure as well.
The company started in a 15,000-square-foot manufacturing facility in the East Bottoms. 
Growth soon led to the purchase of an adjacent historic building with 48,000 square feet, and, in 2018, Rieger developed a master plan for the property.
That vision came to life in 2019, when the company completed work on the larger facility and began opening its doors to the public.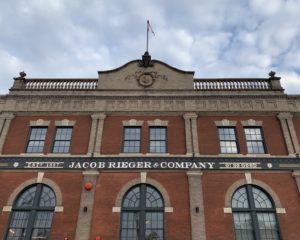 The company now has four bars on site, including the Electric Park Garden Bar that opened in October, a company history exhibit, and daily distillery tours that frequently sell out.
Rieger said the idea was to create not just a home for the brand, but also an entertainment district in a neighborhood without much natural foot traffic.
"The best compliment I've ever received about our building is that it's the adult Power and Light," Rieger said.
J. Rieger spirits are sold in 23 states and Washington, DC, and the company is in the midst of adding a second facility to support a production operation that includes whiskey, gin, vodka and coffee liqueur.
And while continued growth is expected, Rieger said the company and its investors are not looking for a get-rich-quick scheme: "When you do it right and methodical for the long term, it's a different pace of growth."
Drawing on his former career as an investment banker, Rieger is now moving the operation through a brand-driven phase into its sales-driven phase, which is made possible by significant investments the company made over the last four years in facilities and employees.
"Rather than adding three employees a year and just continuing that uptick like most businesses experience where it's a gradual rise, we were just all of a sudden completely flipped 10-fold overnight," Rieger said, referring to the experience of rapidly going from 10 employees to 100.
Managing that scale of workforce expansion can be challenging for any small business, but Rieger said the company is also striving to forge a path that meets the needs of an employee base that skews "really young."
This means looking at everything with a different lens and perhaps not structuring things how a 1970s business playbook might teach it.
"We've had to hit the reset button multiple times just because we realized, 'Hey, what we're doing is not the right approach, so we need to really think about this and try different things,'" he said.
The other overarching challenge is making major business adjustments on the fly in response to real-world developments.
In the 4th quarter of 2019, J. Rieger hosted 200 corporate events in its newly opened space. Those events came to a halt with pandemic-related shutdowns the following quarter. 
Other business patterns also shifted dramatically, such as a decrease in on-premises sales at restaurants and bars and an increase in off-premises sales at retail liquor stores.
A point of pride at J. Rieger is how the company continued to plan, build and push itself over the last year rather than retreat when the economic punches were coming fast — and at a potentially precarious moment in the company's development.
Rieger said the team "kept moving" and dealt with one problem at a time, even as they kept eyes on the future with tasks such as bank talks, capital raising and maximizing vendor relationships.
This positioned the company to be able to perform today in the face of a 10% increase in commodity prices, higher transportation costs, and the need to double and triple inventory on supplies from Italy and Mexico due to supply chain uncertainty.
"The biggest thing that we're still battling is getting back to normal, whether that's our staff getting back to normal, the consumers getting back to normal, regulations getting back to normal," Rieger said. "But during these tough, turbulent eras, we're up to the challenges, we've clearly shown."
In the coming year, Rieger will aim to sell at maximum output with its expanded production capacity, not driven by national ad campaigns or big incentives to liquor distributors, but by the kind of grassroots, consumer-driven demand that has brought the company this far.
Also high on Andy Rieger's list will be working to maintain the brand's identity, which he said is based on a combination of offering consistent, high-quality products and doing "everything that you feel is cool, everything that you feel is timeless."
"When you see the J. Rieger and Co. brand, you know that you're going to get a certain experience whether you're at your home, you're at a bar with a bartender, or you're here on site," he said.
Chad Bettes is an award-winning writer and editor-in-chief of Thinking Bigger. He earned his master's degree from the William Allen White School of Journalism at the University of Kansas.