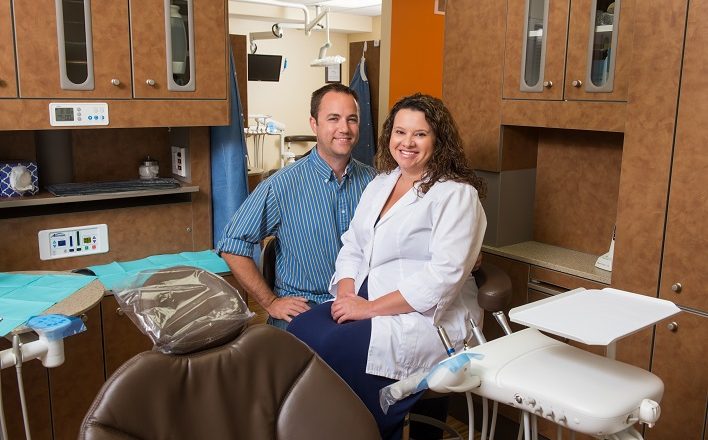 'They Did Everything I Could Have Asked For'
When you're looking for a banker, you need someone who can do more than simply approve a loan. You also want a lender who can help you solve the challenges that your small business faces.
Just ask Dr. Nicole Medley, who owns her own dental practice, Medley Smiles of Independence. Medley and her husband, Matt, bought the business from a retiring dentist a little more than a year ago.
The Medleys already lived in Kansas City, but for six years, the doctor had been driving to Sedalia every day for work. So when she learned about the chance to buy a practice closer to home, she jumped on the opportunity.
The first challenge was securing the financing to purchase an established business. The Medleys got two recommendations for banks via a dental supply company that Nicole Medley had worked with. After sitting down with Shelly Doan, a Commerce Bank small-business banking specialist, the couple chose Commerce.
"One thing led to another, and they got us a loan," said Matt Medley, who handles the practice's finances.
Actually, the Medleys received a couple of loans. Doan and Commerce were able to put together an SBA-backed dental practice loan that allowed the Medleys to buy the practice itself and upgrade its equipment. Matt Medley, meanwhile, formed a separate company that would buy the building that housed the practice.
Commerce Bank helped him obtain an SBA-backed commercial real estate loan for that, too.
SOLVING AN UNEXPECTED PROBLEM
The Medleys took ownership of the practice in late September 2014 and shut down for a month so contractors could remodel the office.
But they ran into a problem: They needed more supplies and equipment than originally expected—costing an extra $30,000. Unfortunately, the practice didn't have much income yet, and most of the Medleys' savings was tied up in their business loans.
Doan found the Medleys not one, but two solutions. She was able to set up a line of credit for the business, and Commerce Bank allowed them to pay only interest on their loans for six months.
Because their monthly loan payment to Commerce was reduced, the Medleys were able to quickly pay the supply company for the extra supplies and equipment.
"It took about six months to get that paid off," Matt Medley said. "But it's all due to Commerce Bank allowing us to make interest-only payments."
THE TAKEAWAYS
There are two big lessons for other small businesses looking for lenders.
First, don't underestimate the value of customer service, Matt Medley said. When the Medleys applied for their initial loans, the required documentation was complex, and their banker took the time to help them through it.
And look for banks that will try to give you options. When the Medleys were faced with those early, unexpected expenses, their banker found more than one way to solve the problem. Doan proposed a line of credit or interest-only payments for a few months as possible solutions. The option of paying interest-only for a few months was the best solution for the Medleys, and they never had to tap the line.
"They worked extremely hard," Matt Medley said. "They did everything I could have asked for."