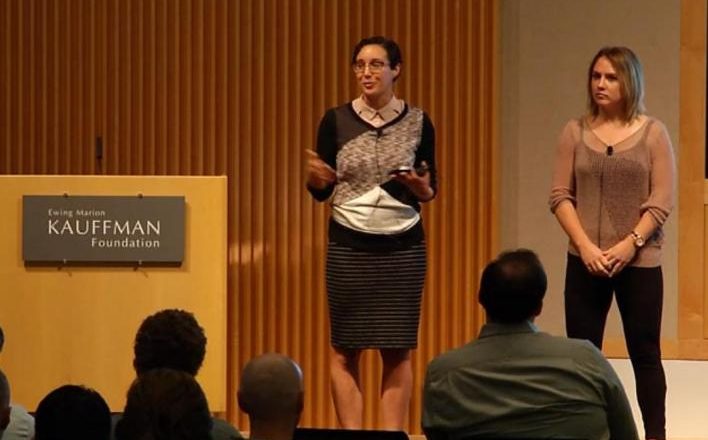 Launch[ED] Day celebrates Leanlab's fifth anniversary
On Nov. 8, Leanlab Education will celebrate its fifth anniversary and fifth class of entrepreneurs with the culmination of its K12 Fellowship at Launch[ED] Day.
Leanlab promotes the advancement of education-geared startups. Recently the nonprofit hosted a three-month accelerator program, Leanlab's K12 Fellowship, which connected teachers and students to early-stage entrepreneurs for the purpose of mentoring through coaching and direct feedback on the startups.
Founded in 2013, Leanlab began as a small group of passionate community members who wanted to make a difference in education. Today the nonprofit organization has impacted over 1 million students across the nation and more than 14,000 students in Kansas City.
"Leanlab provides an authentic and meaningful opportunity for teacher-leaders and students to work alongside entrepreneurs who have a vested interest in improving outcomes for the students of Kansas City," said Kirsten Brown, Principal of Crossroads Preparatory Academy and Leanlab alumna. "Furthermore, partnering with the Leanlab allows for students and teachers to have agency and a voice in designing solutions that impact them the most."
Kansas City Public Schools, Lee A. Tolbert Community Academy, Crossroads Preparatory Academy and Pitcher Elementary School worked with entrepreneurs to develop research pilots and measure the impact of the startup's innovations. Educators and entrepreneurs will present their findings at Launch[ED] Day.
"I've yet to come across any accelerator as dedicated as Leanlab is to impacting education's true end-user: the students," said Shanti Elangovan, founder of inquirED. "The opportunity to learn from fellow education entrepreneurs, conduct research at a school site, and think deeply about business development has been invaluable."
In 2018, six startups, two from Kansas City, were chosen for Leanlab's K12 Fellowship from a competitive pool of 100 applicants.
Tickets — $25 for the public and $10 for educators — are available for Launch[ED] day, which will take place at 5:30 p.m. Nov. 8 at Plexpod Medallion Theater.