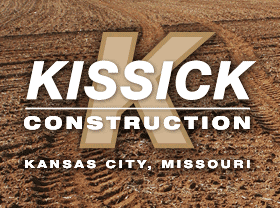 Local construction firm owner dies unexpectedly
A local construction company owner passed away unexpectedly last weekend in his Leawood home. Jim Kissick, who co-founded and owned Kissick Construction Co., was 68 years old.
Visitation will be Friday, Dec. 14, from 4-8 p.m. at St. Peter's Catholic Church. Funeral mass will be held Saturday, Dec. 15 at 10 a.m. at St. Peter's Catholic Church, followed by burial at Mt. Olivet Catholic Cemetery. There will then be a Celebration of Life following the burial from 1-4 p.m. at the St. Teresa's Academy Gymnasium.
Kissick started his company 24 years ago, and it since has evolved into one of Kansas City's most industrious construction firms, known to tackle $100-million single projects. The company's current staff includes more than 400 employees. Kissick's personal history with the construction industry traced back to his boyhood, where he worked in the family business, Kissick and Son Construction, alongside his father starting at age 12. The family business closed in 1971 after 100 years running, but Kissick and his nephew Pete Browne reestablished the company in 1994. He invested every penny he owned to make it happen.
"I just took a leap of faith, and I figured if I worked hard, good things would happen," Kissick said in an Examiner interview in September.
Kissick's enthusiasm and compassion are remembered fondly by his coworkers and his family.
"Jim valued the relationships formed with clients, vendors and employees," a release from Kissick Construction Co. said. "He believed in placing a high value on the connections made in all areas of his life and built his professional life on trust, integrity and reliability. As president, Jim's leadership approach has always been about developing the team of professionals at Kissick Construction."
Kissick leaves behind him a legacy of community service and civic contribution. His involvement in boards and projects included Heavy Constructors Association, St. Teresa's Academy Board of Advisors, the University of Missouri Civil Engineering Alumni Advisory Board of Directors and Kansas City Area Development Council. Additionally, his company has helped fund and build sports stadiums for Notre Dame de Sion High School, Rockhurst High School and St. Teresa's Academy.
"I want to be active," Kissick said of his community work. "I want to be a good citizen. I want to be a guy that if they need someone to do something, they are more than excited to call me about it."
His dedicated community work earned him the Truman Heartland Award in September. Since his passing, Truman Heartland Community Foundation has established a memorial fund in his honor.