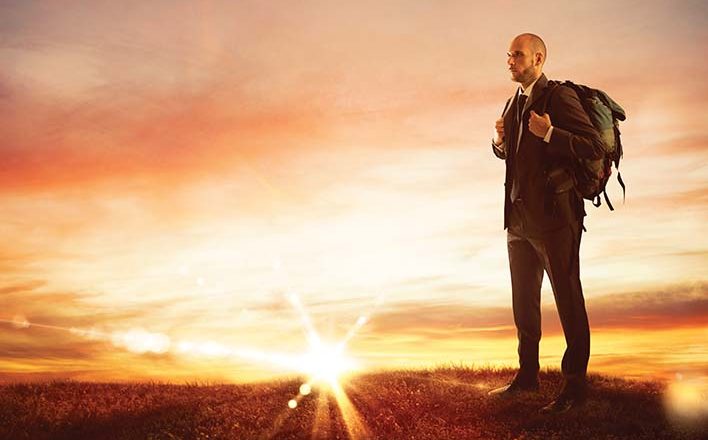 What the Numbers Say About Veteran Entrepreneurs
Even after they leave active service, our nation's military veterans continue to make a difference for their country—and many of them do so as entrepreneurs.
According to the U.S. Small Business Administration, there were more than 2.5 million businesses that were majority-owned by veterans in 2012, the most recent year for which data is available.
Include half-owners, and the total climbs to 3.1 million, the Institute for Veterans and Military Families at Syracuse reports.
About 9.1 percent of U.S. businesses—9 percent of Kansas businesses and 10 percent of Missouri's—were owned by veterans.
Those companies employed more than 5 million workers, boasting a total payroll of $195 billion. In Missouri, veteran-owned businesses had more than 103,000 employees. For Kansas, the total was over 43,000.
The businesses themselves made in excess of $1.14 trillion annually. Kansas vets generated $9.8 billion, while Missouri's made $22.1 billion.
Veteran-owned businesses are overwhelming small businesses: About 80 percent have fewer than 20 workers. More than half— 54.5 percent—have four or fewer employees.
Though they start small, many of them have grown and evolved to become some of America's biggest brands, including RE/MAX, FedEx and GoDaddy.
That's a proud track record, but experts are calling out a concerning trend: The country's veteran entrepreneurs are aging, and so far, younger vets are starting businesses at a lower rate.
The Difference Between Then and Now
After World War II, almost 50 percent of returning veterans eventually owned their own businesses. Approximately 40 percent of Korean veterans did.
And now? Fewer than 5 percent of veteran business owners belong to the generation that served after 9/11.
Bunker Labs, a nonprofit that helps veterans become entrepreneurs, says that about 12.3 percent of new entrepreneurs in 1996 were veterans. They represented just 5.6 percent in 2014.
If you had to paint a picture of the typical veteran entrepreneur, that person would be older.
According to the 2012 data, about 74 percent of veteran business owners were 55 or older. About 41 percent of all business owners were 55 or older.
Meanwhile, only 11.7 percent of veteran owners were 44 or younger, compared to 32.5 percent for all kinds of business owners.
Just 3.4 percent of veteran entrepreneurs were under the age of 35. About 13.5 percent of all business owners were younger than 35.
It's not clear why more veterans aren't starting businesses. Part of it could be due to the long-term decline in U.S. startup activity.
Others have suggested that former service members may find it hard to secure the financing they need to start a business. They might lack the professional networks that help so many young businesses.
Of course, it may just take time. Many people wait until their 40s or 50s to launch businesses, when they have more money and more connections.
Fortunately, several nonprofit groups, government agencies and elected officials are offering help to veterans who want to become entrepreneurs.
The SBA and the Defense Department have teamed up to create Boots to Business, an entrepreneurship program designed for those transitioning from the military to civilian status.
And that's not counting the long-standing efforts of the SBA's Veteran Business Resource Centers.
Bunker Labs has brought its business training and support programs to about 16 cities across the country.
Closer to home, Missouri Gov. Eric Greitens has announced plans to lobby for legislation that would eliminate business startup fees for military veterans.
What the Numbers Reveal
It's important to remember that, despite the trends, many veterans are a great fit for a life of entrepreneurship.
Advocates for veterans note that many of the qualities that military training nurtures—discipline, leadership, a bias toward action—translate well to running a business. At least one-third of aspiring and established veteran entrepreneurs say their military service left them with the skills they need to run a business.
Veterans are also more likely to be self-employed than other Americans, the Institute for Veterans and Military Families found. About 10 percent of nonveterans are their own boss. The self-employment rate for veterans is a little higher—12.3 percent.
And vets who served on active duty are 45 percent more likely to be self-employed, according to the SBA's Office of Advocacy.
There are a couple of important caveats, though:
The longer someone is in the military, the less likely they are to become an entrepreneur. Self-employment rates was most common with veterans who served four years or less
Unless that person is career military with 20 years or more in the service. In that case, the odds of being self-employed go up, the SBA found.
Male veterans are more likely to be self-employed than women veterans are—12.99 percent vs. 5.08 percent.
That could be changing. The number of women-owned veteran businesses grew from 130,000 to more than 350,000 between 2007 and 2012.
And more minority veterans are becoming business owners—their numbers increased 50 percent between 2007 and 2012.
And that's good news. America's veterans served to defend this country and everything that makes it great. If anyone deserves to enjoy the opportunities of entrepreneurship, it's the men and women of our armed services.