The U.S. criminal system held nearly 2.3 million individuals in prisons, correctional facilities, detention centers and local jails in March 2018, according to the prison policy initiative, a nonprofit, non-partisan research organization.
As of 2016, Kansas held 18,000 people in prison, while Missouri held 50,000; and of that combined 68,000, 61 percent were in state prisons.
The statics are astounding, but so are the efforts to increase workforce programs to assist returning citizens (individuals formerly incarcerated) and ultimately curb recidivism.
According to a survey by the Society for Human Resource Management and the Charles Koch Institute, "top reasons for hiring workers with criminal records include a desire to hire the best candidate for the job regardless of criminal history, making the community a better place, and giving individuals a second chance."
In fact, of the adult-age working population, nearly one-third has a criminal record, suggesting that re-entry into the workforce has improved for returning citizens over the last decade.
Businesses and organizations in and around Kansas City provide proof of this trend, as several companies are either working with current inmates to prepare for re-entry or have developed training and support programs to ease the transition back into society.
Be the Boss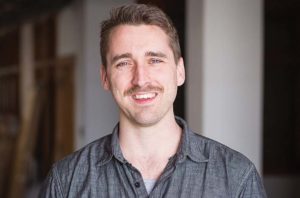 Kyle J. Smith has a passion for entrepreneurism. From his two-year stint at the entrepreneurial hub KCSourceLink, he saw a gap in support for returning citizens.
"I realized that there was a lack of resources specific to helping people who are coming out of incarceration start businesses, and there may be more need there than a lot of other places because people are often barred from employment. They're not able to get jobs because of their background, so there's a potential solution there—if you can't find a job, then create one," Smith said. "So that's what I set out to do, to start a nonprofit specific to helping people who are returning home from incarceration start businesses through connections, education and support within the community."
Smith founded Determination Inc. in 2018—a nonprofit with the mission of assisting returning citizens in developing an entrepreneurial mindset through connections, education and support within the community. The nonprofit recently was honored as a Changemaker by the Midwest Center for Nonprofit Leadership at the Aaron L. Levitt Social Entrepreneurship Challenge.
Under Determination Inc., Smith launched Be the Boss, a business support group that gathers every couple of weeks and currently works with 19 returning citizens. The gatherings feature local experts and entrepreneurs who speak candidly on starting a business, providing insight for participants. Outside of group meetings, Smith meets with individuals one-on-one to discuss their entrepreneurial plans as well as their re-entry needs such as finding housing, local resources, paying bills and more, for which Smith helps them develop connections for solving those needs.
Thus far, Smith has seen former participants use their skills to develop businesses in landscaping, catering, janitorial services and other areas.
"It's awesome to work one-on-one with the people in my workshops because we can use entrepreneurship as a way to realize a path toward a better future for themselves and their families and their communities," said Smith. "When your ultimate goal is to run a successful business a year, five, 10 years from now, you can really align all the other activities in your life along that path to make things better for yourself right now."
Smith, an entrepreneur himself, doesn't stop there. He is currently working with Goodwill on a program called Quest Bridge Academy, which will focus on personal and professional development, and job readiness. He also has launched an entrepreneurial mindset and business basics workshop at the Heartland Center for Behavioral Change.
Smith believes there are many paths out of prison, which has inspired him to help others. From his experience at KCSourceLink, he is motivated to use entrepreneurism as an answer to recidivism.
"Entrepreneurship crosses all boundaries, and entrepreneurship has a way of helping everyone in every situation from every
background—it's such a powerful tool to build community," he said. "It's also such a powerful tool to just helping people live and love better."
Thirsty Coconut
Thirsty Coconut Inc., headquartered in Louisburg, is a multifaceted business that offers rentals of frozen drink machines, mobilizes a breakfast food truck in the metro and manages a wholesale sector selling drink machines to individuals and businesses.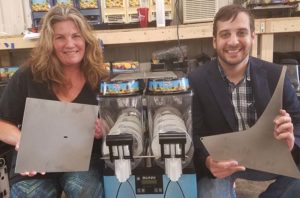 Working with schools, hospitals, nursing homes and large corporate-food-service-run facilities, wholesale makes up the largest portion of Thirsty Coconut.
"We make it easy for (clients) to run a specialty beverage program. We provide the equipment, training, service, and we regularly
distribute product to them, typically a healthier product," President Luke Einsel said.
Einsel eventually saw the need to protect the machines from tampering—there was too much risk for contamination by adding alcohol or something worse. To combat that, he developed a part to secure the machines. However, his options for manufacturing 500 pieces weren't great.
Being in the right place at the right time, Einsel discovered Kansas Correctional Industries (KCI), which ultimately produced the part for Thirsty Coconut.
"I was looking to get this made, and I ran into the Bureau of Prisons for the state of Kansas. They'd said, 'Hey, if you guys were looking to get something new manufactured, why don't we try and partner on this so that you guys won't have the cost, and our inmates get a lot of real-time training?'" Einsel said. "Everybody wins, and it was an absolutely amazing experience."
KCI dates back to 1958 in partnering with private industries and businesses to manufacture products and provide inmates with a variety of benefits. According to the KCI website, those benefits include building valuable work habits and skills, earning at least federal minimum wage, meeting child support obligations and receiving mandatory savings upon release.
Einsel and his company have concluded their partnership with KCI but continue to promote its value and take pride in the fact that they have helped others.
"You feel good because you're helping some of our most vulnerable population," he said. "They're going to return to society at some point, and I loved the idea that they're bringing some job skills with them back into the community that hopefully they can get their life back on track."
New Horizons Enterprises LLC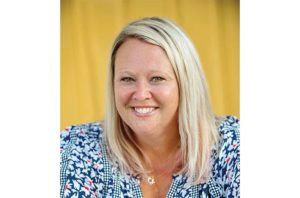 New Horizons Enterprises LLC is an environmental consulting firm specializing in demolition and environmental remediation such as the removal of asbestos, lead and mold.
Based out of Kansas City and Lincoln, Neb., the firm has hired returning citizens for the past nine years.
"We strongly believe that people should be given a chance and that their past should not define their future," said Stephanie Isaacson, president and CEO.
For Isaacson, it has always been about hiring people that are skilled in labor, regardless of their background, which eventually led to the firm's participation in the federal Work Opportunity Tax Credit (WOTC) program. This provides credits to employers who provide employment for individuals from target groups who have faced challenges in finding employment, such as ex-felons.
"The first time that it was brought to my attention that there was a tax credit for hiring these individuals was through the EPA-funded Brownfields Training Program, which trains unemployed individuals in the environmental field," Isaacson said.
The EPA's Brownfields Training Program assists in building a "skilled workforce in communities where EPA brownfields assessment and cleanup activities are taking place," according to the EPA. The purpose is to create local jobs for unemployed residents that are "affected by environmental pollution, economic disinvestment and brownfields to gain the skills and certifications needed to secure local cleanup work in
their communities."
Once trained, these individuals receive a list of companies that hire from the program. New Horizons was one such company listed by Kansas City's Full Employment Council Inc., a recipient of grant funding from the EPA to promote workforce development and job training.
"People deserve second and sometimes a third chance. We all could have been in the wrong place at the right time or raised by different families, and our situations would have been different," Isaacson said. "We have great supervisors that have worked their way up and are leading changed lives because we gave them a chance without judgement and just believed that they could change."
Construct KC
While many Kansas and Missouri inmates have work-training programs such as KCI, the Home Builders Association of Greater Kansas City (HBA) has added its presence to positive re-entry efforts through a pilot program, Construct KC, launched in the spring.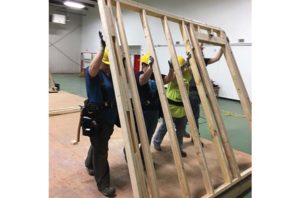 HBA, the Associated Builders and Contractors Inc., Heart of America Chapter (ABC) and Workforce Partnership created the six-week training program to develop tradesmen and women with the skills to enter the construction industry.
Trainees live in the Johnson County Department of Corrections Adult Residential Center while working outside with the training program until they have completed their time. The program is financed by a $200,000 grant from the state of Kansas providing a total of four sessions; two occurred in spring 2018 and two more will be offered in spring 2019.
"(Construct KC) is part of a multi-pronged approach the HBA is taking to ease the labor shortage in the homebuilding industry," said Courtney Reyes, HBA workforce development manager.
"Together, the three organizations are working to make men and women of all backgrounds aware of the many amazing opportunities this career path can open for (returning citizens)."
Separating itself from other training programs, this partnership not only develops skills and trains in OSHA safety; it also hosts networking events and job fairs for trainees. This provides employers with direct access to trained labor, mitigating the time and costs associated with finding skilled employees.
The program has seen a 100 percent graduation rate, Reyes said. Since March, a total of 16 students have gone through Construct KC, 15 of whom have been placed with companies in Kansas City.
"We're very pleased with the success of the program thus far and are exploring the idea of expanding it at some point," Reyes said.