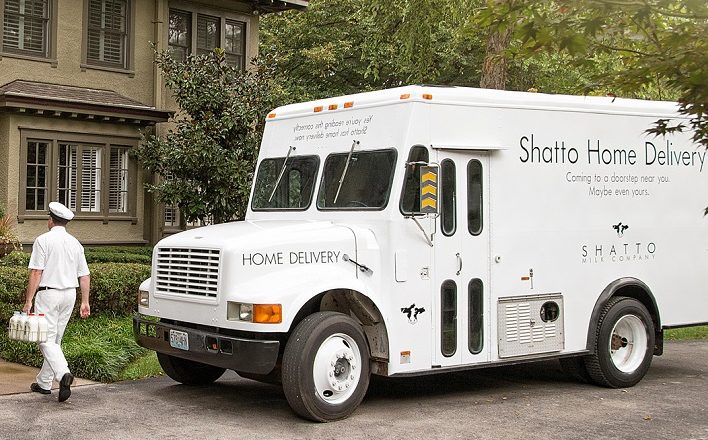 Holy cow! Shatto Milk scores big at international competition
One of Kansas City's favorite local dairy companies is winning accolades until the cows come home.
Shatto Milk Company, also an alumnus of Thinking Bigger's 2006 25 Under 25 class, recently brought home five awards from the 2019 Los Angeles International Dairy Competition. The competition takes place annually at the Fairplex Fairgrounds in Pomona, Calif., which is also home to the L.A. County Fair.
Shatto was awarded three Gold Medals, defined as an outstanding product of superior character, for Garlic Butter in the Flavored Butter Category; Lily Cheddar Cheese in the Open Class Hard Cheese Category; and for Shatto Cheese Spreads in the Spreadable Cheese Category.
The company additionally received a Silver Medal for its Plattsburg Gouda Cheese in the Gouda Cheese Category and a Bronze Medal for its Salted Butter in the Salted Butter Category.
Shatto Milk Company was founded in 2003 and currently continues its operations out of its family farm in Osborn, Mo. The company, which uses fewer than 500 cows, prides itself in making dairy hormone-free. Shatto also bottles its own milk in reusable glass bottles.
"We are humbled by this outstanding recognition; we are so pleased with our showing in this international competition," owner and president Barbara Shatto said in a release.
"We pride ourselves on offering our customers the freshest and best-tasting products possible, and we're so excited to see that professionals in the dairy industry view our products as some of the best available."
Entries hailed from over 11 states as well as countries like Britain, France, Spain and the Netherlands. Award winners will be displayed during the 2019 LA County Fair, which will take place Aug. 30 through Sept. 22.
Next up, Shatto has plans to release some of its newest products to local markets.
"We have been testing our line of cheese spreads for the past four months, and are so excited to see that they were awarded a Gold Medal," Shatto said. "It looks like they will be making their way to local stores soon."