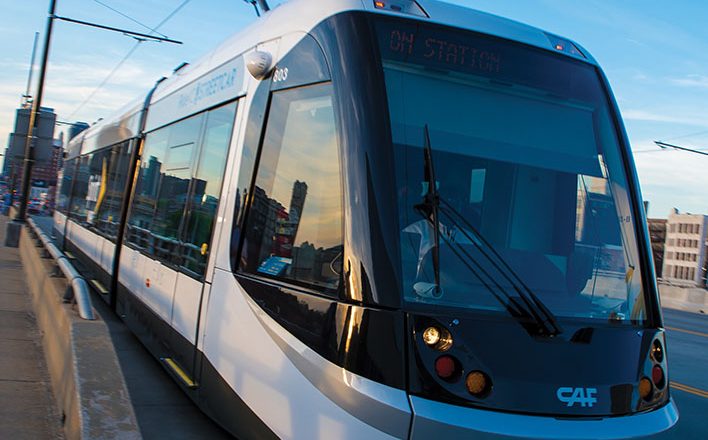 A Streetcar Named Revival
One year on, some problems persist, but KC's Streetcar has boosted business along the line.
Lunch customers lined up for ribs, brisket and other barbecue specialties on a recent weekday at Plowboys Barbeque, a new landmark along the streetcar line in downtown Kansas City.
Plowboys opened at Main Street and Petticoat Lane in January 2014 and moved into a larger space at 12th and Main in October of last year, about five months after the streetcar made its first run. The owners say they made the move because they wanted room to grow and greater visibility to streetcar riders.
"The streetcar was a primary driver for us coming downtown, and also a major factor in our moving to our current location," Todd Johns, Plowboys president and its chief pit master, said at a City Council business session on Feb. 16. "From year to date Jan. 1 to Monday of this week, we have seen 159 percent growth. We know the streetcar has an impact on us."
Plowboys' success is emblematic of a widespread boost attributed to the streetcar, which in May is celebrating its first anniversary. A recent survey of small businesses along the 2.2-mile route, which runs from the River Market area to Union Station, showed that nearly all respondents credited the streetcar with bringing more customers to their restaurants, shops, bars, coffee houses and other establishments.
"When you talk to the merchants, they'll tell you they're receiving more customer walk-ins, more sales," said Mayor Sylvester "Sly" James. "It is seen as a tremendous boom."
According to the Downtown Council, $1.2 billion worth of development has been completed or is under construction within the Kansas City Downtown Streetcar Transportation Development District, and another $955 million worth is on the drawing board.
"The streetcar has really been a game changer for downtown," said Mike Hurd, the Downtown Council's director of marketing. "It has proven to
be an amazing catalyst for economic growth, for moving visitors, locals, downtown workers throughout the downtown corridor. We've seen sales increase, we've seen sales taxes increase. We're seeing it create new jobs."
The streetcar still draws criticism, including from business operators along the route who say it has caused parking shortages.
But streetcar advocates are pushing for a southward expansion of the line to the University of Missouri-Kansas City, in hopes of widening the impact that has occurred downtown.
A "Tortuous" History
Kansas City for many years boasted one of North America's most extensive streetcar networks. After World War II, streetcars around the country fell victim to the popularity of cars. Kansas City's went off track in 1957.
Streetcars eventually started coming back in some cities, but Kansas City arrived late to the party. A light rail plan to connect downtown with the Country Club Plaza ground to a halt in 1997.
But the drive to upgrade mass transit here would not die. In July 2012 a majority of eligible voters approved creating a special taxing district known as a transportation development district—to help pay for a downtown streetcar. In December of that year, voters approved a sales tax and property assessments within the district to provide funding for the $100 million project.
In September 2013, the federal government awarded Kansas City a $20 million TIGER (Transportation Investment Generating Economic Recovery) grant to help pay for the streetcar.
Support for the streetcar was not unanimous, however, and the effort generated considerable opposition. Much of the criticism came because only those voters who lived within the transportation development district were allowed to vote in streetcar elections. Those who owned property in the district but did not live in the district could not vote. In March 2013, a Jackson County judge dismissed a lawsuit filed by two downtown property owners who had challenged the new sales and property taxes for the streetcar system.
"It was a tortuous process," James said.  "It took a lot of convincing. We fought through the tough times, we fought through the naysayers."
The construction of the streetcar line caused access and parking problems which seemed like a tortuous process to some businesses.
"It's no secret that the construction was very disruptive to a lot of small businesses along the line," said John Pajor, manager of the city's Business Customer Service Center/KC BizCare office. "I was part of a team of people who went out and listened to the business owners. We worked on a number of initiatives with the streetcar constructors to put the word out that the businesses were open."
Positive Results, But Not All Are Convinced
The streetcar marked its one millionth ride on Oct. 7, and the Streetcar Authority in February reported a total ridership of 1,589,809 to date.
The survey of small businesses along the streetcar route was taken during the fall of 2016 and covers data from May through September 2016. The survey was conducted by the KC BizCare office, the Downtown Council and the KC Streetcar Authority. More than 80 businesses were contacted and 41 responded.
Ninety-seven percent of respondents credited the streetcar with having a positive impact on their business, and 80 percent said they had seen an uptick in revenue.
Johns, with Plowboys, said moving next to the streetcar stop at 12th and Main has revved up his cash register. "We can see that the car just stopped, and everybody better get ready because there are going to be a dozen or 20 people coming in right now," he said.
Not all business owners along the route report such a positive impact from the streetcar. "Maybe the first month there was a lot of additional business," said Erik Borger, owner of the Il Lazzarone restaurant at 412 Delaware St. "Then there was a gradual decrease."
Borger likes the streetcar and rides it once in a while, and believes that "any public transportation is good transportation." However, he said he doesn't think public transportation "should ever be sold as a business generator or having much to do with generating business. It has to be looked at as getting people from Point A to Point B."
Suzie Aron, president of Aron Real Estate and former president of the Crossroads Community Association, supported the streetcar early on and continues to beat the drum for it.
"The impact of the streetcar has been very good from Union Station to the River Market," Aron said. "People are excited about buying and developing properties. We have a huge number of customers who would love to have a property on the streetcar track. They're even willing to go five blocks either side of the streetcar. We have five new hotels in the Crossroads alone that are being proposed or are under construction. All of those customers are going to be great for our restaurants."
Ronnie Burt, president and CEO of VisitKC, said the streetcar "gives us a very modern, fresh look to people looking at this destination, who may have never been here before or have not been here in 20 years. That is something that has been pretty significant."
Burt said VisitKC had produced a video about the streetcar and sent it to convention organizers. He said the streetcar helped persuade Shriners International to choose Kansas City as the site of its 2020 national convention, which is expected to draw between 15,000 and 20,000 attendees.
"It's a big one," Burt said. "It's what we categorize as a citywide event."
The streetcar also is drawing downtown visitors who are not conventioneers, Burt said. "The City Market, the Power & Light District, the Crossroads and Crown Center are key destinations that were previously disconnected. You can now spend the day between Crown Center and the City Market, and you can do it without moving your vehicle."
Parking Predicament
Despite the streetcar's success on many fronts, complaints involving parking persist.
"As we are close to a streetcar stop, our free parking is often consumed by streetcar riders, so our customers have to park elsewhere," said Borger of Il Lazzarone.
"There are a lot of people who use the parking here, which is very limited anyway, to use the streetcar to get to work, which takes a lot of our parking away," said Dodi Stobaugh, property manager of the DE Lofts at 500 Delaware St.
Aron said substituting three-hour parking for long-term parking has improved the situation in the Crossroads. "It's an advantage for us to not have all-day parking on the street. Businesses need to be able to offer parking for customers."
Kansas City unveiled in February an online data portal that shows open parking spaces on Main Street in downtown. The data source is part of the Smart City initiative the city launched in conjunction with the streetcar.
Other possible solutions include satellite parking areas. But James said he expects downtown visitors to become less car-dependent. "It's going to change some behavior. People aren't going to drive as much. That's a desirable trait in the downtown area, to get people out of their cars and on to the streetcar, walking, etc."
The Outlook for Expansion
Advocates long have visualized a downtown track as a "starter line" for a comprehensive network. Getting that accomplished has proven to be more difficult than supporters hoped.
In August 2014, voters defeated a proposal to expand the streetcar south to UMKC, east on Independence Avenue to Benton Boulevard and east on Linwood Boulevard to Prospect Avenue. The plan also called for a MAX rapid bus line on Prospect south to 75th Street.
Precinct tallies showed that voters west of Troost Avenue approved of the expansion, but it was voted down by a wide margin in the Old Northeast area and precincts east of Troost.
Advocates now are looking southward again and pushing for an extension of the line to UMKC. From early May until July 11, voters who live within the proposed new streetcar district boundaries will cast mail-in ballots on whether or not to create the district. If the voters approve the new streetcar district, there would be an election in September at polling places to choose board members for the new taxing district. Then there would be another mail-in election between November and Jan. 16, 2018, to approve the taxes for the new district.
In addition, the feasibility of extending the downtown line about three-quarters of a mile north to Berkley Riverfront Park also is being scrutinized.
The downtown track "was always designed to be a starter line," said Hurd with the Downtown Council. "In order for the streetcar to really stretch its wings and have a more significant impact, it needs to continue to grow. It's the most logical idea in the world to expand the streetcar south toward the Plaza and UMKC."
Burt, with VisitKC, said a southward expansion would enable visitors to hop on the streetcar to explore Westport and the Plaza. "It makes a whole lot of sense. An expansion of the streetcar allows us to further connect destinations."
James thinks the southward expansion proposal has a "pretty good chance" of passing. "I think it would be something great for the city to have the ability to connect the Brookside-UMKC-Plaza area to the riverfront area," he said. "And if there's a possibility of taking it across the bridge to (Berkley) Riverfront Park, then all of a sudden we've got a system that has a whole lot of impact on development across the board."