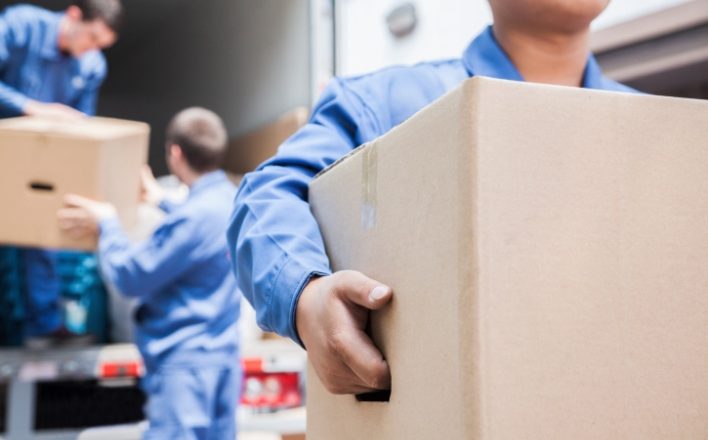 When It's Time to Make a Move
All your hard work is paying off, and you have more customers than ever. Congratulations, your business may have grown enough to warrant a bigger space or an additional location.
But such a move, whether it's across the street or across the country, entails substantial forethought and follow-through to have the best chance of success.
"There are a great many issues to moving," said Mary Merola, founder of kitchen and housewares
retailer Function Junction, which started with one Kansas City store in 1977 and expanded to 17 locations in three states. "You have to approach it with a very enlightened mindset, so you don't find yourself with
a surprise that bites you in the behind."
While there's no official tally of how many U.S. small businesses move or add a site, "you always have to stay open to the next chapter," Merola said. "To presume that you're going
to be in a location and stay there until the day you close or sell your business is probably unrealistic."
Start with Why
It's essential for business owners to have a clear picture of what they want to accomplish with a move and why, said Chris Wally, president and founder of Wally & Co., a commercial tenant representative that helps businesses find spaces in the Kansas City area.
Each business will have its own "why." For example, IT consulting and staffing firm ECCO Select added offices in Washington, D.C., and St. Louis because its customers there were asking about the company's "local address."
"And so it made sense to have a place where we could actually hold meetings and be able to conduct business with our clients and consultants," CEO Jeanette Prenger said. "Also for our staff that's out there, it was great, because instead of just trying to get together ad hoc here and there, they now have offices to go to."
AdFarm, an advertising agency serving the agricultural industry, moved to new offices this year in the Crossroads Arts District. The new space— the remodeled second floor of a former candle factory—is actually slightly smaller than AdFarm's old home in City Market.
"We quite enjoyed that space in the City Market," said Les Kahl, a managing partner at AdFarm. "But our lease came up and we decided to look around, if for no other reason than to find a little bit more vibrancy. … We found ourselves in a fantastic building there, but feeling a little bit like we were in a ghost town, as far as energy on the street and things going on around us."
Knowing why you need the space will help you better estimate how much you'll need and where you should locate—though it's a good idea to get an expert opinion, too.
"If it's too small, you'll probably have to move out of it to fix the problem," Wally said. "If it's too big, you're just wasting space. So we will get a sense of whether the tenant is in the ballpark or not. But to really be effective, we tell every client that they should engage with an architect who specializes in designing spaces, more so than designing buildings."
Unexpected Costs Are Your Enemy
Misjudging or overlooking costs is "probably the single biggest risk in a move," according to Merola of Function Junction.
In recent years, Merola has downsized to a single Function Junction store at the Crown Center Shops. That store recently moved from a 3,600-square-foot space on the shopping complex's third floor to a 4,200-square-foot space on the second floor, allowing more room for an enhanced culinary studio, cooking classes, product demonstrations, parties and other special events.
"People often underestimate all the ancillary costs in moving to another location," Merola said. "So they oversimplify everything from moving their fixtures, their inventory and their signage to things as elementary as rewiring their Internet and point-of-sale systems. And there are things that you don't even think about, like where are the phone lines in the new property, and how easy are they to get to?
"It's simple to say: 'Oh, I'm going to move from Point A to Point B, and it's going to be seamless.' It really never is seamless."
The solution? Set aside time to sit down and make a thorough plan.
That's what Erin Brown, the owner of Dolce Bakery, did when she decided to move from her 1,200-square-foot location at Prairie Village's Village Shops to a 1,940-square-foot storefront in the same shopping center.
Challenges from her bakery's relocation have been minimal, Brown said, because she took a year and a half to plan the move and correctly calculate all her costs. She also relied on advice from her business coach and her board of advisers.
"I haven't had any big surprises," she said. "I really worked on the numbers and the financial piece. The rent is higher, of course, in a larger space. I bought a lot of new equipment—bigger ovens, a bigger walk-in fridge and freezer—and all new furniture for the cafe area."
While you're determining the costs of the move, don't underestimate the time it will take.
"We started our closing sale in the fall of 2013 for an April 2014 opening, and we paced it very well," Merola said. "We really viewed it as a six-month process, and it took us every day of those six months to make it right."
Let People Know You're On the Move
Whenever a business changes locations, especially a retail establishment, there's always the fear that it will lose customers or employees.
"I've made moves where I've lost some key people because of geography and transportation," Merola said. "And I've actually moved a store literally two doors away in a given shopping center and had customers call me and say, 'Have you left the center? We can't find you.' When your customer has to find you, it's a matter of marketing
to them and making sure they can find you."
Merola used her email list to send targeted newsletters to her customers. She recommends that other business owners spend between 90 and 180 days marketing their new location to customers.
In the months leading up to the move, Dolce Bakery let customers know about its new address. There were updates on Facebook and Twitter. Local media, including The Pitch and PVPost.com, ran stories alerting readers about the change. Brown left a sign in the old store's window advertising their new location.
Brown also took advantage of the move to tweak her branding, her website and other materials. Even the name got a slight adjustment, from "Dolce Baking Co." to "Dolce Bakery," which sounds more like the friendly neighborhood shop it is.
"I had a lot of concern that I can kind of laugh at now, that people wouldn't be able to find us and that maybe it would be a slow start," Brown said. "But we hit the ground running. It was awesome."
Rent or Buy?
Let's say you're really thinking bigger. Instead of simply leasing a new space, what if you bought your own building? Or buildings?
For most growing companies, "it's not that common to buy," Wally said. "Number one, many companies won't do it because it's considered to be so ill-liquid. If they've got to move in the future, then they don't really like that kind of liability hanging over them. They would rather have flexibility. Companies always say, 'We intend to grow.' Well, what if you outgrow a building you own? Owning may actually be more confining real estate-wise than leasing."
Certainly, if a business rents a space, it has none of the headaches of ownership, including building maintenance, said Stephanie Landis, a consultant with the Kansas Small Business Development Center at Johnson County Community College.
"However, the positive side of buying is you do create equity, and you have a tangible asset," she said. "You can rent other parts of the building (and) that can be income. And, in most instances, you can finance it so that your loan is less than what a typical rent for a similar space would be."
If you own the building and sell your company, "maybe you can maintain the company as your tenant," Wally said. "But if that doesn't occur, then as the owner of the building you've got to probably hire a real estate brokerage firm to help you find a replacement tenant or sell the building."
'The Space to Dream'
While moving demands a lot from small businesses, it's often necessary if they want to keep growing. That was the case for Dolce Bakery.
"We had to say no to orders at times, because we would hit our capacity," Brown said.
Not only does Dolce Bakery have a larger kitchen now, its café and patio have nearly tripled their capacity from 12 to 34 seats.
"It's really just having the space to dream, the space to move, the space to adapt as the business changes," Brown said. "That's the thing about these small entrepreneurial companies. They are a wild ride."