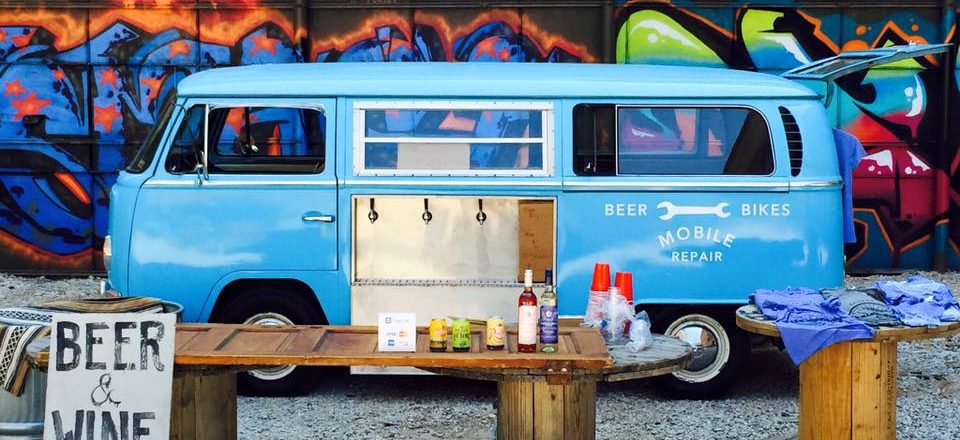 Velo Garage and Tap House Finds New Home
VeloWagon owners Kiley Sutter and Steve Borden have found a permanent home at 1403 Swift, North Kansas City, for Velo Garage and Tap House, the new incarnation of their mobile bike repair service and taproom. Sutter and Borden will host a grand opening for Velo Garage and Tap House on March 4.
For the past 18 months, VeloWagon operated out of a converted Volkswagen bus equipped with four beer taps. The vehicle was present at local events centered around both interests.
"Our original business plan was to start with a brick-and-mortar shop first, and use the VeloWagon for marketing," said Sutter. "We flipped the business model around and tested the concept with a mobile vehicle first."
Sutter and Borden have subleased a section of their 3,000 square-foot space to Vince Rodriguez, owner of Velo + bicycle repair shop, who wanted to expand to another location. The concept Sutter and Borden had in mind squared with Rodriguez' goal.
"Vince and I became good friends. We discussed the concept and figured out how to make it work together," said Sutter.
Velo Garage and Tap House will have a bike repair shop on site and sell new bikes as well. Tools and resources are on hand for DIY bike repairs and instruction. VeloWagon will continue to operate as a mobile repair unit and delivery vehicle. The Tap House will have 10 rotating local and regional beers on tap, plus a selection of canned and bottled beer.
"In the future, we have the potential to expand the rooftop deck," said Sutter.
The grand opening will feature guests from Dez Nuts and swag from Swift Optics, a brand popular among the cycling set. Dibs on the shuffleboard table.