Across Kansas City, innovative spaces and amenities have come to define new work experiences for employees.
Five buildings in particular caught our attention for breaking the mold on traditional office settings. The businesses currently occupying those spaces chatted with Thinking Bigger about company culture and their favorite things about where they work.
FISHTECH GROUP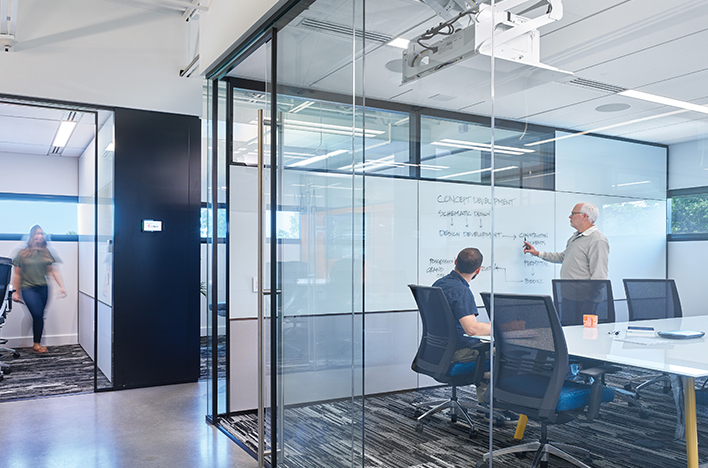 LOCATION // 13333 Holmes Rd., Kansas City, Mo.
FOUNDED // 2015
CEO // Gary Fish
ABOUT // Founded in 2015 by CEO Gary Fish, Fishtech Group is a cloud-based security company that focuses on providing "next-generation" solutions for its clients. Fishtech's headquarters, located in Martin City, acts as a crossroads for modern architecture and some of technology's latest innovations in cybersecurity.
The space features adjustable workstations, open work areas, automated collaboration rooms and outdoor spaces that include a covered balcony and an outdoor kitchen. As a result of the office's cutting-edge tech, says Senior Marketing Strategist Jennie Hanna, the employees "are always connected."
"Our office is cloud-based and we strive to be totally paperless," Hanna said. "While brainstorming, we can write on walls and tables using glass boards that are easily cleaned. We can work where it suits us, and our access to email, shared drives and other resources is seamless and highly secure."
In 2017, Fishtech's office was awarded "Kansas City's Coolest Office Space" by the Kansas City Business Journal.
WHAT EMPLOYEES SAY // "The ability to work anywhere — the patio, a closed office, a standing desk, next to a cooking grill, out in the midst of coworkers — helps me enjoy coming to work and want to work harder to be part of the team."
AMENITIES
A two-story lobby with glass elevator and custom desk that glows with orange LED lighting

An Executive Briefing Center

that features a formal dining room with a wine wall, a gourmet chef's kitchen and a state-of-the-art, fully interactive stage for presentations and performances

Pepper

,

the humanoid robot,

to help with office tours and real-life application of artificial intelligence

Two outdoor patios for employees for workspaces and entertaining, including a covered balcony and an outdoor kitchen with seating, fans, heaters and outdoor TVs

Automated collaboration rooms with screens built into glass walls

High-end cars on display

A

Metronap EnergyPod

"napping pod" for employees to relax and reenergize

Three glass garage doors that open at touch of a button to access a fully enclosed courtyard
PLEXPOD WESTPORT COMMONS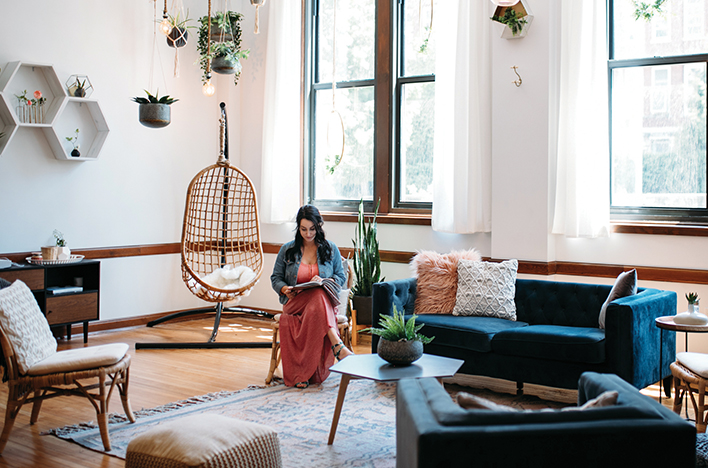 LOCATION // 300 E. 19th St., Kansas City, Mo.
FOUNDED // 2017
CEO // Gerald Smith
ABOUT // Plexpod Westport Commons is housed in a historic building at 300 19th St., repurposed and renovated to be a coworking space. What was formerly Westport Middle School now operates as a diverse hub of workspaces with distinct personalities across five stories, including a restored theater, exercise spaces, an urban farm, a skywalk and a rooftop patio.
WHAT TENANTS SAY // "The building has a remarkable amount of natural light, so much so that our office only turns on our lights after 5 p.m." — Andrew Brain, Brain Group, a real estate development firm
AMENITIES //
HerSpace:

a space designed specifically for women to work with other women

A historic, restored theater

A skywalk

A rooftop patio

A gym and dance studio

Shuffleboard, billiards and ping-pong

An urban farm

Private prayer room

1Million Cups:

Plexpod Westport Commons hosts the weekly program that teaches and connects entrepreneurs.
KENTON BROTHERS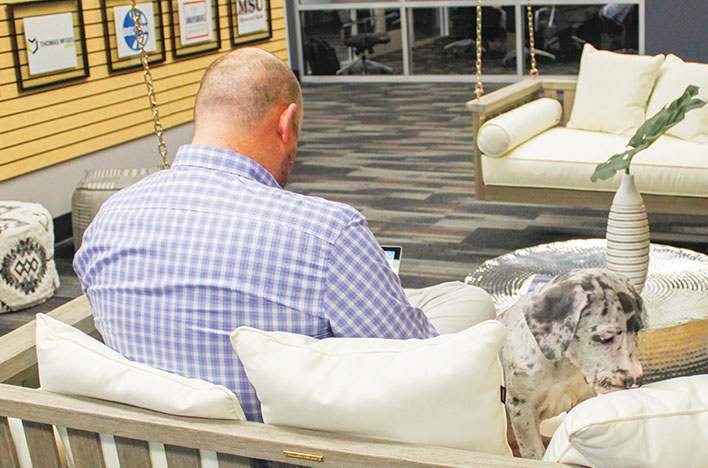 LOCATION // 3401 E. Truman Rd., Kansas City, Mo.
FOUNDED // 1897
CEO // Gina Stuelke
ABOUT // Founded in 1897, Kenton Brothers is a security systems company that is women's enterprise certified and offers a variety of products such as metal detectors, access control systems, video surveillance systems, and hosted and managed security systems. The company is currently headed by fourth-generation owner and CEO, Gina Stuelke.
After 46 years at its Crossroads Arts District location, Kenton Brothers relocated to a building 10 times the size and added amenities to enhance experiences for customers and employees.
Some of the new features include a Showroom Inspiration Center, where customers can see security systems and advanced solutions in action, a state-of-the-art training and event center, a pickleball court and a museum area that honors the company's 120-year history.
WHAT EMPLOYEES SAY // "The best part of our building is our pickleball court, and also that it's a dog-friendly environment. There's a community dog bowl, and in the spring, we're fencing in an area to create a mini dog park." — Luke Bergin, Security Consultant
AMENITIES //
Showroom Inspiration Center

Pickleball court

A state-of-the-art training and event center

Museum and "key customers" area

A comfy lounge with a TV and complimentary refreshments

An upcoming mini dog park
WALZ TETRICK ADVERTISING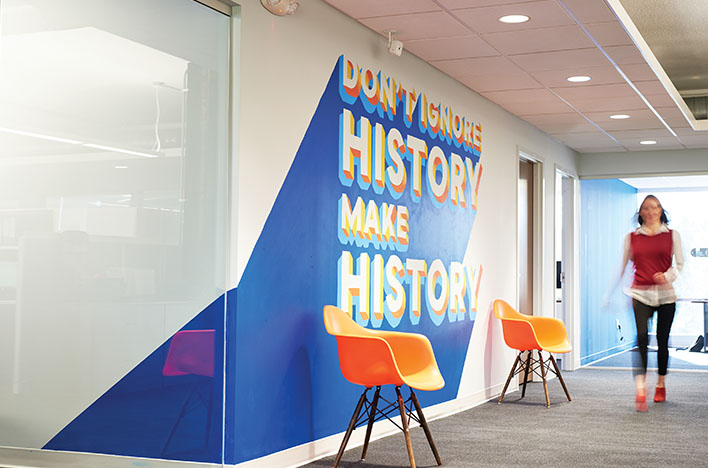 LOCATION // 5201 Johnson Dr., Suite 500, Mission
FOUNDED // 1967
CEO // Charlie Tetrick
ABOUT // In August of 2018, Walz Tetrick moved from the third floor of 6299 Nall Ave. – which the company had occupied since 2000 – into the fifth floor of the Security Bank building at 5201 Johnson Dr. The five-story office tower was built in 1973.
Prior to moving in, Walz Tetrick spent 120 days reimagining and rebuilding the space's 14,000 square feet. The company tore down most of the walls to allow natural light to penetrate one side of the floor to the other, and then replaced the remaining walls with glass to provide privacy without blocking sunlight.
The cubicle village that once occupied the middle of the floor was replaced by a pool table, bar and café tables.
WHAT EMPLOYEES SAY // "The bar and café area is the center of all social activity within the agency. Here, we hold staff meetings, monthly happy hours, impromptu celebrations and lunch gatherings."
AMENITIES //
A bar and café with a wine cooler and a twin-tap Kegerator

Vintage pool table and dartboard

35-foot painted mural in the lobby

Enclosed conference rooms and casually furnished collaboration spaces

A 20-foot custom-built table in the main boardroom, with surrounding space to seat a dozen more

A studio for shooting videos and still photos
RW2

LOCATION // 1000 W. 25th St.
FOUNDED // 2015
OWNERS // Judy Rush, Lyndon and Lindsey Wade
ABOUT // Production company RW2, previously located in the Crossroads Arts District, moved to 1000 W. 25th St off Southwest Boulevard earlier this month. The new space allows RW2 to expand their "one-stop shop" services as a full-service production company. Its studio work includes live action production, photography, editorial, VFX, retouching and experiential work.
Judy Rush, along with her sons Lyndon and Lindsey Wade, founded RushWade2 in 2000. From there, they rebranded the studio in 2015 to RW2.
The new location, right across from Boulevard Brewing Co. and in the west side of the Crossroads, features multiple spaces within one building to enhance RW2's developing, shooting and finishing processes.
WHAT EMPLOYEES SAY // "We can develop, shoot and edit all creative out of this one space. We manage productions all over the country from this one hub. Having multiple spaces for each division to work independently, but also common spaces for us all to ideate and create as a team, is so important." — Lyndon Wade, Owner/Partner
AMENITIES //
Three editing suites

A studio space with natural light

Dining spaces and "bars" stocked with cocktails

A garden

A full kitchen

A custom-made ping-pong table

Lounge areas

Views of downtown Kansas City and Boulevard Brewing