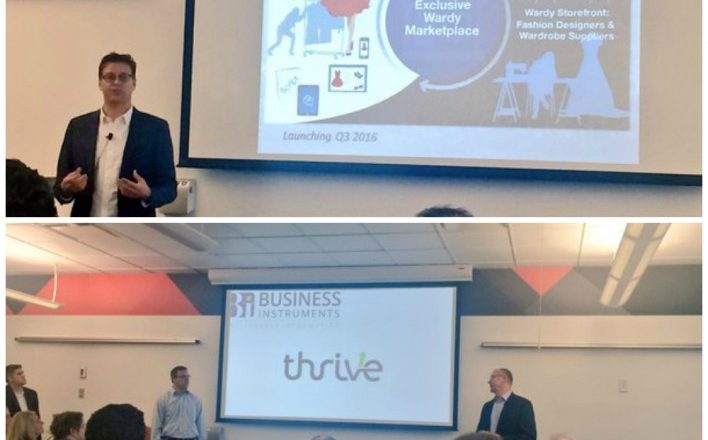 1 Million Cups Recap: Wardy, Thrive Take the Stage
This week at 1 Million Cups in Kansas City, two local companies presented their products, struggles, and business hopes to an engaged audience at the Kauffman Foundation. Wardy and Thrive are products for two very different industries, but both have found ways to capitalize on niche problems.
Wardy: Why Can't I Buy What I See on TV?
An app created by Contra Software of Lee's Summit, Wardy tackles a problem that's been around almost since the invention of television itself. At some point, you've probably watched a show and seen an actor wearing piece of clothing or accessory that you'd like to buy, but where you can find that product? In most cases, you can't. Brian Toone, who oversees sales for Wardy, said this is the problem the app is trying to fix.
Clothing designers can upload their inventory into the Wardy app and interact with costume designers on television and production sets who are interested in their products. Those costume designers can also use Wardy to keep track of all the costume items they use on their sets.
Wardy plans on releasing it consumer-based app interface, Gussy—as in, "getting all gussied up"—in the third quarter. Consumers will then be able to follow costume designers and even the clothing designers they like on the app. They'll be able to see exactly what clothing and accessories are being featured on the shows they watch. Then, consumers can directly purchase the items from the app.
Toone said Wardy's biggest struggle has been getting the word out, as well as getting costume designers and clothing designers to take the time to use the app. Since the consumer app hasn't yet been released, there isn't a way to create revenue right now. It's more of an organization tool until that happens. But when it does, there will be plenty of opportunity for revenue, actionable data and marketing.
To help promote the app's usage among the right audience, Wardy has been working closely with local fashion designer Matt Baldwin.
Wardy "wants to be the IMDB of fashion and entertainment," Toone said.
Thrive Business Software: Actionable Information to Grow Small Business
Local software company Business Instruments helps small and medium-size companies find the actionable data they need to grow. Business partners Drew Ford, Mike Thiessen and Scott Anthony said that Thrive's solution consists of four unique modules: Thrive Projects, Thrive Dashboards, Thrive CRM and Thrive Accounting. Between the four modules or suites, businesses will have the tools they need to measure business growth and see real-time metrics.
Thrive's interface was created to be as simple and user-friendly as possible, its founders said. The dashboards are customizable, so they can work the way that is best for each individual business.
Right now, Thrive is working on creating API capabilities that would allow its accounting suite to pull data from Quickbooks.
One of Thrive's biggest struggles, the founders said, has been building brand awareness and getting more feedback to create a better product. Thrive does offer a free 30-day trial for its software. The founders said they hope more businesses will try it out and let them know how they can continue to improve the software.