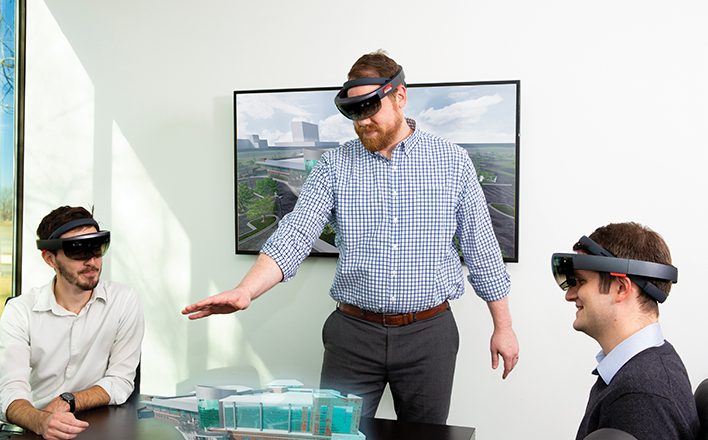 A virtual boom: Businesses find various uses for VR, AR
Toss out your 3-D glasses. These days, there are newer and better headsets for your technological needs.
Across Kansas City, more and more small businesses are incorporating virtual reality (VR) and augmented reality (AR) tech for various purposes.
Primary among these services for clients are "experiences," a popular term among VR/AR teams to describe users' novel engagements with the technology.
Harnessing technology
What exactly is virtual reality? Or augmented reality, for that matter? There's a significant difference between the two sister technologies, as most VR/AR teams would be keen to show you.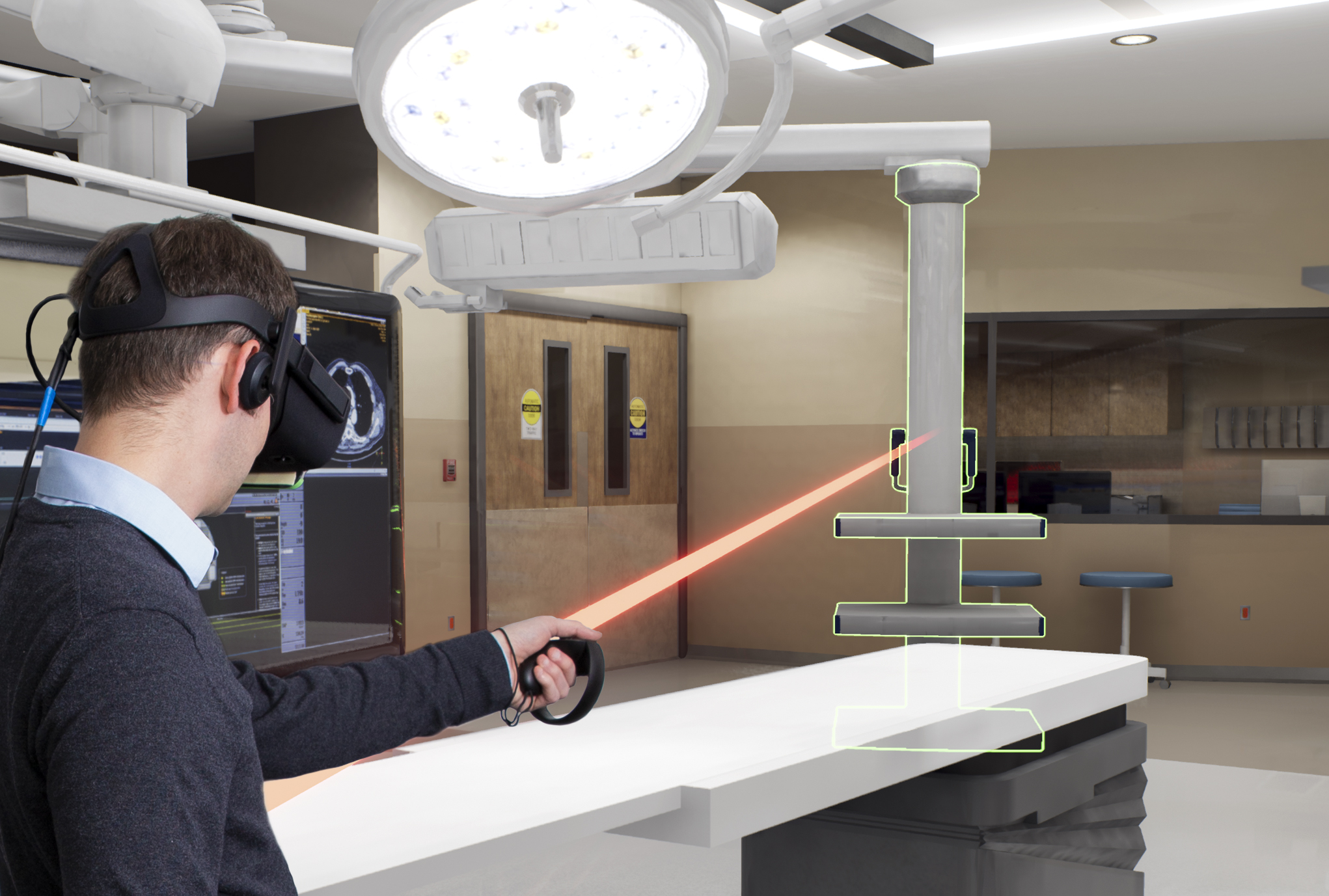 Virtual reality uses equipment (mostly headsets) that allows users to fully immerse themselves in a simulated and highly realistic world, and it uses tracking technology to follow the exact movements of its users. This provides users with free physical range over conceptual space in real time.
Meanwhile, augmented reality adds to the world that already exists, layering visuals on top of whatever the user sees. With AR headsets, users can still physically engage with what's in front of them, but it's not as totally immersive as VR is. A low-grade example of AR would be Snapchat or Instagram filters that distort users' appearances.
While some do have VR tech in their homes, most of the mainstream hasn't yet dabbled in the world of virtual realities, and many more don't know what the technology is outside a passing familiarity. VR requires open spaces due to its mobility and spatial dimensions, which makes it more difficult to use in the confinement of a home—driving users to seek engagement elsewhere.
For some small businesses, VR/AR technology has become a crucial addition to their operations and the services they provide, while in others, it's a natural side-effect of the 21st century experience.
PULSE DESIGN GROUP
When it comes to cutting-edge technological innovations, Pulse Design Group is leading the charge.
Although Pulse started out in 1980 as a health care-focused architecture firm, the rapid technological growth of VR and AR within the past three or four years has caused the firm to shift its focus to represent clientele from all backgrounds and locations.
Because of its contributions to VR/AR innovation, Pulse has recently steered away from strictly architectural design and toward software and sales tools development for corporations all over the country. This often includes work for major health care corporations and military-medical projects.
With Pulse's advanced VR tools, clients can visually enter the rooms of buildings still in the conceptual design phase. Before construction even begins, they can move around the space, interact with various elements in the rooms and even map out eye-lines, wall distances and different decorative details. One of the most significant paradigm shifts that President Rick Embers emphasizes is VR's transition from a design to a communication tool.
"There are some clients who look at a drawing on a 2-D plane and can't read it the way architects can," Embers said. "But they can see the real world, and if we provide that to them, they're able to communicate back what works for them. VR is the ultimate communication tool."
Nearly every major corporation now utilizes VR in some capacity, the Pulse VR team says. And that impact will only keep snowballing, based on their predictions for the next couple of years.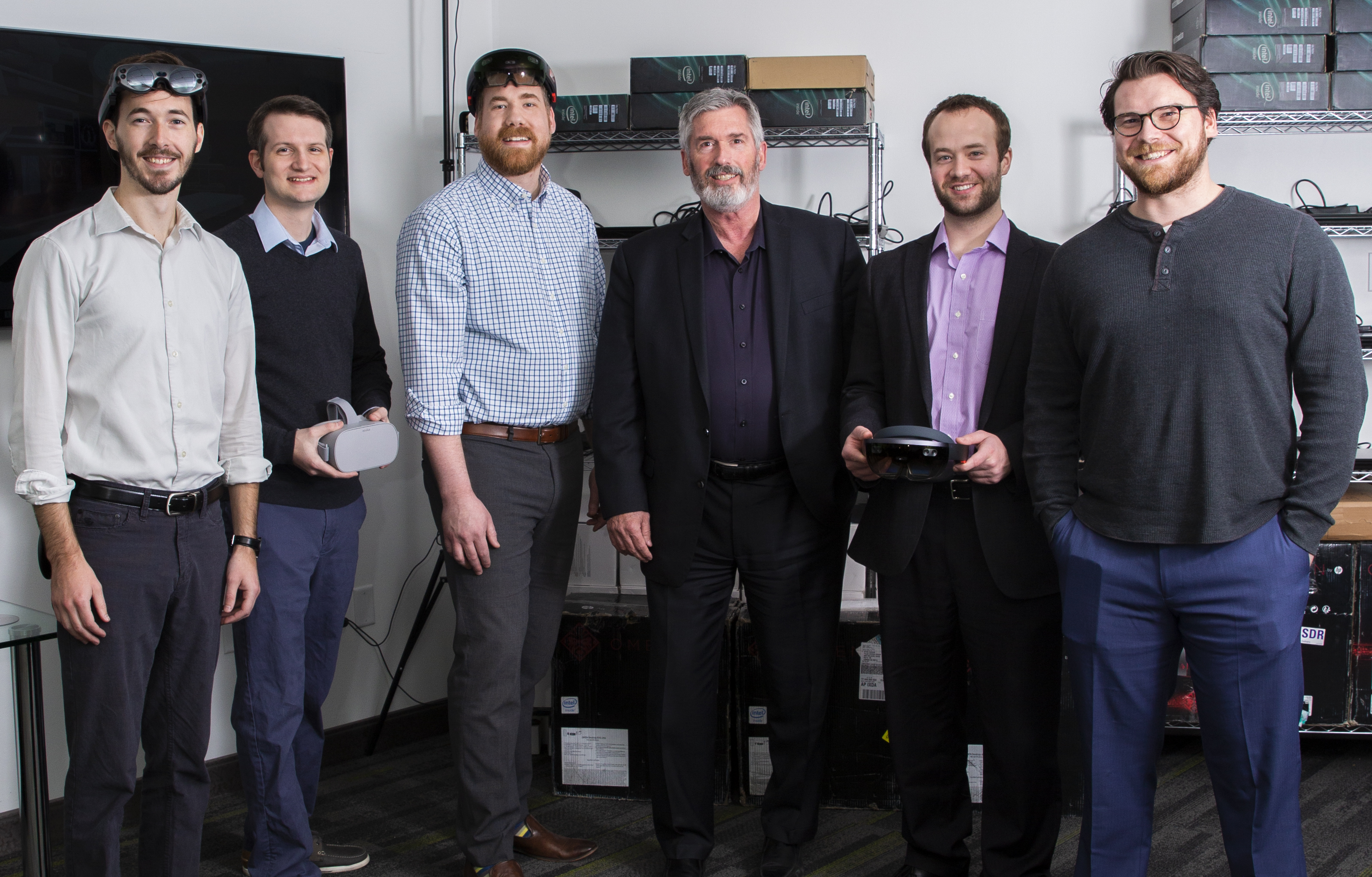 "It's a whole new medium," said Andrew London, Pulse's VR and AR developer and specialist. "We haven't seen something like this since the introduction of film and TV."
Pulse's impactful additions to VR and AR development place the company on the forefront of the technological frontier. So far, the company has drawn clients from at least 22 states, including some of the leading corporations from Silicon Valley.
"Our competitiveness is great for Kansas City because this is such a new, emerging market, and we've trailblazed enough that we're just as viable if not more so than developers that are on the coast," London said.
"We're just as good a solution, if not better, for a lot of these clients. They're coming to the Midwest—the Silicon Prairie."
Embers, London and Virtual Reality Manager Steve Biegun collectively agreed that the rising popularity of VR and AR will inevitably expand outside of the business world over the next five to 10 years—right into the everyday tech of average citizens. Each week offers brand new innovations, making it a considerable endeavor to stay at the front of the pack.
"It hurts sometimes," London joked. "That's why they call it the cutting edge. We learn something, and then next day, it's been revolutionized by someone else."
"Right now we're looking at how can this improve people's lives?" Embers said. "How can we use this new technology in a new way? I think we're going to see so much in the next few years."
"It's gonna be explosive," London agreed.
DIMENSIONAL INNOVATIONS
Although Dimensional Innovations has been on Inc. Magazine's list of fastest growing companies for four years running, the experience design firm got its humble start in a garage in 1993, designing, building and branding for megaplexes in the theater industry.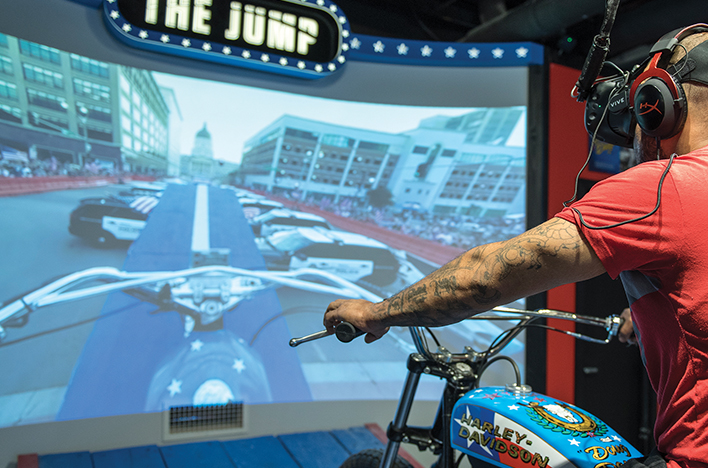 Twenty-five years later, Dimensional Innovations' interdisciplinary team now includes nearly 250 people, including industrial designers, brand strategists, graphic designers, architects, interior designers, content creators, engineers, fabricators, general contractors, technologists and project managers.
Beyond its diverse team, its repertoire of services is massive. The company prides itself on being "borderless" in its innovation, designing entertainment experiences for different sectors such as health care, professional and college sports, workplace environments, entertainment and retail, civic and transit services, and museums and zoos. Its clients include Disney, Google, LinkedIn, AMC Theatres, Caterpillar, Children's Mercy and numerous sports teams. Its locations have expanded outside the Kansas City area to Atlanta and Minneapolis.
For DI, VR and AR are significant primarily for their ability to enhance unique experiences for their clients.
"The main benefit of VR is being able to visualize things and immersing yourself in the experience," said Technology Director Curtis Walker. "We use it for transporting people to places they don't normally get to go."
DI's tech allows clients to interact firsthand with experiences they usually wouldn't have access to, such as tossing the coin at football games or jumping over 15 police cars in true Evel Knievel style. Clients can even use VR and AR to relive those once-in-a-lifetime moments they may not have been present for, such as the Royals World Series celebratory parade. In June 2018, DI repurposed 360-degree footage it had taken of the event in 2015 to create a VR experience for fans attending a Royals game through an app and cardboard headsets given out.
While VR and AR can intensify experiences for its users, the tools are by no means definitive of DI's identity as a company, or even its main technological focus. Rather, in Walker's view, VR and AR act as mechanisms to improve upon the experiences the company already provides.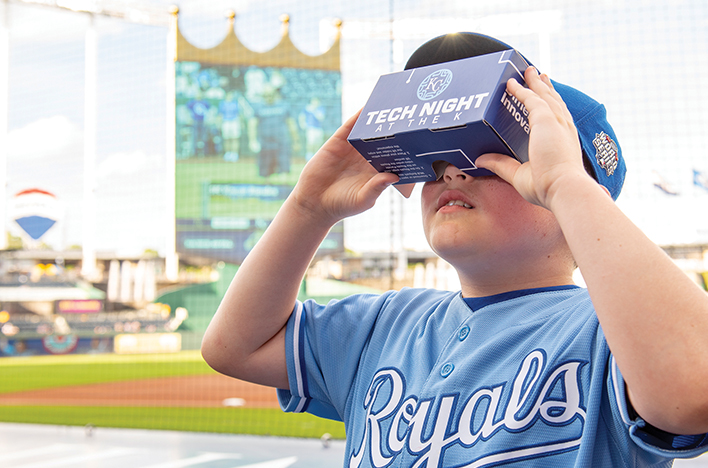 "VR is first and foremost a design tool that we can use for the visualization piece of experiences," Walker said. "Because of the individualistic nature of it, it's not the main thing that we do, but it can help with the activation of an experience that we're doing."
The main challenge that DI faces with the equipment is translating VR's individualistic experiences onto a communal stage, where it can be experienced collectively by several people at once. One of the company's future goals is to supply these experiences for wider audiences—starting with a new virtual world that launches this month.
"Going forward, we want to tap into more senses, make it more immersive and invite more people to the party," Walker said. "It may not be a virtual world that you're experiencing on a headset, but instead in a theater built around you. We're trying to make it so that a room of people can experience it versus just one person."
FLIPSWITCH VR
The first of its kind in Kansas City, the newly minted FlipSwitch VR in the Crossroads Arts District is bringing VR to a whole new level and bringing to bear the team experience.
As a VR gaming lounge, FlipSwitch offers both the advanced technology and the open spaces that gamers may not have access to at home.
"Over the last month, 90 to 95 percent of people who come in have never done VR before," co-founder and co-owner Jim Mahoney said. "Hardly anyone has it in their home. The public is confused; it's static. Because VR is a reality experience, you have to teleport to different spots."
Jim and his son Jamie—a mechanical and an architectural engineer, respectively—started up FlipSwitch VR in November because they recognized the potential of VR and AR tech for the gaming community. For their clients, however, VR is more than a game — it's a new reality.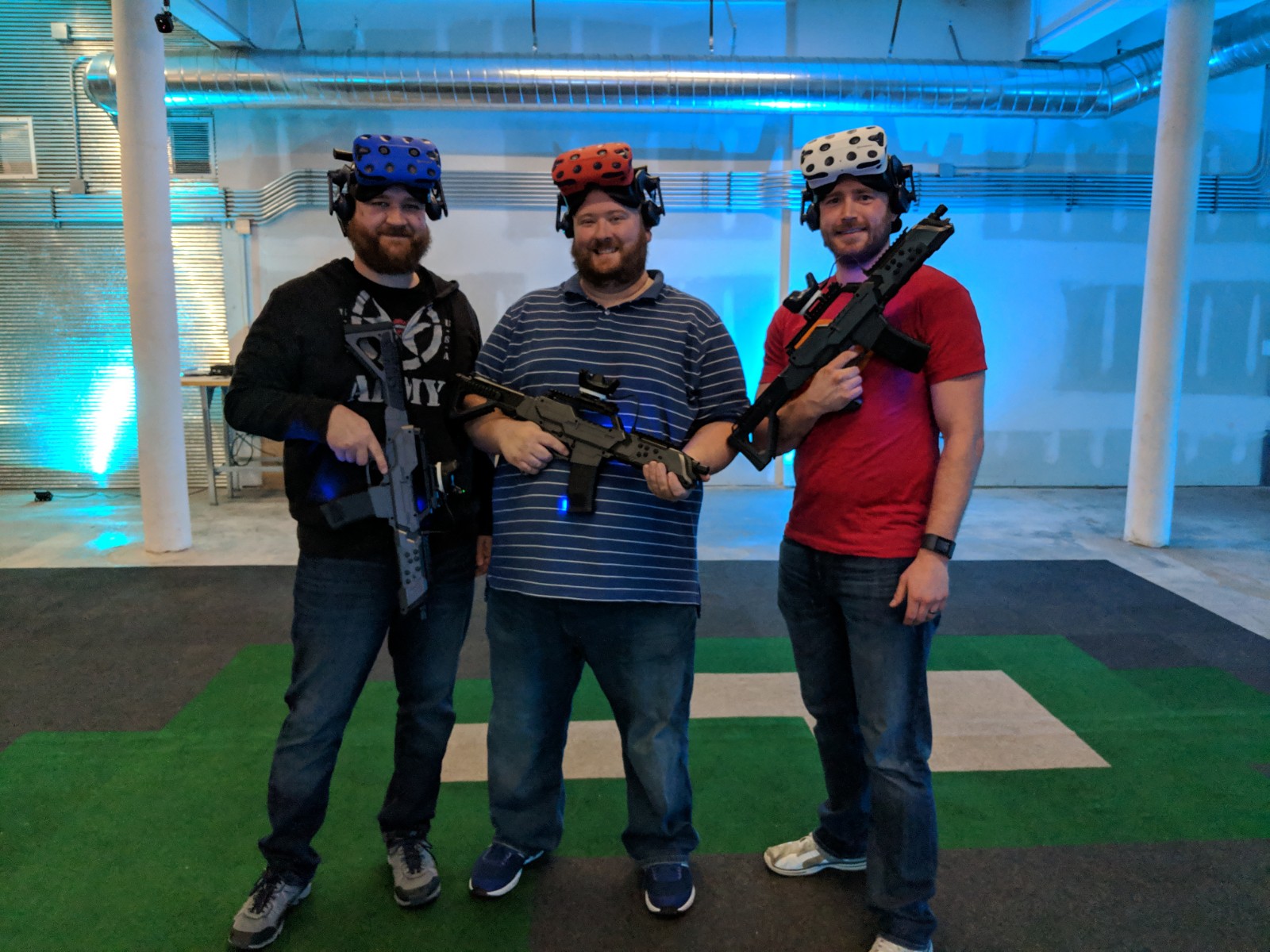 "Everything in VR is better than in flat games because you're surrounded by it," Jamie said. "Your physical movements are matched one-to-one versus playing with a controller. From my experience as a gamer, having tried every console, VR is by far the most immersive and fun."
Because the tech is still so newly established, Jim and Jamie admit that they've had to finagle with technical issues in their first run but said their business is already teeming with potential. The two designed one of their in-house games from scratch and had the other developed specifically for FlipSwitch by an outside company. The first lets you battle skeletons on a pirate ship amidst booming cannons and hot gales of wind; the other allows you to fight hordes of zombies in the U.S. Southwest desert.
Beyond the immersive experience of the games, FlipSwitch's VR tech also provides gamers the ability to play in teams and to experience the game simultaneously and in real time. This team play counters the individualistic experiences of traditional video games and even other forms of VR and AR.
"The games are a stepping stone for the future of these technologies," Jim said. "They're not games—they're experiences. We call them games because they look like games, but it doesn't have to be synthetic. It's not necessarily virtual; it's real. It's an environment you're immersed in."
As FlipSwitch's initial rates of success can attest, the future of VR games is bright, and its players steadily on the rise.
"We're hoping to fill the pipeline with gamers that know how to use this technology, then can go out and spread the word," Jim said.