Hiring the wrong person can do more than just set a company back from a timing, growth and financial perspective — it can also cost you your company.
All businesses start out as small businesses. In order to grow your business, important hiring decisions are made along the way. A good hire is important to the success and growth of a company. A bad hire can set a growing company back and even bring it down, especially if it involves theft.
Employee theft leads to the failure of 30 percent of small businesses.

— Business.com, March 4, 2015
When employees have access to sensitive financial information, including bank and other financial accounts, good checks and balances must be in place to protect your assets.
Who are the people that have access to this information, and what do you know about them? Any hire involving this aspect of your business should have a background check done during the hiring process.
Hiring the wrong person is a widespread problem, with 74 percent of employers saying they've done it—and companies lost an average of $14,900 per bad hire made in the past year.
Background check basics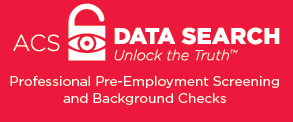 Are you doing pre-employment background checks? If so, what are you checking? Here are a few initial tips to ensure you are getting the information you need on an applicant filling an important position in your company:
Run a pre-employment background check // If you are currently not doing so, consider running background checks when hiring. Different types and levels of checks are available. If you are doing them, an annual review with your current background check vendor about the position(s) you are hiring for and current background checks is good policy. Regardless, do them and make sure you are getting the info you need to make the best decision for your company.
Look for criminal activity // Typically, you'll at least want to have a criminal check done on your applicant. There are many levels of checks starting at the county and state level, the national level, federal level and so on. Discuss with your background check vendor to determine the level of checks that make the most sense for the position you are hiring for.
Check prior work experience // Verify the applicants' current (if applicable) and prior employment. Most companies will give limited info on employment verification requests but matching up companies, titles/positions held and employment dates is an important key to determining experience.
Check education/certifications // If it is important that the applicant has a specific degree and/or certification as part of the job requirement, make sure you check to see these have actually been acquired.
Matching results with provided information // Review the results of background checks against resume and application information. Honesty is an overlooked attribute when hiring. Mismatched information is an obvious red flag.
A survey from CareerBuilder of more than 2,500 hiring managers found that 56 percent have caught job candidates lying on their resumes.

— Money 08.13.15
A bad hire is a setback for a company. Evaluate what the responsibilities of the new hire will be and what access and information he or she will be given.
At ACS Data Search, we can work with you to create background check packages to fit your specific needs. While there are no guarantees a background check will weed out all bad candidates, it is a start. With packages starting as low as $25, it can be a relatively inexpensive part of the hiring process with ACS Data Search.