Manufacturing an innovative product or offering excellent services are good starting points for a business, but it likely isn't enough. In addition to doing a good job, companies should consider good works.
Cone Communications, the Boston-based public relations and marketing agency, released a study last year that showed that the vast majority of U.S. consumers expect businesses to do more than just turn a profit.
Nearly 90 percent of respondents said companies have a responsibility to address social and environmental issues. And when
companies take such steps, people are more likely to have a positive perception of that business (92 percent), trust it (87 percent) and
be loyal customers (88 percent). Nearly 80 percent of respondents said they seek out products from companies that are socially or
environmentally responsible.
Ninety percent of those surveyed expressed a willingness to switch brands to support a company associated with a good cause.
"Companies should go beyond the bottom line because society expects more than just making money," said Mark O'Renick, co-founder of Will & Grail, the Kansas City, Mo.-based branding agency.
'Act With Purpose, on Purpose'
It's not enough to simply donate money to random causes. Will & Grail advises its clients to invest in "purpose-driven" initiatives, O'Renick said.
"We encourage clients to act with purpose, on purpose," he said. "Being charitable is part of that, but so is treating customers and employees with respect, balancing purpose and profits, and focusing on the tenets of brand believability—working every day toward making a profound, positive impact on lives, communities and the world."
O'Renick said the alignment of those actions work best, and is more believable, when a company's philanthropic efforts are connected to the company's roots and identity.
"Donating to causes that tie into what you do as a business has a deeper and more meaningful impact," he said. "If you're a financial services firm, invest in organizations providing financial literacy or breaking the vicious cycle of payday lending. If you have an industrial warehouse company, invest in efforts to help nonprofits use space more efficiently to save money and provide greater benefit to their constituents.
"It's connectedness of time, talent and treasure that is powerful. Build it into brand and business strategy, and you'll have meaningful impact."
The return on investment goes beyond consumer reaction. It also affects employee recruiting and retention. In 2016, Cone surveyed millennial employees and found that 64 percent of young workers won't take a job with a company that doesn't have strong corporate social responsibility practices (compared with 50 percent of U.S. workers overall).
Seventy-five percent of millennials said they would be willing to take a pay cut to work for a responsible company (compared with 55 percent of the overall workforce), and more than 80 percent said they would be more loyal to an employer that helps them contribute to social and environmental issues.
O'Renick said businesses—including small businesses—that are "committed to a purpose and generous in spirit" can make a difference.
"They aren't making an impact the way a huge corporation might make through a foundation, but they're making an impact every day in the lives of employees and customers and in neighborhoods where they work," he said.
Creating a Charitable Program
So how does a business go about not only giving back but developing a plan to do so in a meaningful way? One question for small businesses to consider when starting charitable programs is whether to build something internally or to seek outside help.
The answer could depend, in part, on how much specialized knowledge is needed to accomplish its mission. When Kelly Wilson and Lonnie Vanderslice decided to start their own nonprofit, they knew they would have to go the do-it-yourself route.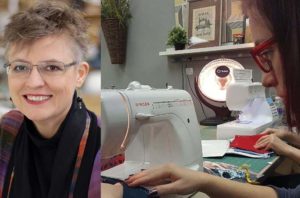 "We found a niche, and we're experts in that niche," said Vanderslice, who co-founded Weave Gotcha Covered, a for-profit company
in Kansas City, Mo., that specializes in the fabrication and installation of custom window treatments, fabric furnishings and upholstery. "There was no one else. If it was going to get done, we had to do it."
Wilson and Vanderslice encountered a problem that threatens their business—a lack of seamstresses in the job market—and they're not alone.
"They aren't teaching sewing in schools anymore," Vanderslice said. "It's a dying art. As a business, we can't find seamstresses. Other people contact us and ask us, 'Do you know anybody who can sew?'
"There's a need. Dress shops, alterations, dry cleaners, flag and banner manufacturers—there are all kinds of businesses that have a need for this skill."
In 2016, Vanderslice and Wilson launched the Sewing Labs. The purpose, Vanderslice said, was three-fold—to produce workers with a skill missing from the workforce, to provide vocational training to women in need and to find new uses for old machines and materials.
Vanderslice said several retired seamstresses have donated used sewing machines, fabric and their time to the Sewing Labs, which teaches basic sewing, garments, quilting and more.
Vanderslice said more than 100 people took the Sewing Labs' classes last year, and she hopes to triple that number this year. A volunteer event earlier this year drew about 80 people.
Partnering for Good
Of course, not every business has the time and resources to be as hands-on in its philanthropy as Weave Gotcha Covered. In that case, external vendors can help.
"We find that small businesses we serve like us because we can handle all aspects of their giving," said Brenda Chumley, senior vice president of foundation relations and operations for the Greater Kansas City Community Foundation. "That means they can focus on their jobs while we handle the administrative work associated with charitable programs. Essentially, we are their charitable foundation staff."
The handoff of that function doesn't mean the company can't still be purpose-driven.
"We can help companies determine a strategic focus for their giving," Chumley said, "and our team of philanthropic experts can provide research and guidance on charitable landscapes in Kansas City and across the country."
In addition to consumer and employee loyalty, giving back can help companies increase their visibility in the community, Chumley said.
"We work with many companies who create signature programs that gain attention through media and community outreach," she said. "A local engineering firm does this through a competition for students studying STEM. The company provides grants for STEM education to winning schools through a donor-advised fund they set up with us. In addition to increasing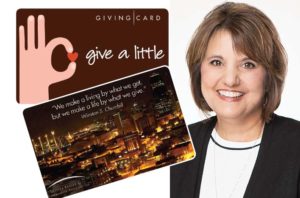 their visibility and goodwill, they are also cultivating future employees."
Chumley said the foundation gives clients a wide range of programs to choose from, including charitable foundations, matching gift programs, scholarship programs, giving cards and more.
"Many companies use their charitable foundation as an umbrella for all their giving initiatives and run more specific programs, such as matching gifts, under that umbrella," she said.
She said small businesses shouldn't be scared off by the cost of using a service like GKCCF.
"We can set up a donor-advised fund for as little as $250 per year, and we do not require a minimum initial donation or a minimum balance for the fund," Chumley said.
"The donor-advised fund serves as a company's charitable foundation. The company adds money to the fund—cash, stock or other complex assets—and contributions are tax deductible. The company then uses the fund to support any charity it chooses. There is no minimum grant amount, so an employer can send a check for $25 to support an employee's personal fundraising efforts."
It's also worth noting, she said, that assets in a donor-advised fund are invested, so a company's charitable dollars grow tax-free.
Building a Foundation
Dimensional Innovations worked with GKCCF to develop a corporate giving program and launched the DI Foundation in 2015.
Mary Wooldridge, director of the Dimensional Innovations Foundation, said GKCCF's products, services and expertise made it much easier for the company to operate its own foundation.
Wooldridge said that prior to launching its foundation, Dimensional Innovations and its employees participated in a United Way program. She said that although the United Way is important to the community, the company wanted to offer employees more ways to give back and the ability to assist any qualified charities that interest them.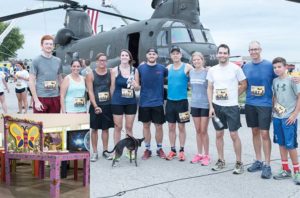 The DI Foundation offers the company's employees eight hours of paid time off each year, grants and a $200 annual matching gift program, and it pays for tickets and entry fees to participate in charity-supported community events. In addition, when a member of the DI Foundation makes a grant request, it becomes a priority over others.
Wooldridge said the Greater Kansas City Community Foundation has "guided and educated us, making the DI Foundation better so that we can focus and amplify our efforts to give back to the community that has given us so much over the years. To better not only that community but also ourselves in the process." "Bottom line, we trust them," she said.