Local startup blooom has won the Kansas City version of InnovateHER, a pitch competition for companies that make life better for women and their families.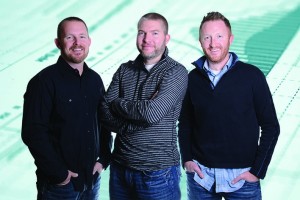 As a result, blooom could be tapped to give a presentation on its service next month in Washington, D.C. The Overland Park company helps users maximize their 401(k) investments. On average, women have 40 percent less in their 401(k) than men do.
The U.S. Small Business Administration will pick at least 10 companies from across the country to be part of the InnovateHER finals. The event will be part of this year's National Small Business Week celebration. The top prize is $15,000.
About 100 communities hosted InnovateHER contests, so blooom has a roughly 10 percent chance of going to D.C.
"Of course, we would love to have someone from Kansas City there," said Brande Stitt, program director of the Women's Business Center. The center and the Blue Valley Center for Advanced Professional Studies (CAPS) hosted the KC competition.
Twenty-three companies entered the contest. Seven were selected to give in-person presentations last week. All were existing early-stage companies.
Organizers recruited a unique panel of judges for InnovateHER. Five of the seven judges were either students or recent graduates of the CAPS program, which exposes high school juniors and seniors to interactive, real-world training.
The young women (all the judges were female) had previously competed in CAPS' Shark Tank-style pitch competitions. So they were very comfortable asking tough questions about competitors' choices in pricing and verticals.
"It was fascinating to watch, and our kids, our students, did an amazing job of asking relevant questions," said Corey Mohn, executive director of Blue Valley CAPS. "… I don't think the competitors saw them as students after the first question they got."
The other two judges were Kelly Pruneau of Women's Capital Connection and Melissa Roberts of the Enterprise Center of Johnson County, who served as mentors. Roberts and Pruneau helped guide the students, but the younger women didn't need too much counseling.
Mohn said he was very proud of how the students performed. Serving as judges showed them the other side of the pitch process, so they'll better understand what investors want to see from presenting companies.
"I had a pretty high bar," Mohn said, "and they exceeded it."