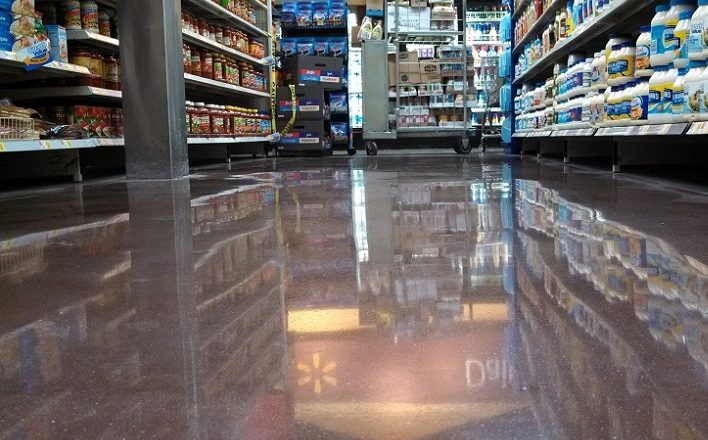 Commercial Concrete Flooring: The Pros and Cons
Interior concrete flooring is a highly popular option for businesses today, whether it's installed in an office environment, industrial setting, airport, warehouse, retail store, or other location.
Options for commercial purposes include polished or stained concrete, epoxy floor coatings or static control coatings, sealed concrete, and more.
There are various applications for concrete floors, each with their own look, function, and durability. The type of concrete flooring for a particular situation depends on how the floor will be used, location, moisture level, amount of traffic, whether heavy equipment will be used and other factors. It's important to choose the type best suited to your particular application.
It's helpful to know the pros and cons of a commercial concrete flooring system before deciding whether it is the right type of flooring for your specific needs. While there are a few drawbacks, there are far more advantages to choosing a concrete flooring system.
Positive Characteristics of an Exposed Concrete Flooring System
Durability. Concrete flooring can withstand the harshest of treatment, whether forklifts run across them or other heavy equipment puts pressure on them.
Long Lasting. When a concrete floor is properly maintained and sealed, it can potentially last a lifetime. This is true even in cases of high traffic or other harsh conditions often found in commercial or industrial application.
Versatility. Various dyes, sealers and pigments can be used to change the look of the concrete floor.
Easy Maintenance. Many retailers are moving to exposed concrete flooring, particularly polished concrete due to the ease and low cost of maintenance
Eco-friendly. Because a concrete subfloor is already present under most other flooring materials, in many cases, installation is an environmentally friendly process. Simply uninstall the floor material that has been placed over the subfloor, then apply the proper surface or coating for protection.
Potential Drawbacks of Commercial Concrete Flooring
Cold. Concrete can be cold on bare feet; however, this is not usually a problem in commercial settings. Many clients are choosing to put a radiant heat system in their concrete floor to heat the entire facility.
Moisture. Moisture vapors can travel through a concrete floor if the flooring is not properly installed. It is important to have a moisture barrier before pouring and/or apply a concrete moisture mitigation sealant if moisture sensitivity is an issue.
Hardness. Naturally, a concrete floor is hard. This is one reason it is so durable and strong; however, items dropped on a hard concrete floor are more susceptible to breaking.
Warehouses, agricultural facilities, retail stores, business offices, industrial spaces are all spaces that can benefit from commercial concrete. Commercial concrete flooring delivers not only an endless variety of decorative options, but can stand up to the abuse other types of flooring simply cannot handle. It is also affordable compared to other options.
Overall, there are far more advantages to concrete flooring for commercial applications than there are drawbacks. If you are considering concrete flooring for your business, consult with a reputable commercial concrete contractor, who can answer all of your questions and address any issues.