A new concept broke ground this month in downtown Overland Park.
Edison District celebrated a groundbreaking ceremony Oct. 17 with the Overland Park Chamber of Commerce for a new five-story mixed-use space at 80th and Marty streets.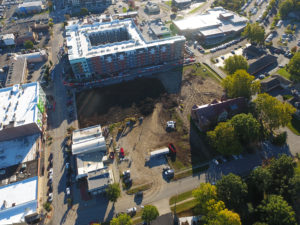 The $54 million Edison District will boast a first-floor food hall, outdoor gathering space and include a 396 space parking garage.
Edison District will be able to accommodate the growing population density in downtown Overland Park with six new apartment projects as well as office space. It expects to open in fall 2019.
The concept is the brainchild of founder Tim Barton, who previously founded Freightquote. That company sold to C.H. Robinson in 2014. Edison Spaces already has two locations in Overland Park. They offer short-term leases on office space for fast-growing companies.
Tracey Osborne Oltjen, president and chief executive officer of the Overland Park Chamber of Commerce, said companies are looking for "cool" workspaces like what is being built as part of Edison District.
The Overland Park City Council approved $14.4 million in public financing the Edison District, including $10.6 million in tax increment financing for the parking garage as well as a 2 percent community improvement district sales tax within the district that the developer can use for building expenses.