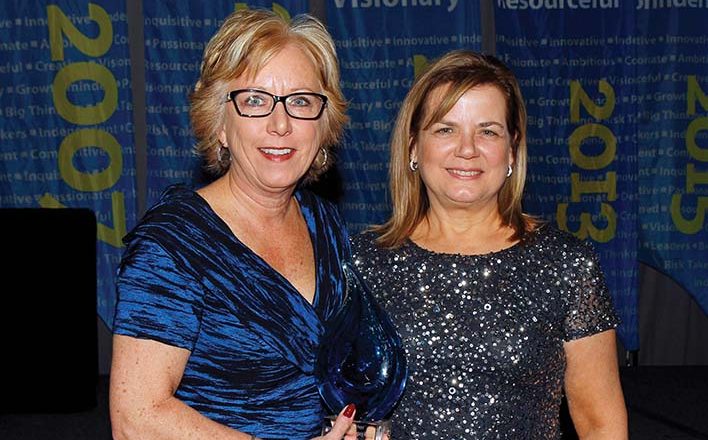 Entrepreneurial Journey: Kelly Scanlon — Unafraid to Think Bigger
For more than 20 years, reading Thinking Bigger Business magazine each month has been like taking a walk through Kelly Scanlon's mind—her ideas, her dreams and her goals.
Through the years she has written about, met with and supported the small business community like no other, according to those who have worked with her.
"There aren't enough positive adjectives to describe Kelly," said Pat Brown-Dixon, who met Scanlon more than 20 years ago at a General Services Administration networking breakfast. The two went on to form a lasting business and personal relationship. "She's open, honest, positive, inclusive, brave, supportive, encouraging, caring, a risk-taker."
Now, she's ready for the next step as an entrepreneur. In March, Scanlon sold Thinking Bigger Business Media to Mike Wrenn, chairman of Affinity Worldwide, and Becky Cole, Affinity's CFO.
Small business commitment
From the start, Scanlon set her sights on immersing herself in the community she was both targeting and serving. That commitment has meant a lot, said Paul Weber, chief strategy officer of EAG Advertising & Marketing. He's known Scanlon for more than 15 years, and her love of the small business community shines through, he said.
One of the ways that Scanlon has shown her dedication to the small business community is through the 25 Under 25 Awards for outstanding businesses with fewer than 25 employees, which the company established in 2001. Weber's company earned the award in 2007.
"I have greatly appreciated Kelly's undying commitment to the small business community," he said. "There's an irony here in that her audience, those seeking to get bigger, may eventually outgrow her publications and content if they are extremely successful.
"Kelly and TBBM never tried to be anything other than the best content provider for small business. I have most appreciated her commitment to small business over the lifespan of her tenure with TBBM."
Looking back at the evolution of both the 25 Under 25 program and Thinking Bigger Business Media as a whole makes Scanlon particularly proud.
"The launch of the 25 Under 25 program and the successful rebrand from Kansas City Small Business Monthly to Thinking Bigger Business Media rank high on the list. Because we were so small, many well-intentioned people told me we didn't have the means to pull either of them off successfully. But we were 'thinking bigger' and we were determined."
'She doesn't succumb to limited thinking'
As the world changed, Scanlon pivoted the brand to keep up. She made the publication a glossy, four-color magazine with a dedicated subscription base. She changed the name of the company to Thinking Bigger Business Media and introduced radio shows, an online learning center, a digital version of the magazine, and a number of community-focused events, including the 25 Under 25 Awards, BIG Breakfast panel discussions and Brew:30 Happy Hours.
Scanlon's mission never changed: to put small businesses in the spotlight, whether through her media company or in meeting rooms around the metro. That's her biggest accomplishment, said Sherry Turner, president of the Women's Employment Network.
"She's drawn the attention of the CEOs of corporations about the importance of small businesses," Turner said.
Scanlon's influence in the small business community wasn't limited to Kansas City. In the late '90s, she became a member of the National Association of Women Business Owners (NAWBO) and held several board positions in the Kansas City chapter. Her work with women business owners spread, and she was elected to the national NAWBO board, serving for five years, including as the national chair in 2010. Scanlon continues to support the organization and remains active in it nationally and locally.
As Scanlon pivots once again and moves to her next adventure, Turner and Brown-Dixon are certain she will thrive. They point to the way she thinks and works with people as an indication of future success.
"She's very respected and knows how to drive the growth of a business," Turner said.
Scanlon is proud of Thinking Bigger's ability to create relationships with others in the community.
"Being able to work with wonderful staff, supporters and others in the entrepreneurial and corporate community who believed in Thinking Bigger's mission and provided time, counsel, financial support and encouragement,"
she said. "No one succeeds on their own, and for these individuals and companies, I'll be forever grateful."
Brown-Dixon points out how Scanlon is thoughtful and inclusive in what she does.
"I learned to 'think big quietly' from Kelly," she said. "She does things in a bigger and better manner, but she is strategic and thoughtful in the way she goes about accomplishing it. She reaches out and includes the ideas of those who would be impacted or who would benefit, and she doesn't succumb to limited thinking."
New phase
So, what's next for Scanlon as she embarks on the next few acts of her life? As you might expect, she isn't in slow-down mode.
"I've had many ideas I've wanted to pursue over the years," she said. "Most immediately, I've started Interrobang Solutions, which offers outsourced writing, editing and publishing solutions. I have been picked up by the C-Suite Network out of New York and have rebranded my podcast. It is called 'Talking Business Now' and is national in scope."
She also is working this summer on her Wine & Spirits Education Trust certification through the Napa Valley Wine Academy in preparation for another business she is considering launching. And, as always, she will be a Kansas City entrepreneur cheerleader.
I will do whatever I can to continue to support Thinking Bigger Business and all the wonderful business owners in Kansas City.